GEORGE SAILING NEWS - Three races were sailed at George Lakes Yacht Club on Sunday with the sailors competing for the Sotheby's Trophy.
This was the second set for this trophy, the first having been held in strong wind in November.
The Fireball of Georgou Divaris and Ferdinand Holm were leading after the first set, but they did not return to defend their lead. The fleet of 12 consisted of four Lasers and a Gypsy, Wayfarer, Extra, Dart, Hobie GP14, Sonnet and an Optimist.
In the light conditions the main competition was between the Lasers of Maurits Lammers, David Laing and Malcolm Osborne. In race one Laing established the lead from the start, leaving it to Lammers and Osborne to contest for second place. Lammers had this position during the race but Osborne was able to pass near the end of the race, which was shortened to just one triangle, as the wind had swung to the south.
Osborne had the lead in the second race but Laing chose a better course up the second beat to take the lead again to the end.
As the wind was improving, the full course could be sailed. Stronger puffs started coming across Island Lake at times during the third race, requiring the sailors to start hiking out to keep their craft level.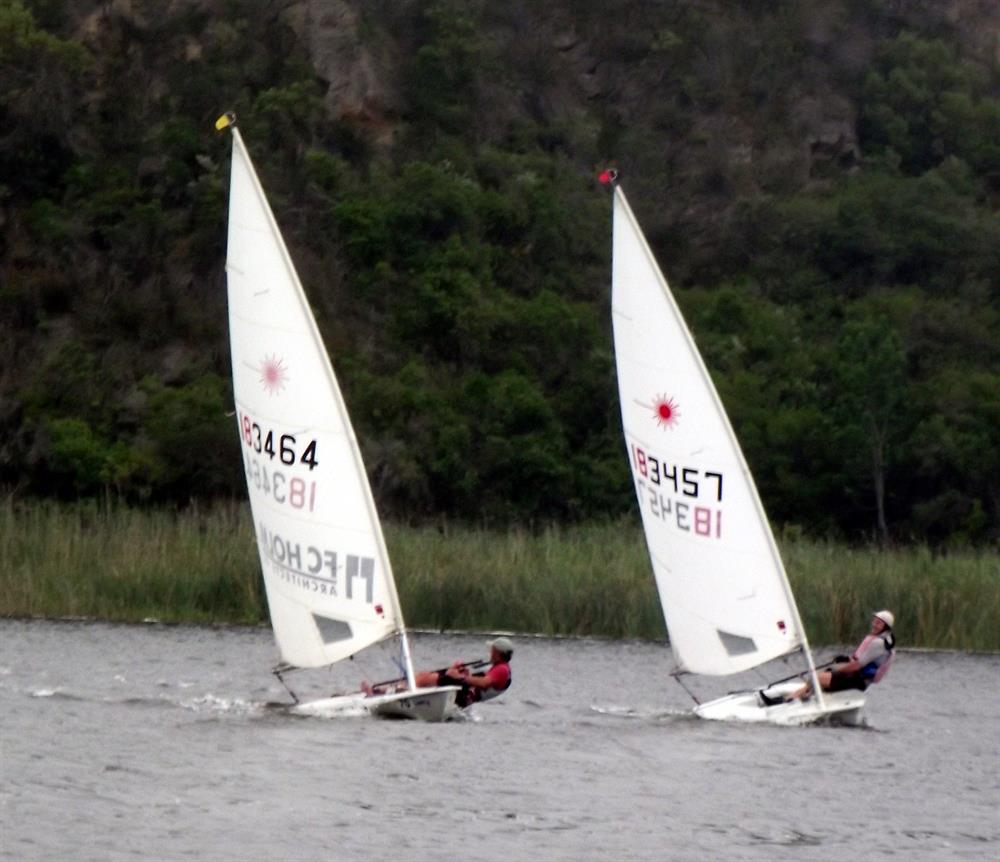 The Lasers of Malcolm Osborne and David Laing racing to the finish of the third race. Osborne is the winner of the Sotheby's Trophy this season.
The battle for the lead was once again between Laing and Osborne with Lammers consistently close behind in third place. Laing had the lead around the second triangle, but Osborne succeeded in passing in the final leg to the finish line.
Luc Joubert was the sole Optimist sailing. Two of our Optimist sailors, Jean Paul Buys and Kyle Koeries, competed in the Western Cape Southern Charter Classic Regatta at Hermanus Yacht Club. Kyle sailed in the Optimist A fleet and Jean Paul in the B fleet.
Kyle struggled a bit in the strong wind on Saturday, but did well in the light wind on Sunday and ended up sixth overall.
David Laing was the winner on Sunday, but he did not sail the first races, This gives the Sotheby's Trophy for 2018/2019 to Malcolm Osborne.
To permit the George sailors to compete in the Knysna Yacht Club inter club regatta, there will be no club racing next Sunday.
For more information about George Lakes Yacht Club see its website, www.glyc.org.za.
Luc Joubert was the sole Optimist sailing in the light conditions on Sunday.
'We bring you the latest Garden Route, Karoo, Hessequa news'