TUINROETE NUUS - Terwyl die onsekerheid voortduur of vissermanne wél van die strand af mag hengel, het 'n klomp plaaslike hengelaars Saterdagoggend hul lyne gaan natmaak. 'n Paar het met bote by Gouritsmond uitgegaan en met vet vangste geelstert teruggekeer.
By Danabaai is kolsterte, steenbras en stompneuse aan wal gebring.
Tog wil dit voorkom of van die regeringsministers mekaar weerspreek en dit skep groot onsekerheid. Die nasionale Covid-19-bevelsraad (NCCC) se aankondiging van die regering se maatreëls vir vlak 3 van die inperking het bygedra tot die verwarring wat heers.
Dr. Nkosana Dlamini-Zuma, minister van samewerkende regering en tradisionele sake, het pertinent gesê strande bly toe vir ontspanningsdoeleindes, terwyl Barbara Creecy, minister van omgewingsake, bosbou en visserye, verlede Vrydag 5 Junie in die Staatskoerant gesê het mense mag op vlak drie van die inperking vir ontspanningsdoeleindes visvang ("all fishing is allowed during Alert Level 3, including recreational fishing, except for charter fishing" - as was published in the Government Gazette).
Vissermanne moet in besit wees van 'n geldige visvangpermit en visvang vir ontspanningsdoeleindes mag nie in groepe geskied nie. Daarbenewens moet hengelaars sosiale afstande van 1,5 meter te alle tye handhaaf, hande gereeld was en maskers dra.
Gesondheidsprotokolle, soos voorgeskryf deur die regering, moet deurgans gevolg word.
Dit laat vissermanne steeds met die vraag: mag daar op strande visgevang word of nie?
Dis wel ontoelaatbaar om bote te huur om te gaan visvang.
Hengelaars hier en in die Kaapstad, veral aan die Weskus, het van Maandag af fluks van die kus af gehengel met wetstoepassers wat sake dopgehou het. Hoewel hulle die Kaapse hengelaars aanvanklik beveel het om die strand te verlaat omdat hengel glo onwettig is, het die vissermanne hulle met boodskappe op hul selfone oortuig dat dit wel wettig is om vis te vang.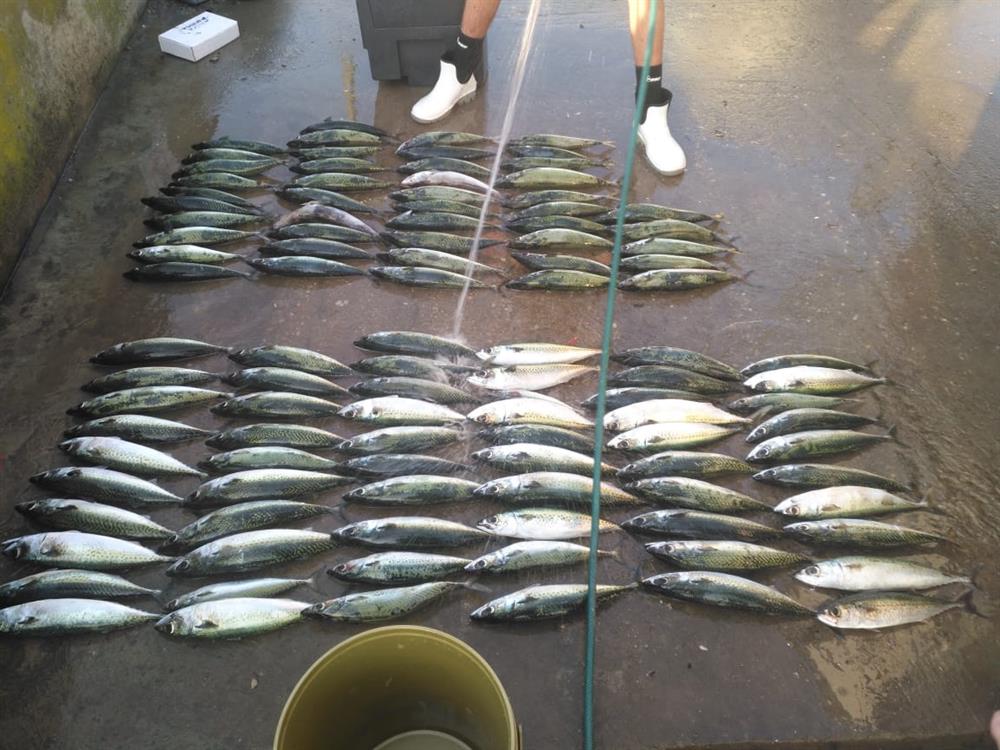 Hengelaars het Saterdag die klomp makriele naby Gouritsmond gevang wat hulle vir aas gaan gebruik.
'n Plaaslike hengelaar wat verkies om anomiem te bly, het aan die George Herald gesê hy en sy medehengelaars laat hul lei deur die gepubliseerde regulasies in die Staatskoerant wat sê visvang vir ontspanningsdoeleindes is wettig. "Ons is vasbeslote om nie die grotes te laat wegkom nie."
Terwyl die onsekerheid voortduur of vissermanne wél van die strand af mag hengel, het 'n klomp plaaslike hengelaars reeds Saterdagoggend hul lyne gaan natmaak. Jonathan Williams van Knysna het by Victoriabaai gaan kyk of die grotes byt.
'Ons bring jou die nuutste Tuinroete nuus'