GEORGE RUGBYNUUS - Die oud-Kwagga Duhan van der Merwe, is ingesluit in die Britse en Ierse Leeus se span wat in Julie na Suid-Afrika kom. Die span is vanmiddag kort voor 14:00 Suid-Afrikaanse tyd aangekondig.
Van der Merwe, wat oorspronklik van George kom het sy skoolloopbaan in 2013 aan Hoërskool Outeniqua voltooi.
Hy het in die verlede vir onder meer die SA skolespan uitgedraf. Die afgelope tyd het hy vir Skotland gespeel en homself gevestig as een van die sleutelspelers in dié land se span.
Sy broer Akker van der Merwe het al vir die Springbokke uitgedraf. Dulene van der Merwe, Duhan se ma, het kort gelede aan George Herald gesê die familie is oorstelp van vreugde. Sy het trane in haar oë gekry toe sy hoor hy is gekies. "Ons is baie trots op hom en baie bly vir sy part."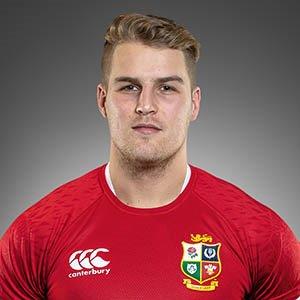 Foto: British and Irish Lions teams webwerf.
As dit moontlik is dat toeskouers by wedstryde toegelaat word sal die familie kyk of hulle van die wedstryde kan bywoon.
Christo Vorster, hoof van Outeniqua, het gesê hy is die eerste oudleerling wat vir die span gekies word.
"Die skool is baie trots op hom. Hy het sy geleenthede in Skotland gebruik. Hy het hard gewerk om te kom waar hy is. Hy is reeds 'n goeie rugbyspeler en het al die vaardighede om 'n nog beter speler te word."
'Ons bring jou die nuutste George, Tuinroete nuus'