GEORGE NUUS - 'n Boer maak mos altyd 'n plan, lui die spreekwoord. Ditto ysterman Heinrich Muller, wie se planne om vanjaar aan die Ysterman-kompetisie deel te neem, deur die Covid-19-pandemie gefnuik is.
Toe besluit Heinrich om hier in George 'n ysterman op sy eie aan te pak. Die verskil is dat hy dié uitdaging aangepak het om geld vir die plaaslike ACVV-tak in te samel.
Enige atleet dien sy sport, of dit nou hardloop, fietsry of swem of wat ook al is. Maar Heindrich sê toe Covid sy ystermanplanne nek omgedraai het, het dit hom gemotiveer om geld hier op eie bodem vir 'n verdienstelike saak in te samel.
"Die ACVV was 'n logiese keuse omdat dié dienssentrum regtig die geld nodig het. Net daar is my solo-ysterman gebore," het hy aan George Herald vertel.
Heinrich het die Saterdagoggend om 06:00 met sy 3,86 km-swem by die George-opgaardam begin.
Danksy die versengende hitte die vorige dag was die water "heel swembaar."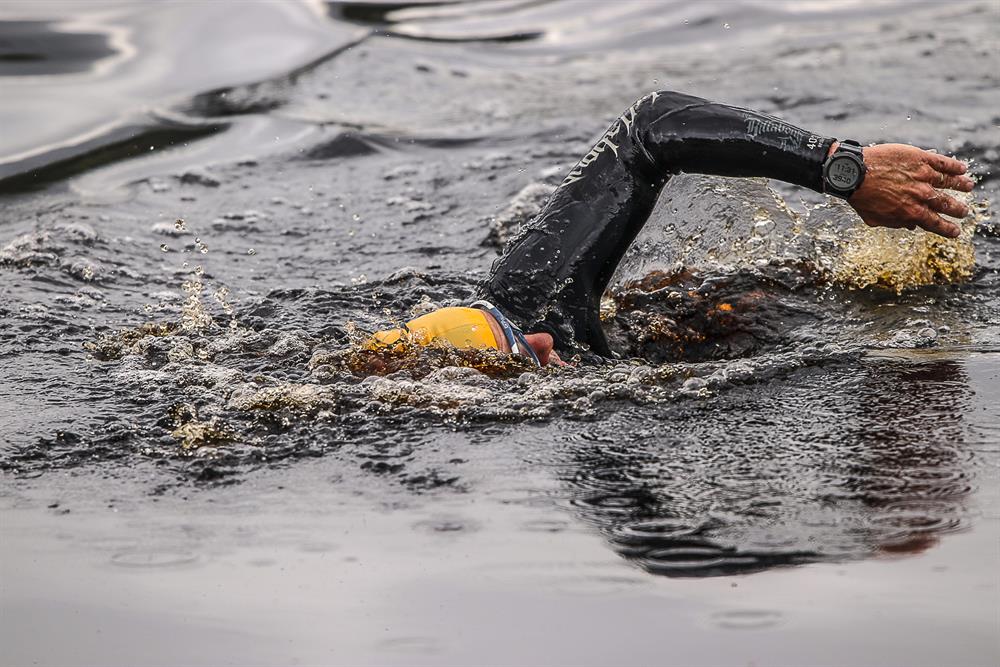 Heinrich Muller besig met sy 3,86 km-swem tydens sy solo-ystermanpoging ten bate van die ACVV-dienssentrum.
Dit het hy opgevolg met 'n 180,2 km-fietsry in George se strate. Hy het van die opgaardam af vertrek en, onder andere, na Vicbaai gery en ook op die ou lughawepad verby Fancourt getrap, altesame drie rondes van 60 km elk.
"Die moeilikste deel was ongetwyfeld die laaste fietsryronde toe die wind kwaai gepomp het. Dit was erg, maar 'n klompie atlete en toeskouers het my aangemoedig en 'n paar het selfs saamgedraf en my deur die tierende wind ondersteun."
Daarna het die 42,2 km-hardlopery gevolg. Die roete was in die middedorp en ook in woonbuurte soos Bergsig en Loeriepark - vier rondes van sowat 10 km elk, wat hy in stikdonkerte klaargemaak het. Net om hom deeglik te toets het reën en hael in die laaste ronde uitgesak, maar dié ysterman het hom nie daardeur laat afsit nie
Sy solopoging het net voor agtuur die aand tot 'n einde gekom. "Moeg, maar dankbaar dat ek 'n verskil kon maak aan 'n organisasie wat dit werklik nodig het."
Heinrich, jy is 'n yster!
Heinrich Muller het 'n solo-ysterman in George aangepak om geld vir die plaaslike ACVV-dienssentrum in te samel. By die tjekoorhandiging Dinsdagoggend was, van links: Liezel Muller (bestuurder: dienssentrum), Rina de Swardt (takvoorsitter van ACVV George), Heinrich Muller (solo-ystermanatleet) en Christelle Botha (skoolhoof: Vinknes-kleuterskool). Foto's: Deidré Cloete
'Ons bring jou die nuutste George, Tuinroete nuus'