Gallery Video
GEORGE NUUS EN VIDEO - Groot opgewondenheid het Saterdag 15 Februarie by Carpe Diem geheers tydens die Outeniqua-rolstoelwedren (OCC) toe meer as 'n 1 000 mense by die geleentheid opgedaag het. Onder hulle was meer as 700 gestremde atlete en sowat 800 toeskouers.
Dit was die 18de keer dat dit plaasgevind het en die organiseerders is reeds besig met planne vir volgende jaar. Die plan is om dit weer by Carpe Diem aan te bied en wel op Saterdag 20 Februarie.
Bekende atlete soos Ernst van Dyk, Pieter du Preez en Stuart McCreadie het reeds van vroeg nader gestaan. Die radio-persoonlikheid, Martelize Brink, was ook teenwoordig en sy het die vierde keer aan die 10 km deelgeneem.
Kort na 07:00 het die 42,2 km-wedren begin. Van Dyk het sy afdeling in 'n tyd van 1:39,5 gewen, McCreadie het sy afdeling in 'n tyd van 1:8,20 gewen en Du Preez sy afdeling in 1:45,10.
Van Dyk se eggenoot, Suzanne, en dogters Alexia en Sunel het langs die roete gestaan om hom aan te moedig. Alexia en Sunel wou kort-kort weet of hul pa al die wedren voltooi het.
Ernst van Dyk, internasionaal bekende atleet, saam met sy gesin Saterdag tydens die Outeniqua-rolstoelwedren. By hom staan Alexia (11), Suzanne (sy eggenoot) en Sunel (7).
McCreadie, wat al voorheen deelgeneem het, het na die wedren gesê dit was een van die aangenaamste OCC-wedrenne waaraan hy nog deelgeneem het.
Du Preez se eggenoot, Illse en sy seuntjie, Pietman (2) het al die pad van Johannesburg gekom om hom aan te moedig. Hy het Saterdag se resies as wonderlik beskryf. Du Preez sal waarskynlik later vanjaar aan die Paralimpies Spele in Tokio, Japan deelneem.
Benewens die 42,2 km was daar ook wedrenne in die 21,1 km, 10 km en 'n 5 km-pretwedren.
Die pretwedren het baie aandag getrek en verskeie vrywilligers het gestremde atlete in rolstoele gestoot.
Atlete wat met die George Herald gepraat het, was dit eens dat die geleentheid baie vir hulle beteken.
Vir Johan Meyer van Somerset-Wes/Strand was dit 'n eerste. Hy is sedert 22 Julie verlede jaar verlam. Hy was die dag op pad na 'n winkel in die Strand toe hy in kruisvuur beland het waar mense op mekaar geskiet het. Sy lewe het in 'n oogwink verander.
Volgens hom was dit aan die begin 'n baie groot aanpassing, maar hy bly positief. "Die resies gee ons hoop. Dit laat ons as gestremde mense voel ons kan ook betrokke wees in sport."
Saterdag was wel die eerste keer dat hy aan so 'n wedren deelgeneem het, maar dit was beslis nie die laaste keer nie.
Brink het inwoners van George bedank vir hul geduld met die aanpassings wat gemaak moes word vir die verkeer.
Elzeth Grobler, hoof van Carpe Diem, het gesê die geleentheid wys dat mense met gestremdhede vir niks terugstaan nie.
Alewijn Dippenaar, geleentheidsdirekteur, het Maandag gesê die organiseerders is "super tevrede".
Op vrae oor die ongeluk waarin 'n deelnemer Ernie Hodgson, in 'n botsing met 'n motor betrokke was, het hy gesê dit was 'n geïsoleerde voorval. Hodgson het net ligte beserings opgedoen.
The Outeniqua Chair Challenge (OCC) attracted more than 700 participants and 800 spectators last Saturday, 15 Febuary. According to event director Alewijn Dippenaar it was a great success. The OCC will next year likely take place on 20 February at the same venue, Carpe Diem School.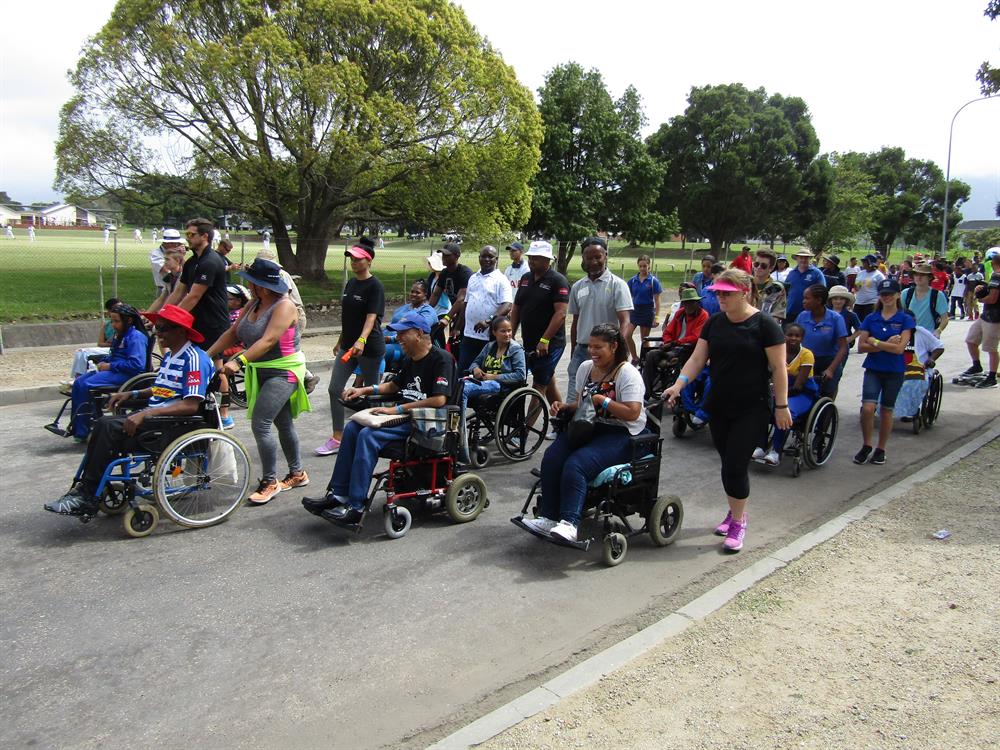 Deelnemers in rolstoele aan die 5 km-pretwedren word Saterdag deur vrywilligers gestoot. Foto: Eugene Gunning
'We bring you the latest Garden Route, Karoo, Hessequa news'