GEORGE MOUNTAIN BIKE NEWS - Finally, some action for cyclists! Thanks to the Hillbillies MTB Club, keen mountain bikers can get rid of pent-up energy at the Witfontein Funduro this coming Saturday.
As the name indicates, the Funduro is not an official event, but it provides an opportunity for riders to compare times.
It will start and finish at Ground Zero at the Van Riebeeck Garden in Arbour Road. Cyclists can register online via the link on the Hillbillies Mountain Bike club's Facebook page. Entry is free, but to have access to the trails, riders are requested to either pay up their Hillbillies MTB Club membership fees, or R50 for a day pass on the day.
The R200 annual membership fee can be paid via the website.
Cyclists must arrive by 08:00 for an informal registration and briefing. Registrations close at 08:15 and the riders are out at 08:30.
Health and safety are the sole responsibility of each rider.
The full Funduro will consist of five stages of one to two kilometres each, with the total distance covering nearly 32km.
The LITE category will cover the first three stages, which are not very technical (all blue trails). The total distance is approximately 23km.
The full route is published on Trailforks.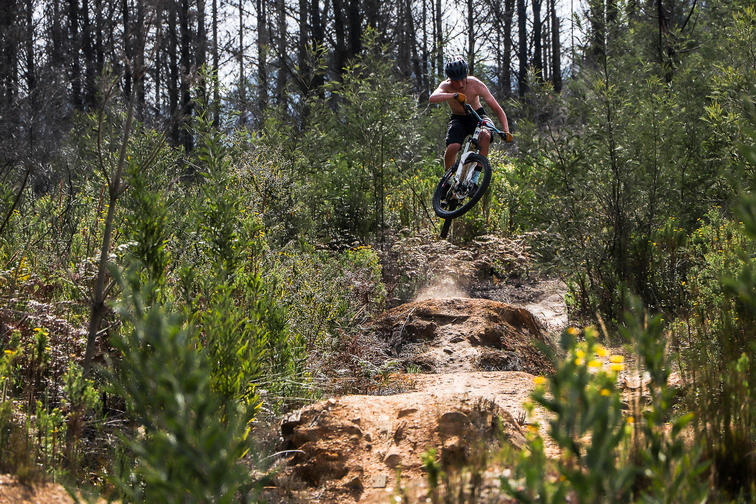 Speedy Gonzales. Sean van Niekerk, one of the fastest downhill riders in George.
With an enduro, downhills are timed and the uphills are mandatory but not timed. Riders are timed in stages that are primarily downhill, with neutral "transfer" stages in between.
It will be Strava timed, unless volunteer timing marshals come to the fore.
The routes will not be formally marked or taped. Riders are advised to practise beforehand and familiarise themselves with the trails.
A-lines will not be taped off. Riders should scout ahead of time and decide which features to avoid.
After the Funduro, riders can go home for a shower, but must return at about 16:00 to compare times and have a good time socialising.
The club
The Hillbillies Mountain Bike Club started in 1996 as a means of bringing mountain bikers together and as a voice to address issues related to mountain biking in George.
The club's membership has grown to nearly 500 actively involved riders. They work closely with the Department of Environment, Forestry and Fisheries (Deff), CapeNature, George Municipality, Working on Fire, Nelson Mandela University and Garden Route Trail Running (GTR) in an effort to maintain trails and improve safety in the mountains.
Currently, they maintain a total of 154 dedicated mountain bike trails over 185km. These trails also lend critical access for firefighters during forest fires. Almost all of them were destroyed during the 2018 fire, but have been rebuilt since.
Club activities include hill-climb time trials, sunset rides, night rides and group rides, which they encourage via various WhatsApp groups.
According to Riëtte Prinsloo, spokesperson for the Hillbillies, membership of the club comes with many benefits, not only to individual cyclists but also the wider mountain bike community. "Being a member of the Hillbillies Mountain Bike Club gives them the leverage they need when seeking support from local municipalities, government and plantation managers," she said.
"Knowing that you belong to a community of people who work to keep mountain biking alive and well in our region is reason enough if you and your family enjoy biking."Membership is available online or from your local bike shop in George. Once paid online, you can collect your Hillbillies permit card from a local bike shop.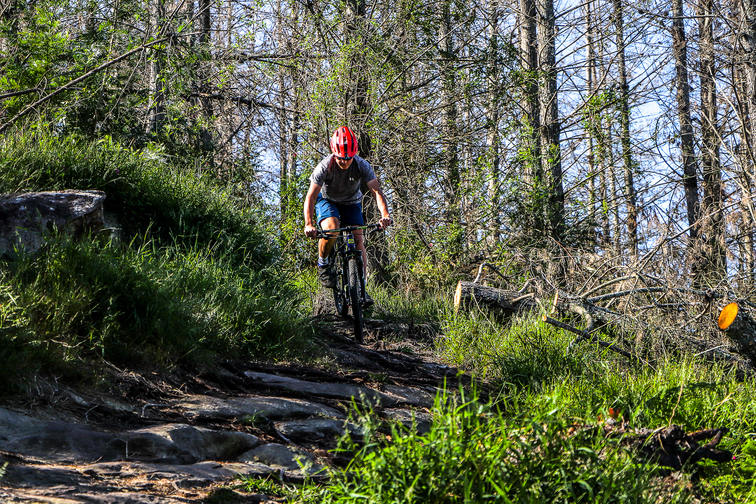 Luca Potgieter negotiates the difficult "AC/DC" rocky route.
The Hillbillies also offer 60 minutes of mayhem every second Tuesday evening of the month at Ground Zero. It is a fun event for young and old and free to all Hillbillies members. The format allows 60 minutes to do as many laps as you can or want on the XCO track. Routes and directions will vary throughout the series.
The Ground Zero café will be open for snacks, soft drinks and coffee.
'We bring you the latest George, Garden Route news'