GEORGE BOWLING NEWS - The Eden bowls fraternity is extremely proud of Bronlynn Jumat and Gillian Young, who have been selected for the prestigious Bowls South Africa Gold Squad.
The announcement was made at the recent SA Masters in Johannesburg. Only 12 ladies of all ages and from across South Africa make up this select group, from which the national Protea teams are usually selected.
The 18-year-old Young is the youngest member of the elite squad. The Outeniqua Bowling Club player never expected to be selected and had already taken her shoes off when her name was called.
She and Jumat, a member of the George Bowling Club, attended a Gold Squad camp earlier this year and gained valuable experience from the top players in the country.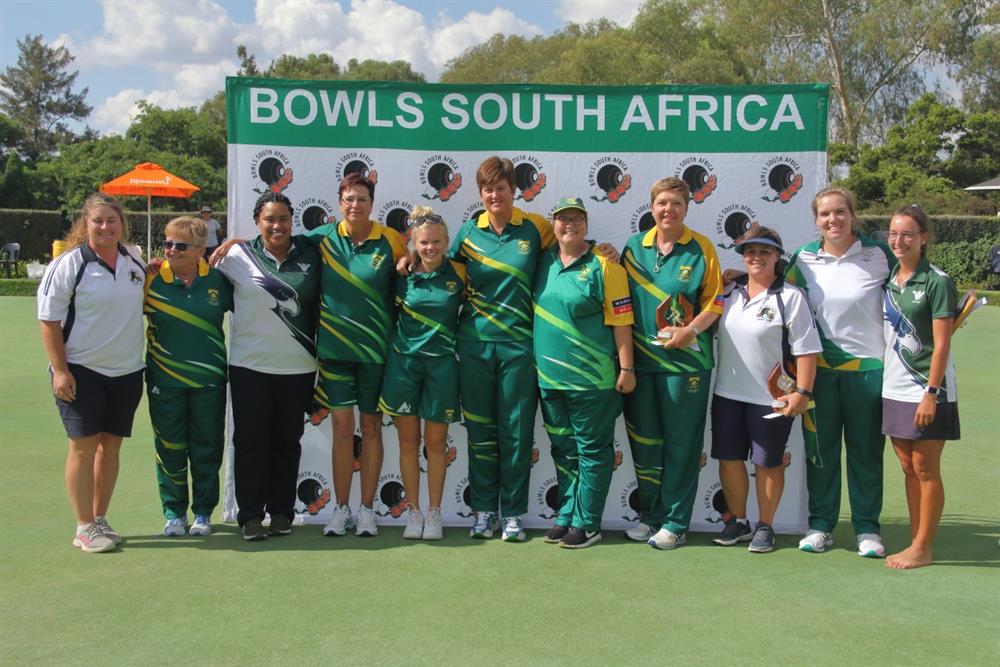 Eleven members of the group of 12 Gold Squad players at the announcement of the names. The two George players in the group are Bronlynn Jumat (second from left) and Gillian Young (far right).
Another member of Outeniqua Bowling Club, Nan Roos, took silver in the veteran section of the SA Masters - also a memorable achievement in this top tournament.
Other Eden bowlers who participated in the Masters are Protea player Billy Radloff of George Bowling Club and Piet Robbertze of Still Bay Bowling Club.
The excellent performance of the local players attests to the high standard of bowls in the Eden District and shows that they can compete against the best in the country and even internationally.
Bronlynn Jumat concentrates on yet another fine delivery in the SA Masters tournament.
The talented young Gillian Young in action in the SA Masters tournament.
'We bring you the latest George, Garden Route news'