GARDEN ROUTE NEWS - Home-grown hero Bianca Buitendag and Slade Prestwich (Durban) won the inaugural Vic Bay Classic Women's and Men's QS 1000 titles, the 7th stop on the World Surf League (WSL) Africa Qualifying Series (QS) Tour and the final stop on the 2019 City Surf Series (CSS).
It was a beautiful day with fun 1 – 1.5 meter (3-4ft) waves on offer from start to finish, offering the perfect canvas for high performance surfing.
In the Men's QS 1000, Slade Prestwich (Scottburgh) seemed in control of the final and his wave selection was on point.
After securing an 8.75 on his opening ride, he was surfing with incredible commitment and taking off behind the rocks, completing three strong maneuvers for a 9.90 and a total of 18.65, putting his opponents in a combination situation.
Australia's Chris Zaffis stayed busy to build his score and sneaked into second place with a 14.20 total, ahead of Beyrick de Vries (uMhlanga) and Adin Masencamp (Strand).
"It feels so good, to win my first QS is great but to win at Vic Bay is really special. I come here a lot. All the boys were frothing, it was so good to surf with such good waves. I knew today that if you wanted to win, you had to take the set waves. That was the plan and it all worked out," said Prestwich.
De Vries and Prestwich were responsible for one of the day's upsets in the first Seminfinal, eliminating Jeffreys Bay surfers Matthew McGillivray and Dylan Lightfoot.
In the second Semifinal, Adin Masencamp (Strand) and Chris Zaffis (AUS) earned their place in the final ahead of Jake Elkington (Cape Town) and Koby Oberholzer (Durban).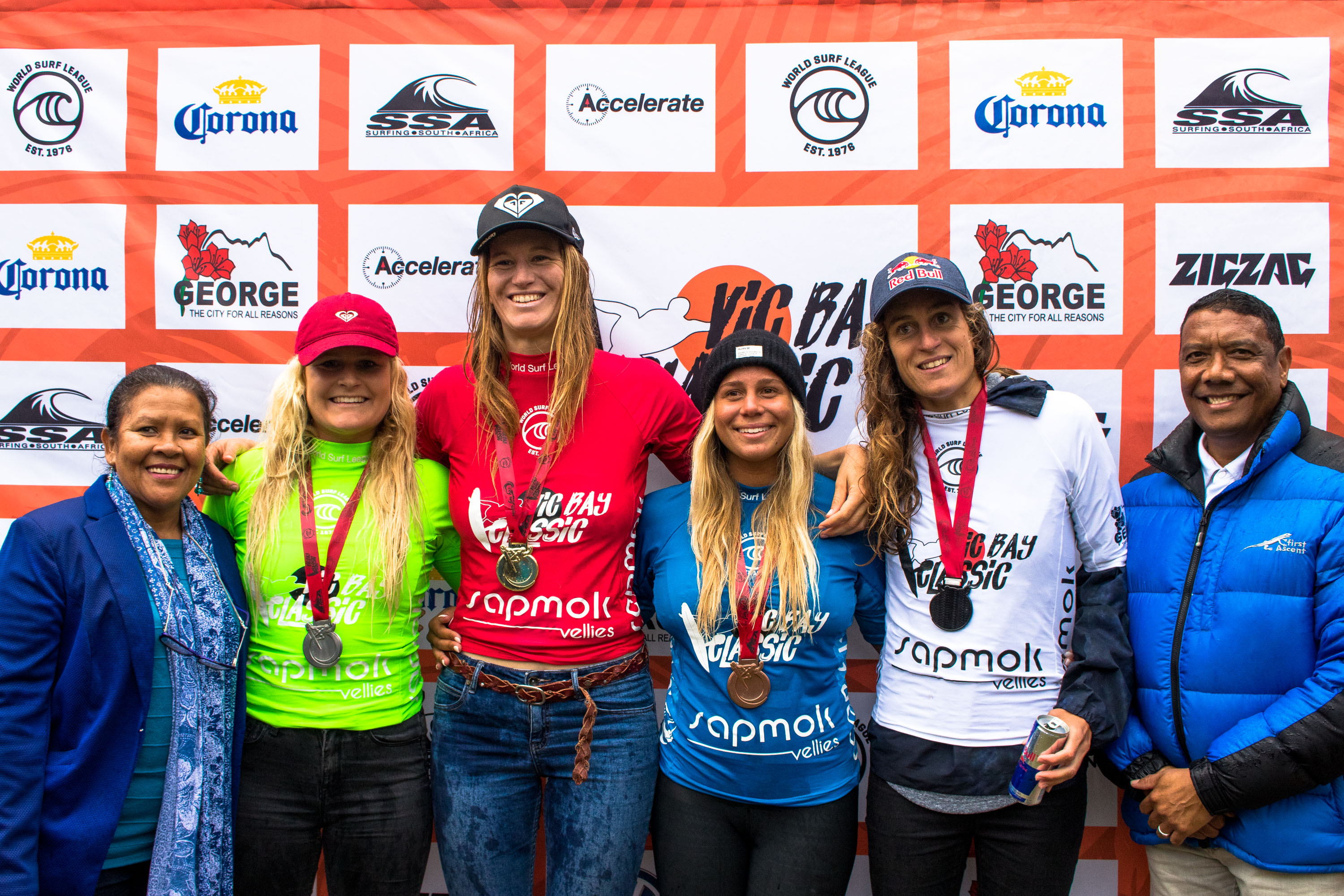 Vic Bay Surf Pro Classic - Women's Winners. Photo: Ian Thurtell
Local knowledge reigned supreme with Bianca Buitendag (Vic Bay) unleashing her powerful backhand attack to win the Women's QS 1000 in front of her home crowd.
Buitendag showed her experience, picking off the best wave of the heat, going vertical with each carve and finishing with a strong hit to the lip looking in the direction of the judges who awarded her with a 9.65.
With a backup of 7.25 for a total of 16.90, she claimed the win ahead of Piper Harrison (AUS), Rachel Presti (GER) and Justine Dupont (FRA).
"In a competitive sport like surfing, we lose so much and it's easy to get discouraged so I'm really happy to win. Having grown up here and with all the local support, it was a really great event. We get waves like this almost every week, so I felt right at home," said Buitendag, who will spend the next few weeks in J-Bay before heading to California for the next events.
Buitendag kept the best for last after she surfed a conservative Semifinal, winning with a two-wave total of 12.75 ahead of Rachel Presti, eliminating Philippa Anderson (AUS) and youngster Ceara Knight (Kommetjie). Former Championship Tour (CT) surfer Justine Dupont (FRA) and Piper Harrison (AUS) advanced in the second Semifinal, with Freya Prumm (AUS) and Leilani McGonagle (CRI) sent packing.
The Junior Women were on fire and it was a close tussle between Piper Harrison (AUS) and South African goofy-footer Zoë Steyn (East London). Both surfers ended up with the same total of 13.50, but in the case of a draw, Harrison's 8-point ride was the highest single wave score and she walked away with the win. Julia Nishimoto (JPN) and Rachel Presti (GER) was in third and fourth place respectively. With this result, Steyn takes the top spot on the WSL Africa Junior rankings from Ceara Knight (Kommetjie).
The exciting surfing and high scores continued with the Junior Men's, with Luke Slijpen (Llandudno) taking his second Junior QS win.
Slijpen was trailing, with Thompson leading with a solid two scoring waves in the bag. As time was running out, Slijpen quickly scored two great rides for a 7.50 and a near-perfect 9.65 for a total of 17.15 to steal the win from Thompson, with Karl Steen (Durban) and Saxton Randall (Durban) finishing third and fourth.
Alongside the world-class surfing action, the City Surf Series events also embrace sustainability and transformation programs such as the Surfing South Africa (SSA) Learn To Surf outreach project in collaboration with Caltex EC, National Sea Rescue Institute (NSRI) and Ocean Pledge.
Ocean Pledge will assist in creating 'Blue Events,' while the NSRI will be educating members of the public, competitors, local schools and surf outreach programs about ocean safety and ocean awareness.
More information, results and images on www.worldsurfleague.com.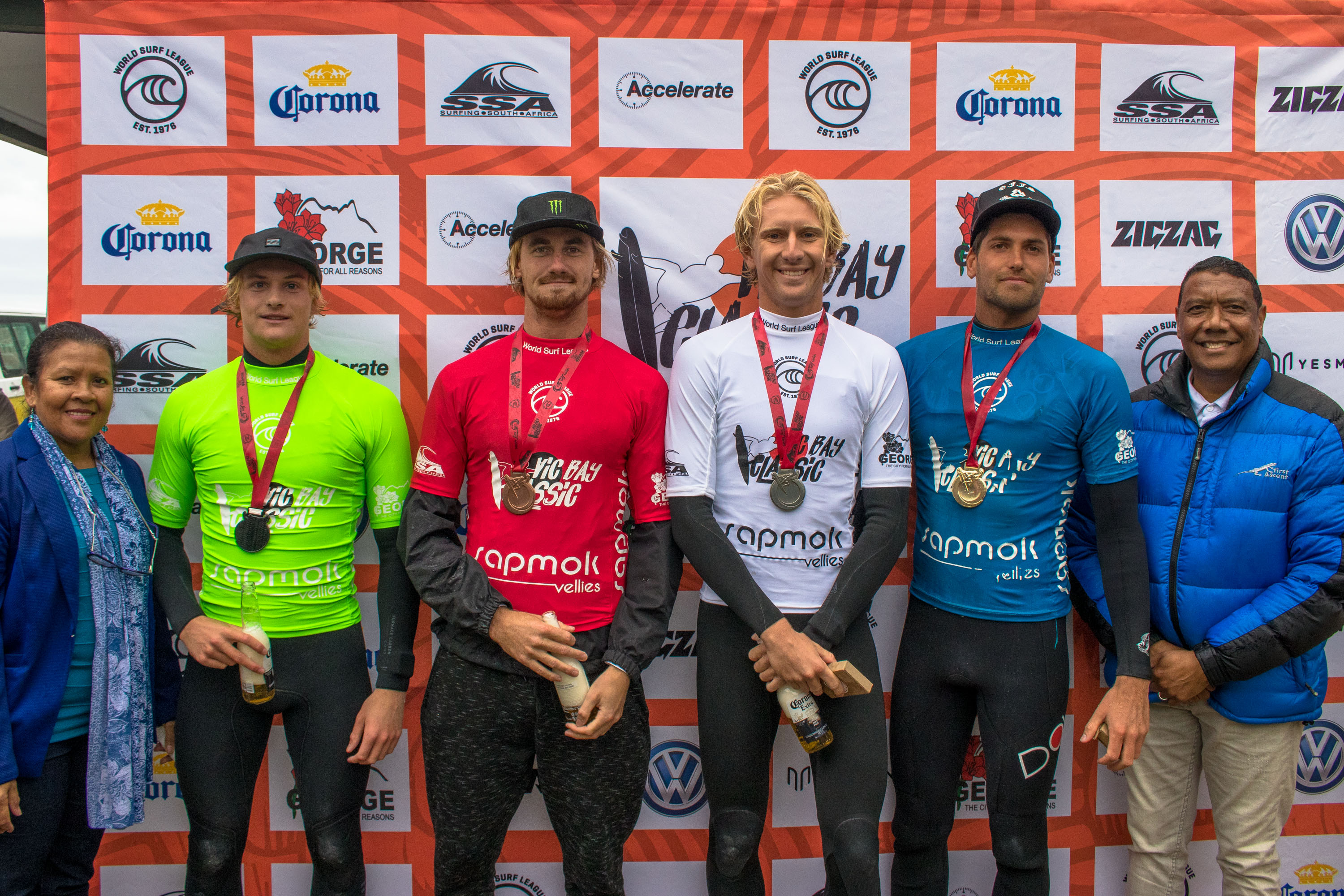 Vic Bay Surf Pro Classic - Men's Winners. Photo: Ian Thurtell
Vic Bay Classic Results
Men's
1. Slade Prestwich (Scottburgh) 18.65
2. Chris Zaffis (AUS) 14.20
3. Beyrick de Vries (uMhlanga) 13.40
4. Adin Masencamp (Strand) 12.65
Women's
1. Bianca Buitendag (Vic Bay) 16.90
2. Piper Harrison (AUS) 13.15
3. Rachel Presti (GER) 12.35
4. Justine Dupont (FRA) 10.50
Junior Men's
1. Luke Slijpen (Llandudno) 17.15
2. Luke Thompson (Durban) 16.10
3. Karl Steen (Durban) 14.40
4. Saxton Randall (Durban) 9.25
Junior Women's
1. Piper Harrison (AUS) 13.50
2. Zoe Steyn (East London) 13.50
3. Julia Nishimoto (JPN) 12.50
4. Rachel Presti (GER) 11.00
'We bring you the latest Garden Route, Karoo, Hessequa news'