GEORGE FOOTBALL NEWS - The Simunye Football Club was formed early in 2003. As it was not affiliated with the South African Football Association (Safa), it was only allowed to play friendly games, gamble games and local open tournaments.
That changed in 2017 when the club was officially registered with Safa and became a full member.
After playing two seasons in the George Local Football Association (Geolfa) league, the "Lawaaikamp soldiers," as they are affectionately known, flexed their muscles in the 2017/2018 season by finishing as the runners-up. They improved on that performance and were crowned champions in the 2018/2019 season.
They were then promoted to the Safa Eden SAB regional league after winning the Local Football Association (LFA) play-offs.
In the 2019/2020 season Simunye played its first season in the Safa Eden regional league and immediately made a huge impact by reaching three big cup finals: the Buco Tournament finals (2018/19 season), the Parks United Tournament finals and the regional Nedbank Cup finals.
This qualified them to play in the Western Cape Provincial Nedbank Cup play-offs in Cape Town, where they unfortunately lost in the finals against Woodlands from Cape Town.
Luthando Ntloko (left) of Simunye FC beats Peace Makers defender Simamkele Siphango. Ntloko was one of Simunye's shining stars last season.
Photos: Zama Gagu
Simunye started the SAB regional campaign at a very slow pace as the newcomers tried to adjust to the new challenges of this league. After playing 21 games in their first season, the Lawaaikamp soldiers managed to secure 11 victories, drew four games and lost six. They scored 52 goals and conceded 30 with a goal difference of 22 goals. The 37 points they earned put them in fourth position on the log.
Simunye's impact players throughout the season were Siyabonga "Mpumlo" Miggels, Siyabulela "Zane" Kosi, Sesethu "the Evergreen" Jack, Luthando Ntloko and Siwaphiso "Msawawa" Ndumiso.
The Simunye Football Club club structure is as follows: Salam Shimirimana (president), Ramadhani Hussein and Realetsiamo Joseph Tlhomoli (team managers), Amanda Alexanda (secretary), Makiwa Ndayisaba (head coach), Luthando Nogqala (first assistant coach), Hussein Kamisi (second assistant coach), Sesethu Jack (team captain) and Lonwabo Stuurman (vice-captain).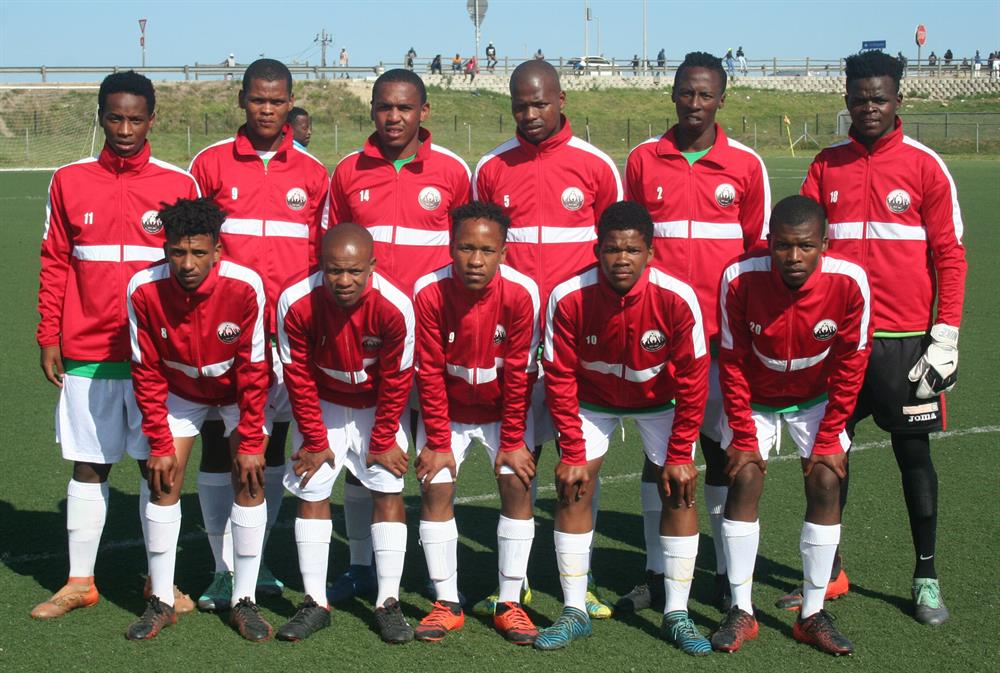 The first team of the Simunye Football Club are, back from left: Sesethu "Captain" Jack, Siyabonga "Mpumlo" Miggels, Athenkosi Busakwe, Siyabulela "Zane" Kosi, Mzuyanda "Yaya" Gqowa and Masonwabe "Senzo" Fuba. Front: Monde Phendukwana, Mario Nomdoe, Siwaphiwo "Msawawa" Ndumiso, Luthando Ntloko and Masilakhe "Kante" Mtibe.
'We bring you the latest George, Garden Route news'