GEORGE FOOTBALL NEWS - George Local Football Association's (Geolfa) Covid-19 Football Tournament kicked off at the Lawaaikamp Stadium last Friday.
The eight teams that took part were Black Cats, Eastern City, Paris United, Park United, Simunye, Young Blues, Young Pirates and Burning Fire.
The top two teams in each group will qualify for the semi-finals this week while the grand finale will be played on Wednesday 16 December at the Lawaaikamp Stadium. The winners of the Covid 19 Tournament will receive a full set of soccer jerseys plus a cash prize.
Black Cats defeated Paris United 2-1 in their last game of the group stages. The three goals were scored by Siphamandla Hlangabeza and Zanemfundo Mali (own goal) for Black Cats and Siyanda Kalo (Paris United).
Paris United started the game at a fast pace and launched several strong attacks.
Within 15 minutes after the start of the game, Black Cats goalkeeper Sethu Nyunya gave Paris United a penalty, which Siyanda Kalo netted to make it 1-0.
Paris United received a second penalty but Kalo Siyanda's shot hit the cross-bar.
Black Cats came back strongly. Paris United defender Zanemfundo Mali scored an own goal for Black Cats to equalise the score 1-1.
Siphamandla"Malobolobo" Hlangabeza of Black Cats scored the second goal to make it 2-1 after poor communication and poor handling by the back line of Paris United.
No goals were scored in the second half, although both teams were playing enterprising football and creating scoring opportunities.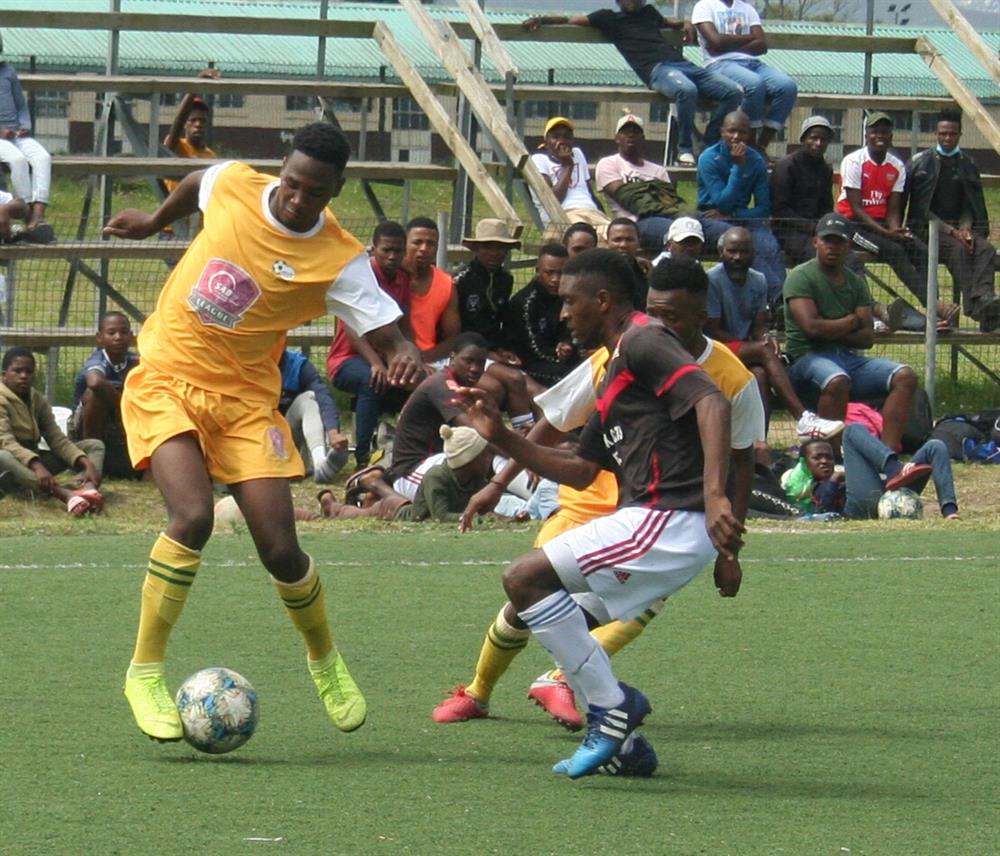 Mandlenkosi Prusente of Paris United (left) controls the ball against Black Cats defender Kwanele Mdlulwa.
Other tournament results were:
Friday
Burning Fire 0-4 Young Pirates; Parks United 0-4 Black Cats.
Saturday
Young Blues1-1 Simunye; Paris United 0-1 Eastern City; Simunye 1-2 Burning Fire; Young Pirates 0-1 Young Blues; Paris United 6-1 Park United.
Sunday
Black Cats 0-0 Eastern City; Burning Fire 2-2 Young Blues; Paris United 1-2 Black Cats; Simunye 0-0 Young Pirates.
Austin Jacobs of Young Pirates (left) shields the ball against Keathon van Rooyen of Simunye. Photos: Zama Gagu
'We bring you the latest George, Garden Route news'