GEORGE FOOTBALL NEWS - Due to the rapid increase of Covid-19 cases in the Garden Route, all municipal facilities are closed for sporting activities, practices and games with immediate effect.
This precautionary measure will remain in place throughout the summer holidays. With soccer activities coming to a halt, George Herald will feature some of the most exciting soccer clubs in George, starting this week with the Lawaaikamp giants, Black Cats FC.
The Black Cats Football Club was formed in 1962 and soon established itself as a formidable competitor.
"Ikati Emnyama", the Black Cats, gathered its players from the different townships in George and in the process played an all-important role in assisting with football development in George. Most of its players graduated from their development structures, youngsters such as Mivuyo Ngubo, Hlumelo Mandla, Shane-Lee Windvogel and Tsepo Mbenyana, who are still in their early twenties.
Black Cats started its trade in the George Local Football Association (Geolfa) league under the auspices of the South African Football Association (Safa).
They are now playing in the Safa Eden SAB Regional League. Last season Black Cats played 21 games, won 16, drew three and lost two. They boast the best defensive record, conceding only 16 goals but netting 62.
Impact players like Luyanda "Fire" Laho, Xolani Mandla, Shane-Lee Windvogel and Mzwanele "Sangweni" Jwaqa ensured that Black Cats were among the best attacking teams in the competition.
The Lawaaikamp giants, Black Cats Football Club first team, are at the back, from left: Shane-Lee Windvogel, Luyanda Laho, Sange Kolose, Lucky Veiver, Viwe Mawindi and Sipho Jacobs. Front: Siphamandla Hlangabeza, Kwanele Mdlulwa, Nkosikhona Gwegwe, Tsepo Mbenyana and Mzwanele Jwaqa.
The list of their achievements on the field is impressive. Black Cats won the DA Football Tournament in 2011, both the Oudtshoorn Festival and Easter Tournament in 2013, the Lennox Bacela Tournament and Easter Tournament in 2014, the Easter Tournament, Masidlale Tournament (Vuyisile Ntombayithethi) and SAB league in 2015, the Oyster Festival championships in Knysna in 2016, the Top 24 champs in Riversdale and the Park United Tournament in 2017, the SAB league title and Park United Tournament in 2018 as well as the Easter Tournament and the Park United Tournament in 2019.
Rising soccer star Thandile Madela (20), from the dusty streets of Thembalethu, represented the Eden region during the Western Cape SAB provincial play-offs. He also served as the match assistant (linesman). Madela is a teacher's assistant at the Mzoxolo Primary School.
The Black Cats executive members are: Thozamile Mangaliso (chairman), Ntomboxolo Kosi (vice-chairlady), Lungisa Dumalisile (general secretary), Shakes Mzaziwa (financial manager), Andile Gcinilizwe (team manager) and Mpafani Mandla (marketing manager).
The technical team consists of: Basil Mavukwana (senior team head coach), Zimabe Hussein (senior team first assistant coach), Mabhuti Mtini (second assistant coach), Christopher Ngceni (Geolfa domestic league head coach), Siphosethu Swelindawo (assistant coach), Lungisa Dumalisile (Geolfa Promotional League head coach), Andile Gcinilizwe and Geolfa league juniors head coach, Zonwabele Dlala.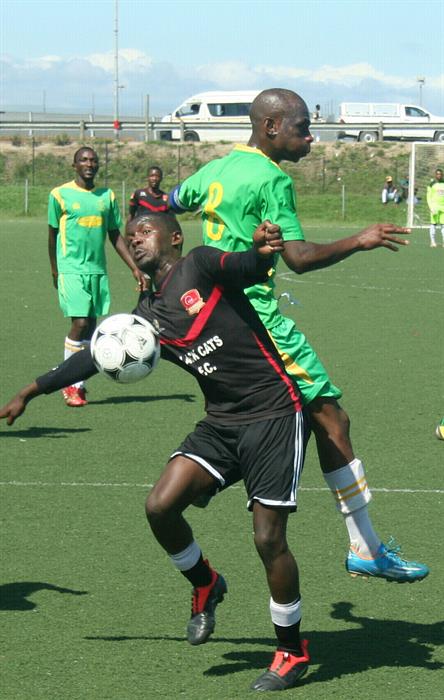 Shane-Lee Windvogel (front) of Black Cats protecting the ball from Zuko Matume of Paris United.
Black Cats right winger Mivuyo Ngubo played for his club in all the divisions.
Experienced campaigner Lunga Jantjies of Black Cats getting the ball under control.
'We bring you the latest George, Garden Route news'