CRICKET NEWS - One of SWD's brightest cricketing prospects, Jean du Plessis, has represented South Africa at various levels and earlier this month earned his fifth consecutive contract with SWD. Blake Linder of Knysna Plett Herald takes a look at his rise up the ranks and what makes the young sportsman tick.
Du Plessis is homegrown in every sense of the word, having been was born in Plettenberg Bay on 24 November 1998, growing up in the town and eventually attending Glenwood House School in George. He took to cricket like a duck to water, starting at a young age with a gift from his father. "It all started when my father bought me my first bat as a gift – ever since then I had him throw tennis balls to me in the garden and even on the beach," Du Plessis recalls. "I have fond memories of my brother and me playing out on the lawn for hours on end, and we still do this to this day."
He made his first provincial appearance for South Western Districts (SWD) at age nine, when he was selected for the U11 side. He went on to represent SWD in every age group since then, consistently going from strength-to-strength.
In the footsteps of heroes
Growing up, Du Plessis always looked up to and idolised the likes of AB de Villiers and Jacques Kallis. At the moment, he looks up to Marnus Labuschane and Virat Kohli "for their excellent techniques and the way they think about and approach the game".
He also likens himself to cricketers such as De Villiers and Jonny Bairstow. "They both play/played a similar role in their respective teams to what I do now. Both are excellent with the gloves and in the field and remain top-order batsmen. I strive to add value to whatever team environment I am in like they do," says Du Plessis. In 2015, his Grade 11 and U17 year, he made his breakthrough on the national scene when he was selected for the SA U17 team to play at the SA Cubs tournament.
The following year he made his final age-group representation for SWD for the U19 team before he was called up to the SWD contracted squad for the first time at the end of his matric year in 2016. That year he also represented SWD at the Africa T20 Cup, and then once again earned SA colours when he was chosen for the U19 SA side despite only being 17 at the time. Two years later he made an appearance on one of the biggest stages, representing SA at the 2018 U19 ICC Cricket World Cup.
After matriculating, he pursued a BCom accounting degree at Nelson Mandela University, completing his studies at the end of 2019. With the academic responsibilities behind him, this augured the start of his best form yet for SWD as he is now able to fully devote himself to cricket. He notched up his best first-class (three-day) score of 162 not-out against Border. This, however, was not before he donned the SA colours yet again, on this occasion representing the SA Invitational XI for two exhibition matches against England in January, which he also captained.
Scores aplenty
In his five seasons for SWD so far, he's played 21 first class, 23 list A (one-day) and 11 T20 matches, racking up 2 118 across all three formats with averages of 35.18 (first class), 37.15 (list A), and 31.77 (T20). He has also notched up four centuries and nine half-centuries thus far, with 34 dismissals as wicketkeeper for the side too.
For Du Plessis, playing cricket is more than just "playing the game". To him it's instead multifaceted, with many sides to his love affair with the sport. "I enjoy the many challenging factors that can influence the game and how you need to adapt accordingly," he says. "I enjoy the fact that cricket teaches you many skills like how to deal with failure, cultivate patience and humility, which are skills that are all valuable in everyday life. Teamwork and friendships within the team are also extremely valuable, as team-mates spend a lot of time together during the season."
Another facet of sport in general that Du Plessis enjoys, is "being able to make friends with people from vastly different backgrounds from all around the country and even the world".
He has big hopes for the future, as he aims to make a career out of the sport. "It has always been a dream since I was a boy and it remains something that I strive towards every day. It is when I am out on the field when I am the most happy."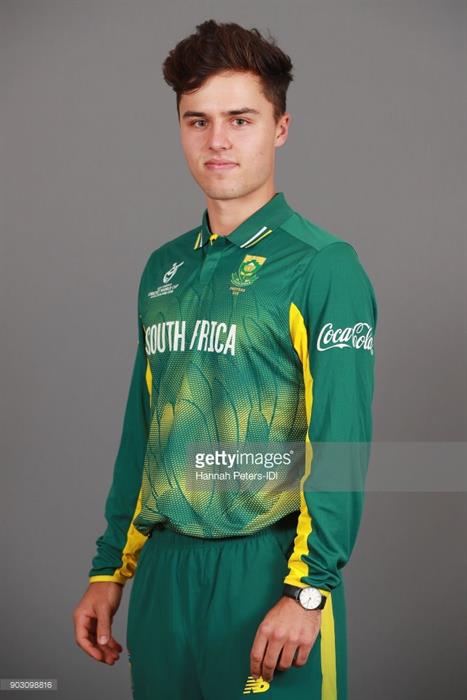 Jean du Plessis kitted out in his SA colours during the 2018 u.19 ICC Cricket World Cup. Photo: Hannah Peters/Getty Images
'We bring you the latest Garden Route, Karoo, Hessequa news'