PROPERTY NEWS - Whether you are working from home or battling traffic, today's pressures make it essential for our homes to be serene, safe spaces.
In a recent study of adult's colour preferences for the home, it was found that white was the overwhelming favourite 'colour' for living rooms, and bedrooms.
What's to like about white?
According to colour psychology, white is associated with purity or innocence and that can be extended into other positive attributes like freshness, simplicity, and cleanliness.
Instead of changing the colour scheme to get the effect you want, brighten up a room with lush, leafy plants that produce simple or spectacular white flowers. It may be far more economical and less clinical in effect than an all-white room.
According to Feng Shui, which is a system of using energy flows to create harmony, white is a powerful colour.
The element it expresses is metal, and white generally goes very well with natural elements like wood, glass, natural fibres (baskets) or highly fired pottery like porcelain. Think of a beautiful orchid in a glass container, which allows the whole plant to be appreciated, roots and all.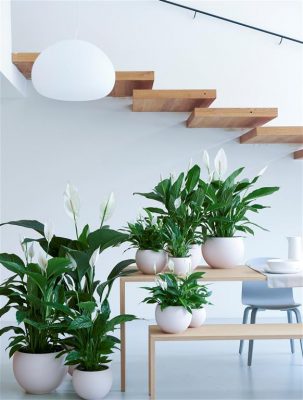 The meaning of plants
Plants have their own meaning, and that is another form of energy.
The Peace Lily (Spathiphyllum) for instance is known as a bringer of peace: the white flower represents the white flag which is recognised internationally as a truce signal.
Both the rose and the white chrysanthemum lay claim to being a symbol of devoted love. The indoor pot roses with their perfect white blooms, can be just as appealing as their garden counterparts.
The delicate and graceful Moth orchid (Phalaenopsis) is said to represent beauty, and strength, attributes that go back to ancient Greece. They are one of the most popular gift plants, and why not as a house-warming gift?
Anthurium, also known as Flamingo flowers, symbolise long-lasting love and friendship, possibly because these plants are almost indestructible. They also forgive neglect!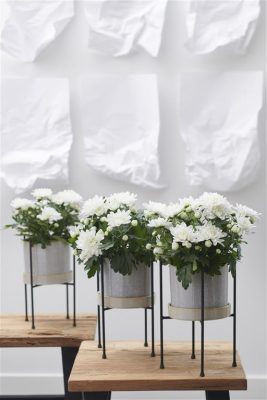 Our indoor pick
Phalaenopsis (Moth orchid) is the go-to flower among interior designers because of their array of flowers and sculptural silhouettes. The midi in particular produces a massive amount of small, perfect blooms. They make a statement as table centrepieces, or wherever they are needed to add beauty to a room. With the minimum of care and bright light (but no sun), they flower for up to three months.
Drop two ice-cubes on the top of the plant once a week; this will supply enough water. Alternatively, run water through the potting mix for one minute every three to 10 days, depending on the season.
Chrysanthemums are die-hards, that are long lasting, like bright light and consistently moist soil, but not over-watering. Cut them back after blooming, or plant them out in the garden or in patio containers.
Peace Lily (Spathiphyllum) is also valued for its air purifying qualities, making it especially good for bedrooms. There are different varieties of peace lily. The compact traditional variety suits smaller spaces but there are also large-leaved varieties with strongly textured leaves that make a statement. Plants grow in low light and only need watering once a week.
Pot roses double up as living bouquets and long-lasting indoor pot plants. Each pot contains three to four mini-roses, which is why a single pot is so full of blooms and buds. Having been grown in warm, light controlled greenhouses, they are perfectly acclimatised for displaying close to a windowsill or on the patio where they get good light but not direct sunlight. When the flowers are over, cut off the stems to 5cm above the ground, and when new shoots are visible, feed with a liquid fertiliser like Multifeed, Seagro or Kelpak. They will come into flower quicker if kept outside in the sun. Just make sure they are watered every day.
White anthurium is an ideal container plant for bright indoor rooms because it needs minimal watering and produces long lasting flowers all year round. Wiping the leaves with water removes any dust and insects and keeps them looking glossy and green. A good plant for beginners, they forgive neglect and are almost indestructible. Feeding with liquid fertiliser once a month, except in winter, will encourage it to keep on pushing out flowers.
'We bring you the latest Garden Route, Hessequa, Karoo news'