PROPERTY NEWS - Much like gardening, salt water can provide a cure for almost anything. However, these two therapeutic pastimes don't mix well. The ocean has been an endless source of stories, adventure and turmoil for mankind and endless problems for landscapers planting a garden with an ocean view.
Earth is home to five great oceans and 113 seas.
These represent 72% of the earth's surface; in South African we have 2 500km of coastline, with a large portion of South Africans living in cities like Cape Town, Port Elizabeth and Durban. Most property owners or beach resorts want a property directly on the beach - the areas landscapers call Zone 1 and Zone 2.
Coastal conditions of a beachfront garden
Landscaping a stone's throw away from the seashore means a property manager will have to deal with the following challenges:
An ocean breeze
Brackish waters from estuaries and salt marches
Dew, mist, humidity and fog that cause fungi
High wind velocity from the ocean breeze
Migrating sand dunes
Reflective sunlight from the water that burns plants
Saline soils and poor soil quality
Salt build-up on leaves
Steep garden gradients and slopes
Landscaping on the coast
Gardens on the seashore are influenced by the sea and tides. They also play important ecological roles for coastal fauna, which is why it is important to preserve coastal habitat in beachfront gardens, especially indigenous mangroves.
If you wish to improve the soil quality of a coastal garden, using soil from a compost heap, worm farm or Bokashi system (an anaerobic composting system) would improve soil quality, allowing more to grow.
A retaining wall or salt-resistant shrubs make for the first line of defence against the ocean, protecting other plants from the salt and wind.
The correct positioning and plant selection is vital in keeping costs and casualties low. Understanding the garden's typography and unique conditions is vital to a successful coastal garden.
The importance of salt-tolerant plants on the coast
A halophyte is a plant that can withstand saline conditions and salt residue on its leaves. Typically a salt-tolerant plant is not particularly large and will have thick, almost succulent-like leaves. They can also grow incredibly fast.
Dune-surfing plants for gardens in the tidal zone
About 70% of South Africa's 2 500km coastline is made up of sandy beaches. The wise man did not build his house - or his garden, for that matter - on the sand. One cannot control dunes, but there are few plants that can ride the wave of the ever-shifting sand dunes.
Dune plants:
Beach bean (Canavalia rosea)
Beach pumpkin (Arctotheca populifolia)
Cyperus crassipes
Dune spinach (Tetragonia decumbens)
Natal sour fig (Carpobrotus dimidiatus)
Phylohydrax carnosa
Pig's ears (Cotyledon orbiculata)
Trailing gazania (Gazania rigens)
Trees and shrubs for a landscape with an ocean view
Trees and shrubs will help control the humidity and the heat on the property while also acting as wind breakers. Typically large trees don't do too well on the beach, because of the wind, but if staked correctly they can grow. Besides staking, the hosing down of trees is important to remove excess salt.
The continuous ocean breezes are a drop in the ocean for these coastal shrubs:
Natal Laburnum (Calpurnia aurea)
Lagoon hibiscus (Hibiscus tiliaceus)
Snot apple (Thespesia garckeana)
Bushman's poison (Acokanthera oppositifolia)
Cape honeysuckle (Tecoma capensis)
Coastal coral tree (Erythrina caffra)
Cross-berry (Grewiaoccidentalis)
Keurboom (Virgilia divaricate)
Spekboom (Portulacaria afra)
Wild dagga (Leonotis leonurus)
Wild pomegranate (Burchellia bubalina)
Coast silver oak (Brachylaena discolor)
Conebush (Leucadendron levisanus)
Confetti bush (Coleonema calycinum)
Dronkbessie (Passerina ericoides)
Erica species
Pincushions (Leucospermum spp.)
Protea species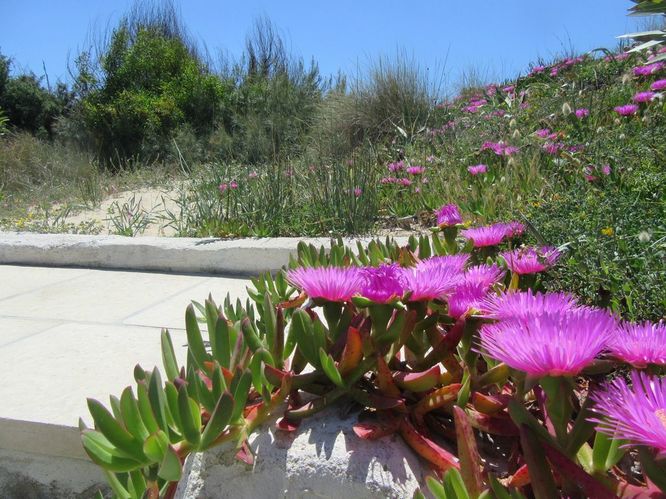 Natal sour fig (Carpobrotus dimidiatus) Photo: www.stayz.com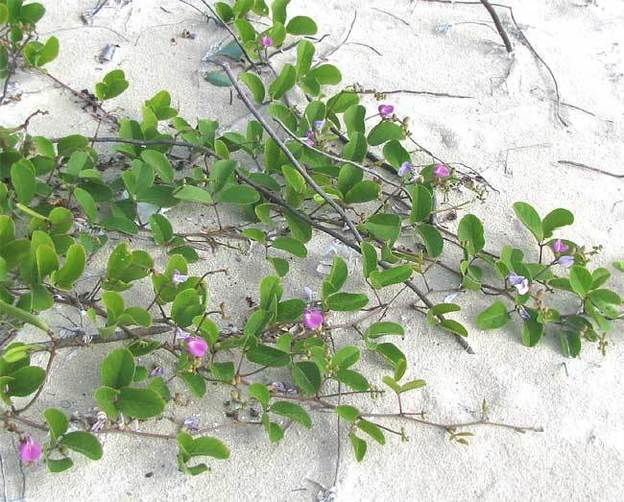 Beach bean (Canavalia rosea) Photo: www.naturalmedicinefacts.info
Source: www.lifegreengroup.co.za
'We bring you the latest Garden Route, Hessequa, Karoo news'