PROPERTY NEWS - Herbs are not just for flavouring food. They can also heal. Herbs like thyme, parsley, calendula, and our own indigenous Wilde als (Artemisia afra) can be used to strengthen the body to fight off winter infections like coughs, colds, and flu.
So this winter, plant your own pharmacy.
Herbs have been used for centuries to relieve all kinds of ailments, especially for those related to winter chills and ills. Medicinal herbs, however, should not replace medical treatment.
Pregnant women and people suffering from chronic or serious conditions should first consult their doctor. Doug Watson of Healthy Living Herbs has these tips for using herbs.
To grow the correct herbs, check the botanical name on the label and don't just rely on the common name.
Use the quantities specified and the dosage rate. Any herb taken in excess can be toxic, even thyme and rosemary.
Herbs for medicinal use must be grown organically, without using insecticides or fungicides.
To play it safe, Doug advises using fresh or dried leaves in a tea because this is usually the safest way to administer herbs.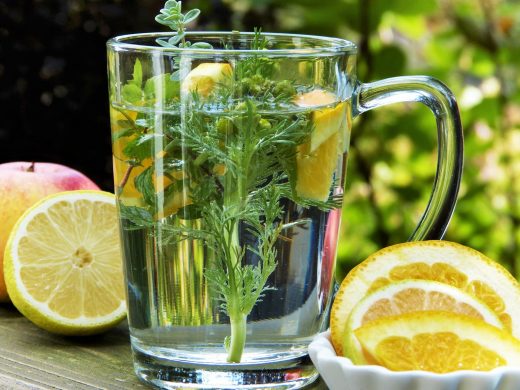 Herbal teas, or infusions, are easy to make and refreshing to drink. Use two teaspoons of fresh herb to one cup of water. Put the herbs in a cup, china teapot or coffee plunger and add water that has just boiled. Cover and leave to steep for 10 to 15 minutes, then strain and drink. Honey can be added.
Teas can be drunk hot or cold and are usually taken three times a day.
4 easy to grow herbs for winter ailments
Artemisia afra, commonly known as wilde als or wormwood, is one of our most widely used traditional medicines. It is used to treat a host of ailments, but mostly coughs, colds, headaches, and influenza.
To use:. the roots, stems and leaves can be used as poultices, infusions, body washes, lotions, smoked, snuffed, or drink wilde als tea (sweetened with honey) as an influenza preventative throughout winter.
How to grow: Artemisia is a bushy perennial shrub with silvery-green feathery foliage that grows up to 2m high. The leaves have a strong, sweet yet aromatic fragrance when rubbed. The plant is hardy, grows in any soil, needs full sun and occasional watering.
Common Thyme (Thymus vulgaris) and Lemon Thyme (Thymus x citriodorus) have strong antiseptic and tonic properties, making it a useful tonic for the immune system as well as a remedy for chest and throat infections.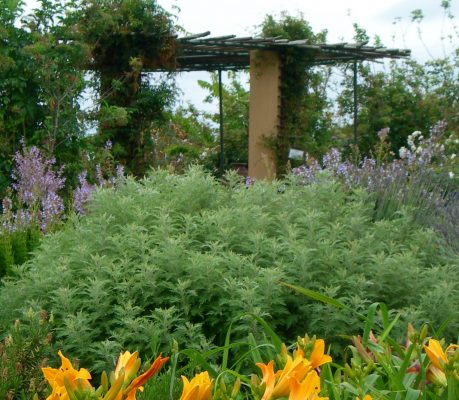 How to use: Make a tea using a sprig of thyme (1/2g) to one cup of water. Pour water that has just boiled over the thyme, cover (to retain the volatile oils) and allow to infuse for 5 minutes. Remove the thyme and drink. Honey can be added. Drink three to four cups a day if dealing with an infection.
How to grow: plant in full sun in soil that drains well. Trim often to keep the plant compact and prevent it from becoming woody.
Parsley (Petroselinum crispum) is generally regarded as a garnish, but the fresh leaves are a very good source of vitamin C, as well as vitamins A and E and iron. It also has anti-inflammatory properties and is a detox herb that clears toxins and helps lift fatigue.
How to use: Two tablespoons of parsley a day (chopped, infused, or added to salad) provides strong protection against colds and flu. Also make a parsley tea from the fresh leaves.
How to grow: Plant parsley in fertile soil, in sun or semi-shade and keep the soil moist. Feed once a month with a liquid fertiliser.
Calendula officinalis is useful for its petals that have an anti-viral action that helps clear infections, and detoxes and balances the digestive system, liver, and gall bladder.
How to use: Infuse 2 tsp of petals in 750ml just boiled water for 10minutes.Strain and drink up to five cups a day.
How to grow: Frost hardy calendula grows in full sun and does well if the soil is enriched with compost before planting. For a constant supply of flowers, feed once a month with a liquid fertiliser specifically for flowers.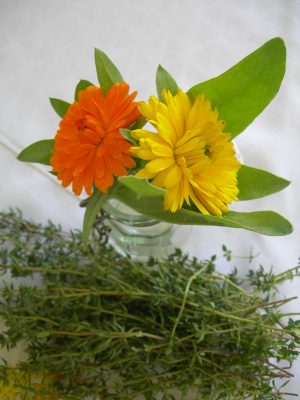 Try this
Plant calendula, thyme, and parsley in one large pot or large hanging basket. Position the Calendula as the main plant, fill in with parsley and plant the thyme around the edge. Use a good quality potting soil, or special herb potting soil, and make sure the pot drains well. Water regularly and feed twice a month with a liquid fertiliser.
For more information visit www.healthyliving-herbs.co.za or follow them on Facebook – https://web.facebook.com/healthylivingherbs2