GEORGE POLITIEKNUUS - Hulde is gebring aan Mario Masher (71), 'n voormalige parlementslid en gemeenskapsleier van George wat verlede Donderdag, 26 November, onverwags aan 'n hartaanval oorlede is.
Masher het diep spore in die Suid-Afrikaanse politiek getrap. Voor dit was hy 'n onderwyser en sakeman in George. Hy was onder meer 'n onafhanklike stadsraadslid toe Pacaltsdorp nog sy eie munisipaliteit gehad het.
Later was hy 'n parlementslid van die destydse Arbeidersparty in die driekamerbedeling.
Hy het in sy loopbaan as politikus ook onder die vaandel van die destydse Nasionale Party op die parlementsbanke gesit. Hy het later by die ANC aangesluit en in 2004 Suid-Afrika se konsul-generaal in Hong Kong geword. In 2016 het hy by die Plaaslike Besorgde Inwoners (PBI) aangesluit en was later daardie jaar tydens die munisipale verkiesing die party se kandidaat in wyk 23.
Mario Masher
Afgelope Sondag, 29 November, is 'n gedenkdiens by Eagles Nest Ministries gehou wat deur verskeie senior gemeenskapslede bygewoon is.
Virgill Gericke, die PBI-leier, het Maandag gesê Masher was 'n gedissiplineerde mens. "Hy wou die voorheen benadeelde mense bevry. Hy het 'n groot impak op mense gehad en was 'n held vir baie jong mense. Mario was 'n groot aanwins vir ons party."
Annalise Manickum, Masher se jongste suster, het haar broer beskryf as 'n goeie mens wat geveg het vir die armste van die armes.
Masher was die oudste en hy word oorleef deur vyf susters en drie broers. "Ons as familie gaan hom mis. Hy is baie skielik oorlede," het sy gesê.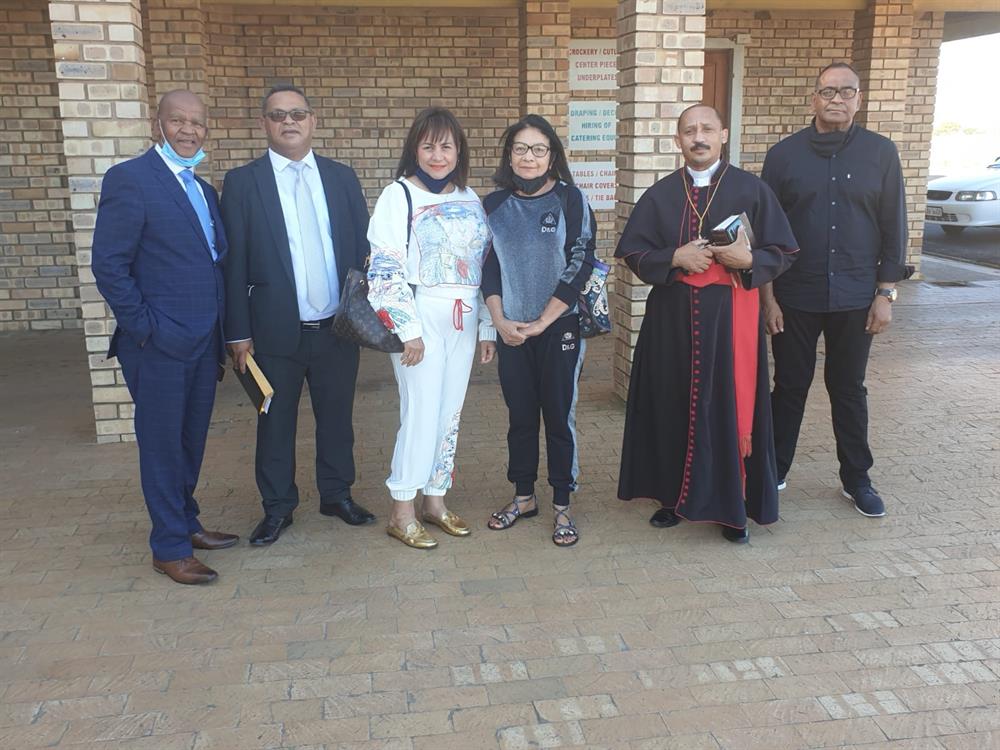 By die gedenkdiens is, van links: Pastoor Jannie Horn, Virgill Gericke, Annalese Manickum (suster), Vida Rajcoomar (suster), vader Calvin Frans (St Albans Anglican Church Pacaltsdorp) en Wayne Masher (broer)).
Peter Hendrickse, oud-ANC-LP, wat destyds saam met Masher in die Arbeidersparty was, het gesê hy is geskok oor die afsterwe van Masher. "Hy was 'n baie netjiese man en 'n ware heer."
Volgens Hendrickse was Masher ook beleefd, opreg en vrygewig.
Dr. Corné Mulder, leier van die VF Plus in die Wes-Kaap, het gesê hy het Masher leer ken in die driekamerbedeling. Hulle het later ook kontak gehad toe Masher 'n NP-LP in die nuwe politieke bedeling was.
"Hy was energiek en aan die gang. Al was ons politieke teenstanders, het hy altyd 'n goeie indruk gemaak en hy was goed voorbereid."
Well-known politician Mario Masher (71) died last Thursday, 26 November, after suffering a heart attack. His long career in public service included being a member of the tri-cameral parliament for the Labour Party, Member of Parliament for the National Party and in later years he joined the ANC and served as South Africa's Consul General in Hong Kong.
Mario Masher as klein seuntjie saam met sy familie.
'Ons bring jou die nuutste George, Tuinroete nuus'