Gallery
GEORGE NUUS - Die Good-party se wykskandidate vir die komende tussenverkiesing het verlede naweek saam met hul partyleier, Patricia de Lille, huisbesoek in die onderskeie woongebiede afgelê.
Dié span met hul kenmerkende oranje T-hemde het bejaardes en minderbevoorregtes in Rosemoor, Conville, Parkdene, Rosedale en Pacaltsdorp besoek.
Good se kandidate is as volg: Henry Turner (wyk 17, Conville); Ellen Klaassen (wyk 8; Parkdene); Charleen Titus (wyk 14, Rosedale) en Richard Hector (wyk 27, Pacaltsdorp).
De Lille het onder meer besoek afgelê aan Rosemoor-dienssentrum, waar sy met bejaarde inwoners gesels het. Klagtes rakende munisipale dienslewering was 'n gewilde besprekingspunt. De Lille het tydens 'n onderhoud gesê sy is in die dorp om die vier wykskandidate te ondersteun met die oog op die tussenverkiesings wat 11 November gaan plaasvind.
Photo gallery: Aunty Pat visits Rosemoor Service Centre
"Ons is hier om na die mense se bekommernisse te luister," het De Lille gesê. Sy het onderneem om terugvoer aan die gemeenskappe te gee.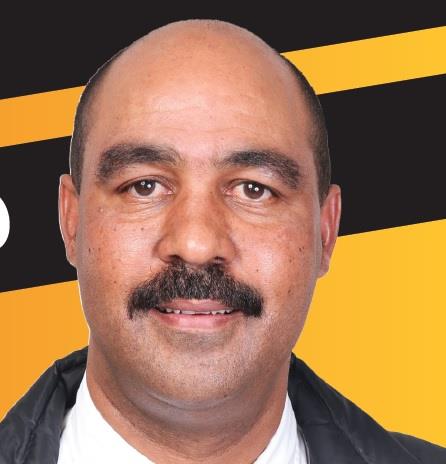 Richard Hector (wyk 27, Pacaltsdorp)
Swak bouwerk
'n RDP-huis in Rosedale wat weens swak bouwerk bykans uitmekaarval was in De Lille se visier. "Dit is die effek van swak kwaliteit RDP behuising wat deur George-munisipaliteit gebou is," het De Lille getwiet. "Die kwessie is gerapporteer, maar die munisipaliteit sê daar is nie 'n begroting om die skade te herstel nie."
Munisipale woordvoerder, Chantel Edwards-Klose, het by navraag gesê dat die munisipale kommunikasie-afdeling nie kommentaar oor twiets lewer nie. Wat behuising betref, het Edwards-Klose gesê die munisipaliteit tree slegs op as agent vir die Wes-Kaapse departement van menslike nedersettings.
"Met betrekking tot herstelwerk aan RDP-huise, begroot die plaaslike munisipaliteit nie daarvoor nie en word 'n noodbehuisingsaansoek by die Wes-Kaapse provinsiale departement ingedien, wat oor die nodige finansiering beskik. Die proses word gefasiliteer deur die munisipale direktoraat," het Edwards-Klose gesê.
Die huis waaroor De Lille getwiet het, is deur die munisipale amptenare geïdentifiseer as moontlik 'n huis in Rosedale wat deur 'n motor getref is. "Dit wil sê die skade wat veroorsaak is hou glad nie verband met die konstruksieproses nie," het Edwards-Klose gesê. "In hierdie geval is aansoek gedoen om noodbehuising en het die munisipale direksie 'n noodstruktuur vir die inwoners van die huis gebou."
Ellen Klaassen (wyk 8; Parkdene)
Full comment by George Municipality:
We take note that the media query stems from a tweet by an individual who is linked to a political party as well as being an MEC for National Government. The tweet shows a photograph of a house which is allegedly identified by the Twitter account as being built by the George Municipality. As a rule please note, due to the difficulty in verifying Twitter accounts and the content, the Communications Department will not provide responses on tweets.
For context please note that RDP housing in George was built at various periods by the National Department of Human Settlements. George Municipality is not mandated to provide housing and acts solely as an agent for the WC DoHS, who is constitutionally required to perform this function.
With regard to repairs for such houses, the local municipality does not budget for such repairs and an Emergency Housing Application is submitted to the Western Cape Provincial Department who holds the necessary funding. This process is facilitated by the George Municipal Human Settlements directorate.
In this instance, our Human Settlements officials have identified the house in question as possibly being the one in Rosedale that was hit by a car, i.e. the damage caused is therefore not related to the construction process at all.
In this instance an EHA (Emergency Housing Application) has been processed and the George Human Settlements directorate built an emergency structure for the occupants in the interim.
Charleen Titus (wyk 14, Rosedale)
'Ons bring jou die nuutste George, Tuinroete nuus'