GEORGE POLITICAL NEWS - The ANC mourns the death of two political stalwarts who succumbed after contracting Covid-19.
The ANC councillor of the Garden Route District Municipality, Putco Mapitiza, passed away yesterday morning, Wednesday 2 December, in the Mediclinic George where he was submitted two weeks ago.
On 14 November, ANC Regional Chair Jovan Bruinders of Mossel Bay, where he also served as councillor, died while he was in isolation.
ANC Regional Secretary Major Sokopo said he only learned about Bruinders' passing a few days ago and woke up yesterday to the news that Mapitiza has succumbed to the Covid-19 virus.
"For the past two weeks the African National Congress is poorer in this region and Province with the lost of these two comrades - two very dedicated individuals that have served the organisation with distinction. We are sad and we can't explain how deep the wound is," said Sokopo.
District Mayor Memory Booysen shared his feelings with fellow councillors of the Garden Route Council: "This is a sad day indeed. Words cannot describe what I am going through now. Myself and MP Lulama Mvimbi recruited him [Putco Mapitiza] into the ANC Youth League. We went on to become boxers and sparring partners, being councillors serving together was the cherry on top. I have lost a brother. May his soul rest in peace. To the ANC and family our sincere condolences as the Blue family... Mawawa."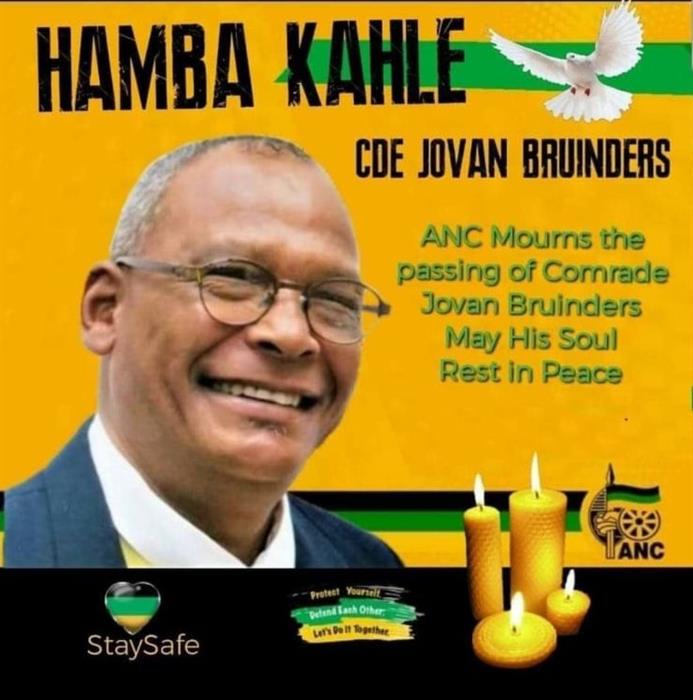 Jovan Bruinders
Rich history
Mapitiza's interest in politics started when he was a student. He joined the ANC when it was unbanned and served the ANC Youth League as regional convener.
He formed part of the Eden District Youth Council as a founder member and was later elected as regional secretary of the ANC where he served the position for three terms. Currently he was serving as a councillor at the Garden Route District Municipality.
Mapitiza is survived by his mother who resides in the Eastern Cape, his children, brothers and sisters.
Jovan Bruinders started his political life in the early 80s at school and continued as a student at the University of the Western Cape.
He too joined the ANC after it was unbanned. He served as a councillor on Mossel Bay Council back in 1995 and again from 2016.
For the period in between he was employed at the Mossel Bay Municipality. Bruinders became the regional chairperson of the ANC in August 2018.
He is survived by his wife, Merlion Bruinders, his three children, his mother and his brothers.
Putco Mapitiza
'We bring you the latest George, Garden Route news'