NATIONAL NEWS - Earlier this week (May 3), World Press Freedom Day was observed.
Important topics were highlighted in the context of South Africa, such as information being seen as a Public Good, the current threats to press freedom, and how not to fall for fake news, among others.
Read our full press freedom coverage by clicking here.
Fuel price decrease a welcome breather for South Africans
A stronger rand came to the rescue of South African fuel users, causing fuel prices to decrease with effect from 5 May.
The price of petrol came down by nine cents per litre and diesel by 31 cents a litre. The price of illuminating paraffin decreased by 30 cents.
Slain rugby star Lindani Myeni's laid to rest
Lindsay Myeni breaks down with the arrival of her late husband's body earlier this week Photo supplied by the Office of the KZN Premier. Photo: Zululand Observer
Hundreds of community members, friends and family said their final goodbyes to the uMbombo prince who was slain by Honolulu police responding to a 911 burglary call.
Watch the memorial service by clicking here
Covid-19: Third wave worst in Gauteng?
The Covid-19 Modelling Consortium, established to project the spread of the disease to support policy and planning, warns that a third wave could hardest hit South Africa's economic hub.
Potential drivers of the expected surge in infections across the country include the behavioural changes that have seen people grow more relaxed as memories of the second wave recede, ongoing viral mutations, seasonal factors, and the fact that the immunity of people infected in the second wave is waning.
For more on this story, click here.
No new outbreaks of highly pathogenic avian influenza
Although no new outbreaks of avian influenza have been reported since the previously confirmed cases – on a farm on the East Rand and in the North West – South Africa's poultry and ostrich industries remain under national high alert. Strict biosecurity measures are in place.
How Leo Prinsloo literally drove into highway robbers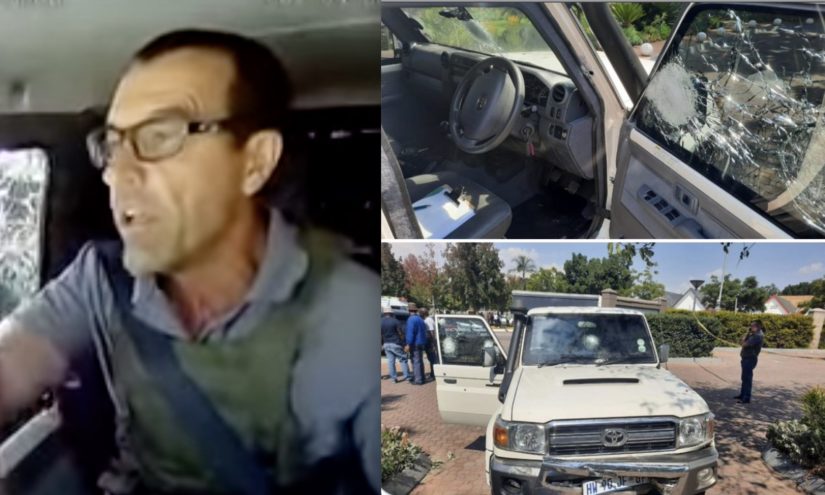 Leo Prinsloo and what was left of his Land Cruiser after the attack on 22 April 2021. Photos: Twitter
It turns out SA's 'biggest badass', the security expert who foiled a heist in Pretoria last month, was actually pursuing his attackers. They made a narrow escape and barely survived.
Watch the video by clicking here.