NATIONAL NEWS - Navigating the maze of financial management is often best achieved by having a guiding hand, as investing one's hard-earned riches can have life-altering risks and rewards.
When things turn sour though, the losses can be devastating. Former Featherbooke Estate resident and Roodepoort businessman, Willie Breedt, is currently the central figure in a multi-province cryptocurrency scandal.
Breedt is the subject of a Hawks investigation and is alleged to have defrauded numerous investors via his cryptocurrency management company, Vaultage Solutions.
The class-action case has complainants from Limpopo to the Cape, not to mention right at home on the West Rand. Hawks spokesperson Colonel Katlego Mohale confirmed the investigation saying, "The case was opened in Naboomspruit (Mookgophong). The suspect has not yet been arrested as further investigations are being conducted."
Mariska Becker is one of the local residents who are part of the class action against Breedt. She met the alleged fraudster through their motor vehicle enthusiasts club and invested R80 000 with Breedt.
The growth on her investment sits at just short of 26000 US Dollars. One of the more sinister accusations against Breedt relates to a charity golf day, held on 27 February 2020, to raise funds for a wheelchair-bound young girl.
Juneldé van Loggerenberg suffered a hypoxic brain injury in a near-drowning incident, prompting Vaultage Solutions, who partnered with PMBi Attorneys and Westrand News, to assist the family.
In the March 2020 edition of the Westrand News with the headline PMBi Celebrity Golf Day a Massive Success, they trumpeted the achievement of the event. Despite packing the Ruimsig Golf Club with attendees who paid R3 000 for a fourball and participated in an auction at a gala evening, the Van Loggerenbergs have yet to receive a cent of the proceeds.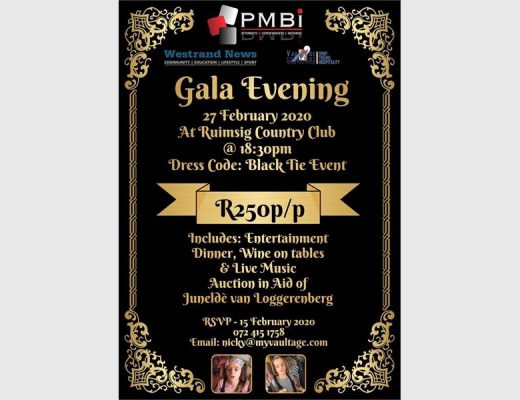 The advertisement for the gala evening in support of Juneldé. Image: Supplied.
Organisers revealed to the family that roughly R62 000 went through their pay points, but Breedt has allegedly misappropriated the funds. PMBi Attorneys have since been liquidated, but Westrand News did offer an explanation.
"Unfortunately, due to allegations of mismanagement of investors funds, the account in which the proceeds from the golf day is held has been frozen by FNB. Mr Willie Breedt has no access to the account in order to make any payments. Willie Breedt is therefore unable to effect any payments from this account, including payment of the proceeds from the golf day to the Van Loggerenbergs," stated a senior employee of Westrand News who preferred not to be named.
Crucially, the Van Loggerenbergs have been reluctant to lay criminal charges as they have been repeatedly promised that they will receive the profit intended for young Juneldé.
Those entrusted with planting the seeds of economic growth take on great personal responsibility and when the harvest is spoiled, feast can turn into famine.