NATIONAL NEWS - Mpumalanga's Theo Busschau (27) has been awarded the prestigious Junior Captain Scott Memorial Medal by the South African Academy of Science and Art. This medal is awarded annually for the best zoology or botany MSc thesis at a South African university.
Students are nominated by their universities and Busschau's thesis, titled "Phylogeographic patterning of three co-distributed forest-dwelling reptile species along the east coast of South Africa", for which he achieved a final mark of 95%, was selected as the winner.
Busschau grew up in Nelspruit where he attended Laerskool Bergland before matriculating from Penryn College. He said he had had a love for all animals, especially reptiles, from a young age and loved visiting the Kruger National Park with his family.
"My parents never allowed me to keep any of the reptiles I brought home until I was 14, which is when my hobby officially began." After completing a reptile handling course with Chris Hobkirk in 2009, he became actively involved in safely removing 'problem' reptiles around town.
Busschau's journey to academic greatness began as an undergraduate at the University of Stellenbosch, where he studied towards a BSc in Biodiversity and Ecology. This choice of field was driven by his passion for animals and nature, and his goal was to specialise in the field of herpetology, the study of reptiles and amphibians.
After completing his BSc and BSc Honours, Busschau decided he wanted to do something more practical and spent a gap year completing EcoTraining's professional field guide course and conducting guided safaris in the Sabi Sand Game Reserve and the Kruger National Park.
Congratulations to Theo Busschau, a former MSc student of Prof Savel Daniels, who was awarded the Junior Captain Scott…
Posted by Department of Botany & Zoology – Stellenbosch University on Thursday, 21 May 2020
"I was offered a bursary to return to Stellenbosch to study for my Masters in Zoology. I was fortunate enough to be able to choose and design my own study as part of a larger project investigating forest biodiversity. For my Masters I investigated and compared the genetics of three forest-living reptile species, a gecko and two snakes, which occur along the east coast of South Africa. They weren't always easy to find and it involved a lot of field work, lab work, analyses and writing. It took me two and a half years to complete," said Busschau.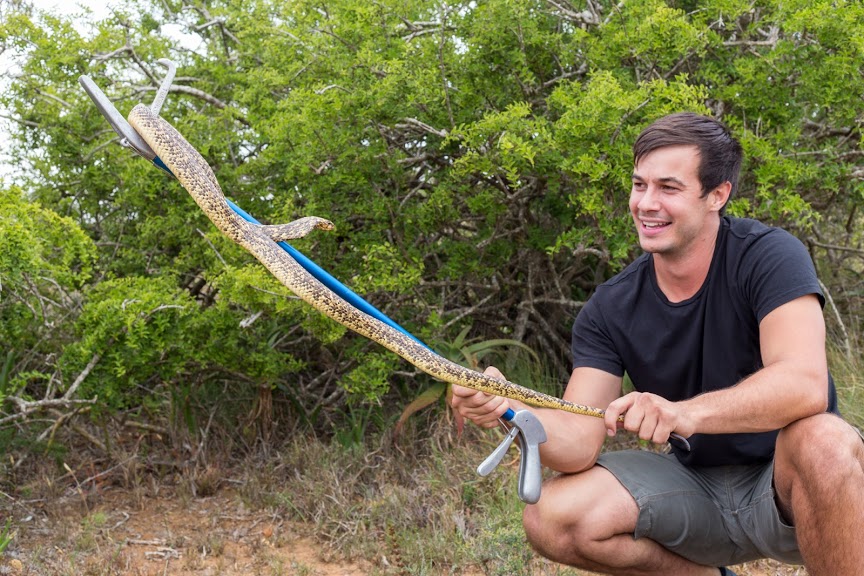 "My thesis revealed deep genetic structure among the fragmented forest habitat of the Eastern Cape and KwaZulu-Natal provinces with up to 14 cryptic species that have gone unrecognised. This work suggests that the forest habitats in South Africa may harbour significantly higher levels of diversity and emphasises the importance of forest conservation. At first I didn't think the award meant too much but it's quite surreal to think that I actually managed to hand in the best thesis in the country. Although I passed matric with three distinctions, my writing was never good and I almost failed English. At university I also wasn't top of my class. I guess this award shows just how far passion and hard work can take you. "
When he received news of his win, Busschau was working as a conservation guide with a desert safari company in Dubai. His contract with the company was terminated due to the coronavirus pandemic and the young scholar is currently stranded in Dubai. However, he chooses to see this as a positive, as, he said, it would give him some much-needed time to work on publications from his Master's research.
And the next step? Busschau has been granted a fully-funded five year PhD Fellowship in biology at New York University and, circumstances permitting, will embark on this new and exciting journey in September this year.