NASIONALE NUUS - In plaas daarvan dat Kersdag 'n vreugdevolle dag vir die Coetzee-gesin moes wees, het die ouers van 'n ses-jarige seuntjie die hartverskeurende nuus ontvang dat hul kind se lewe nie gered kon word nie nadat hy die vorige dag beseer is toe 'n houtpaal op hom geval het.
Doret (35) en Jhean (37) Coetzee het Kersdag by die hospitaal deurgebring en het verbete vasgeklou aan hoop dat hul jongste kind Keagan (6) vir hulle gespaar sou bly.
Die slegte tyding dat hul mooi donkerkop seuntjie oorlede is, het net na 8nm op Kersaand gekom.
Sy splinternuwe fiets, wat sy ouers vir hom vir Kersfees gekoop het, staan nog onoopgemaak.
"Ons liewe kind sou baie in sy noppies gewees het my sy nuwe fiets, maar nou sal hy nooit daarop ry nie," het 'n hartseer Doret gesê.
Die gesin het in September verlede jaar na Marister, Benoni, verhuis, maar Keagan (graad R) en sy sussie Michaela (10) was nog leerders aan die Laerskool Môrewag tot die einde van 2019.
Die slegte tyding dat hul mooi donkerkop seuntjie oorlede is, het net na 8nm op Kersaand gekom.
Sy ouers het aan die Herald vertel hoe hulle lewe onherroeplik op Ou Kersdag verander het.
Keagan het op die gesin se ruim plot aan 'n houtpaal geswaai.
"Hy het altyd aan die paal geswaai en ons het nie vir een oomblik gedink dat dit onveilig is of gevaar inhou nie," het Jhean vertel.
Die paal het omgeval en het op Keagan te lande gekom.
Sy sussie het gesien hoe Keagan die houtpaal van hom probeer afgooi het, maar dit het weer op hom te lande gekom.
"Ons het hom in die huis gebring en aanvanklik het dit gelyk of hy reg is, maar hy het begin kla van maagpyn," het Doret vertel.
Nadat 'n persoon met mediese kennis na Keagan gekyk het, is daar besluit om hom na 'n hospitaal te neem.
"Ons beskik nie oor 'n mediese fonds nie, maar ons het hom na die Netcare Lakeview Hospitaal geneem waar ons betaal het sodat X-strale van hom geneem kon word," het Doret gesê.
"Daarna is hy na die Verre-Oosrand Hospitaal verwys.
"Na 'n baie lang nag is hy uiteindelik die volgende oggend (Kersdag) per ambulans na die Charlotte Maxeke Hospitaal vervoer.
"Weer is daar X-strale geneem en 'n skandering is gedoen."
"Ek kon sien dat dit nie goed gaan met my kind nie en het paniekerig begin raak.
"Hy is later vir die teater voorberei, maar voordat daar op hom geopereer kon word is my kind oorlede.
"Ons kind was net ses jaar oud maar hy het 'n wonderlike, vreugdevolle en liefdevolle lewe gehad.
"Hy was 'n kind wat net buite wou wees. Hy was op sy gelukkigste in die veld en buitelug en dit is juis een van die redes waarom ons van Brakpan verhuis het na Marister, waar hy na hartelus in 'n groot ruimte kon speel."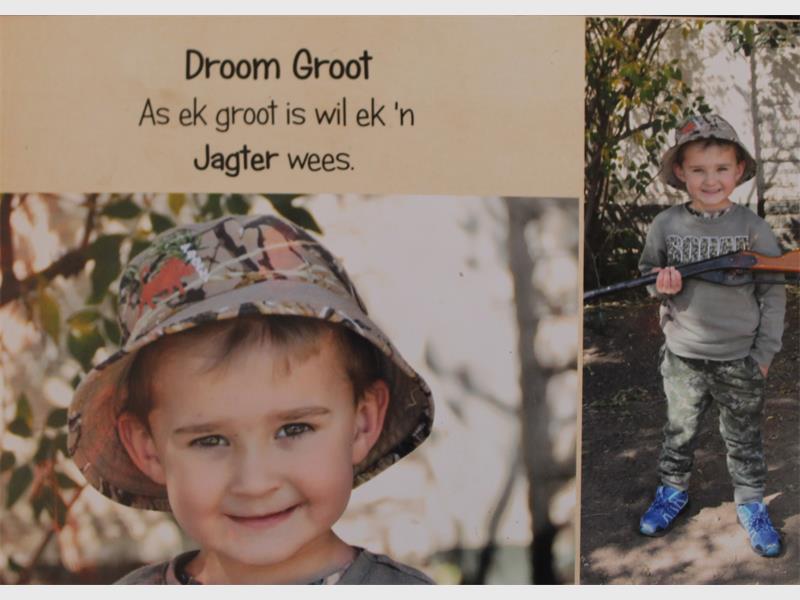 Die yskasmagneet van die oulike Keagan Coetzee. Hy was by Laaities en Ladies Kleuterskool in Brakpan, voordat hy vir twee jaar 'n leerder aan die Laerskool Môrewag was.
Jhean vertel dat Keagan baie goed kwadfiets gery het en dat sy lewenslustige seuntjie jaguitstappies saam sy pa baie geniet het.
"Ek kan met eerlikheid sê dat ons kind beleef het wat min ses-jarige kinders ooit sal beleef," het Jhean gesê.
"Hy was nie baie lief vir skool nie want hy wou eintlik net buite wees, tog het ek groot lof vir die personeel van die Laerskool Môrewag, waar hy en sy sussie skool gegaan het," het Doret gesê.
"Vir nou gaan ons dit maar dag vir dag vat. Dit is al wat ons kan doen.
"Ons weet dat ons klein seuntjie, wat net wou speel en buite wees, vir die kort tyd wat hy op die aarde was, baie gelukkig was.
"Ons mis hom elke minuut van die dag."