NATIONAL NEWS - The body of former South African rugby player Lindani Myeni on Saturday arrived at OR Tambo International Airport.
Myeni, a married father of two who hailed from KwaZulu-Natal, was allegedly shot multiple times last month by Honolulu police in the US state of Hawaii when they responded to an alleged home invasion.
Family, friends and officials from the KwaZulu-Natal and national government were at the airport to receive his body from the United States.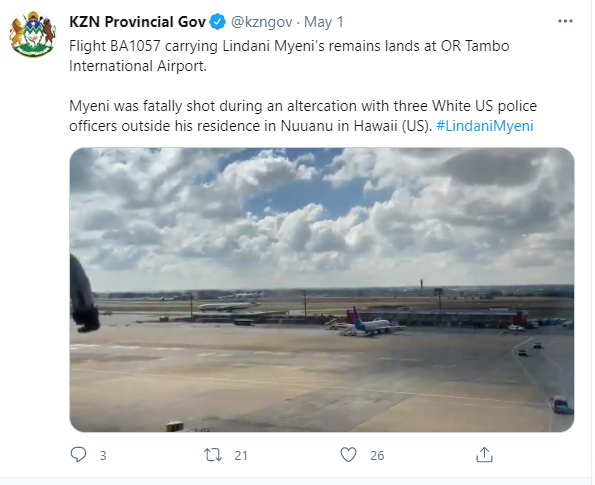 A prayer service was also held in Kempton Park which was addressed by Social Development Minister Lindiwe Zulu.
The minister said government would fight for justice for Myeni's family.
"We call on the US government to provide a full report as speedily as possible and to conduct a thorough investigation on this tragedy, which we condemn in the strongest terms. And those found guilty should face the full might of the law and take accountability for this cruel act," she said.
Myeni moved to Hawaii in January and was married to Lindsay, a US citizen.
Honolulu police defended the police's actions, saying the officers defended themselves against a violent suspect who attacked them first. According to US media reports, three officers were injured in the incident.
The Honolulu Police Department (HPD) also released the 911 call that preceded the fatal shooting of Myeni.