NATIONAL NEWS - The 'Ensemble' trial of the Johnson & Johnson (J&J) vaccine, which South Africa will be using in its first phase of Covid-19 vaccination, showed complete protection against Covid-19-related hospitalisation and death, and 85% efficacy overall in preventing severe Covid-19.
J&J is now applying for emergency use approval from the FDA and other regulators, including the South African medicines regulator Sahpra.
Licensing should be in place around the world by March or April, according to Prof Linda-Gail Bekker of the University of Cape Town, who is on the team leading the Covid-19 vaccination rollout in South Africa.
The first phase, during which healthcare workers will receive the single-shot J&J dose, will be used to carry out a study while formal licensing is being awaited. The vaccination programme is called Sisonke (Together) and is an open label study that will monitor the efficacy of the vaccine among healthcare workers as compared to the general unvaccinated population of the country.
Participants will give consent to be part of it and will be monitored over a period of two years.
The J&J vaccine trials included older people and people with comorbidities.
The trial was conducted on 44 325 people from the US (44%), Central and South America (41%) and South Africa (15%). It was a randomised, double-blind and placebo-controlled phase 3 study.
About 7 000 people were enrolled in South Africa, where the trial started in October and ended by end January. "This was fortuitously enrolled when the 501Y.V2 variant was beginning to unfold in our wave 2," said Bekker, speaking at an online media conference hosted by Premier Alan Winde on 11 February.
Bekker said the vaccine showed efficacy as early as day 7 and it was 77% effective as of day 14. This is good news as a vaccine impacts outward as immunity grows.
"The high efficacy against severe disease and death was consistent across countries and regions, including South Africa, where almost all cases were due to the new variant. The vaccine's efficacy increased with severity of the disease. We're not showing the efficacy against milder and asymptomatic disease, but that data is accruing.
"It's looking promising, but J&J is careful about what data is put out there. We will be able to pronounce on that in time."
The vaccine has an acceptable safety profile. Hundreds of thousands of people have had exposure to Ad26. "Specifically in this trial with this regimen there were no safety signals observed at all."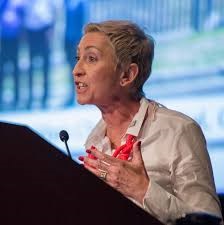 Prof Linda-Gail Bekker of UCT is on the team leading the rollout of the Sisonke vaccination programme with the J&J vaccine. Photo: WikipediaFeatures of the J&J (also called Janssen) vaccine
The J&J vaccine is relatively easy to store as it is stable at 2°C to 8°C.
It is on the platform of the viral vector type (as opposed to the mRNA and protein vaccines). Its viral vector platform is that of adenovirus 26 (Ad26). Bekker said this is a common cold virus that does not frequently infect people and it has been disabled so it cannot cause disease.
It has a part of SARS-CoV-2 added to it so it becomes the vector to bring the vaccine into the body via an intramuscular injection.
The Ad26 platform is well-known. J&J has used it for their Ebola, RSV and Zika trials. Currently, an HIV vaccine trial in South Africa is underway using this platform.
'We bring you the latest Garden Route, Hessequa, Karoo news'