WESTERN CAPE NEWS - The Western Cape province has recorded 6 more Covid-19 related deaths. We send our condolences to their family and friends at this time.
This brings the total of fatalities in the province to 46.
• Total confirmed COVID-19 cases: 2371
• Total recoveries: 657
• Total deaths: 46
• Total active cases (currently infected patients): 1668
• Patients in hospital: 96 with 31 in ICU
• Total tests conducted: 35867
Western Cape Strategy:
Today marks the final day for level five lockdown in the country. The entire country, including the Western Cape, will now move into level four.
We want to thank all of the frontline essential workers who have worked throughout this period and all of those residents who have abided by the lockdown rules.
This has been a difficult and uncertain time for many and we understand the fears that people across the country continue to have. We are so thankful for the hard work and determination shown by every person.
Sub Districts Cape Town Metro:

Sub Districts Non-Metro: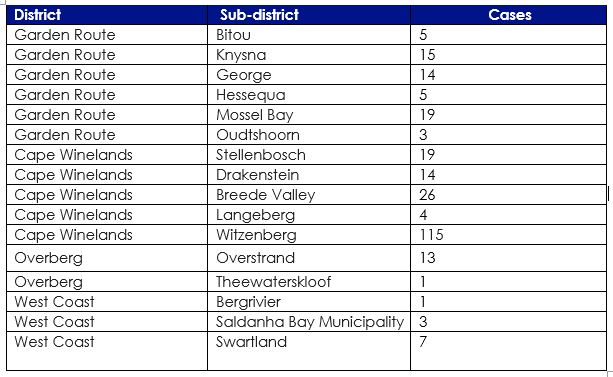 The Western Cape strategy is to target screening and testing based on epidemiological data – we are actively searching for people infected with Covid-19
Over the last week there has been increased coverage of the Western Cape as the "epicentre" of the pandemic due to the number of confirmed laboratory cases in the province exceeding those of other provinces.
We believe that this "epicentre" conversation has failed to take into consideration a number of important points.
Firstly, the Western Cape Government has adopted a much more rigorous approach toward actively locating cases, tracking and tracing contacts and conducting targeted screening and testing in identified clusters. Epidemiological evidence tells us where the cluster transmissions are taking place, and this is where we relentlessly train our focus.
This means the Western Cape has a far higher success rate in locating and fighting the 'bushfires'. The Western Cape has not adopted a "spray-gun" approach where we test randomly. This is not a good use of resources.
When someone screens positively, through a detailed questionnaire (often taking more than 5 minutes to complete at least), they are then referred for testing. This naturally means that for every series of tests, we are receiving a higher proportion of positives - our test kits are being put to good use.
Secondly, the data that is reported on and submitted nationally is laboratory confirmed positive cases. While we cannot speak for the strategies of other provinces, our strategy is to identify and test every person who we suspect of being Covid-19 positive and to confirm this in a laboratory. This allows us to ensure that the person isolates and that we can trace the contacts of this person to start the process all over again. This is how you "flatten the curve".
Our government would be extremely worried if the number of laboratory confirmed cases in the Western Cape were not growing, because it would mean our systems are not working in identifying every person who is Covid-19 positive.
Lastly, we should at all times be encouraging full transparency of data collected through a rigorous and targeted testing regime, now more than ever. This has been our strategy from the very beginning, and we will continue to share our data with the public so that they are well informed and so that they can help us curb the spread.
The reality is, as our national government pointed out, the peak is still to come and it is not avoidable. The lockdown has allowed us time to prepare, but many, many people are going to be infected across the country. We need to identify and test every person who does and should therefore expect the number of laboratory confirmed cases to rise.
In last 24 hours, Western Cape accounted for 30% of tests, despite having 10% of population
We have been increasing our screening and testing in the province, conducting 12 510 tests in the past week. This is an increase from 9000 tests the week before.
This week, we also recorded our highest number of tests in a day-2784, and national Minister Zweli Mkhize noted that the province accounted for 30% of the country's tests yesterday. The Western Cape represents roughly 10% of the population.
As part of our active case-finding approach, where we follow epidemiological evidence, we have screened 227 890 people, and referred 7886 people who "screened positively" for testing.
A live dashboard for public to stay informed in real time:
From today, our statistical dashboard will go live. This dashboard will provide real-time statistical data to the public, including the number of tests conducted, the number of positive cases and other important information. This information will be provided at a sub-district level initially, with a view to start providing ward level data in the near future.
The dashboard can be viewed on our dedicated website.
We are making this data available because we believe that citizens should be armed with the correct information in order to protect themselves and their families. However, this kind of information should never, ever be used to stir panic, create stigma or to infringe on any patient's right to privacy.
We are in the process of having the website zero-rated so that it can be accessed by any person without using data.
CTICC hospital:
Yesterday cabinet approved the CTICC as a new temporary hospital facility. I would like to thank all the staff across the government – specifically our Department of Health and Public Works officials, our Treasury staff, the team at the City of Cape Town, and the team at the CTICC, for their hard and thorough work in bringing this project to this stage.
Work to fit out the new CTICC hospital will begin next week. We expect it to open its doors to the first patients in June. Planning for the site is already at an advanced stage.
When complete, the hospital will be an intermediate care facility, providing an exact total of 850 beds for mild to moderate patients who meet the clinical admission criteria.
All admissions will be managed by our automated Central Bed Bureau system which allows us to see all of the available beds in the province.
The Western Cape's scenario planning has shown us that at the peak of infection in August, we will have a 1000 acute bed shortage. This facility will allow us to make up a large part of that shortfall and offer care to those who need it. Planning is also underway for additional beds in other areas of the province.
Patients at the CTICC will be cared for by professionals sourced through temporary re-deployments from other facilities, temporary appointments and if necessary, volunteer medical professionals. The Western Cape has a medical staff complement consisting of thousands of doctors, nurses and support staff, all of whom we value greatly and hold in high regard due to their professional training, and who we know will work hard to see us through this crisis.
The facility has been carefully considered so that all design, clinical and administration processes have been developed with the aim of reducing transmission risk. For example, the facility will be entirely paperless, using state of the art IT systems. We have also devised a high-risk waste management system in order to ensure that clinical waste is effectively disposed of in a safe way.
This week, we also opened the temporary testing and triage facility at the Khayelitsha Hospital. These types of facilities help to ease the pressure on our emergency facilities, and separate potential COVID-19 patients from those being treated for other ailments in the hospital.
Several more of these are currently under construction and are due for completion soon.
Worker's Day:
Tomorrow, the country commemorates Workers Day. At a time when the global workforce faces huge uncertainty and pressure, we pay tribute to those people whose hard work has kept the food chain in production, who are on the front lines as health care and supermarket workers, petrol attendants and all of the men and women who go to work every day to ensure we have essential supplies and care, at great personal risk.
Tomorrow, we will also see the lifting of lockdown regulations to level 4, allowing more people to return to work. We welcome the additional economic activity but we must not sacrifice the safety of our staff. We appeal to businesses to act with the best interests of their staff in mind, to ensure that plans are in place to reduce the risk of infection and to act ethically and with kindness.
The Western Cape Departments of Health-, Agriculture- and Economic Opportunities are all actively involved in devising protocols for various sectors and advising businesses on their response to the pandemic, in line with global best practice.
Common sense regulations needed to get the balance right
Yesterday the National Minister of Cooperative Governance announced the new level 4 regulations.
From the very beginning of the lock-down, the Western Cape has been very clear that we supported the lockdown as a measure to prevent gatherings and therefore limit the spread of the virus, while the healthcare system is given an opportunity to prepare for extraordinary caseloads. This is the medical and scientific reason for the lockdown.
A common-sense approach is needed, in line with this medical and scientific understanding, when deciding any regulation in this unprecedented circumstance. We are concerned that at times this common-sense approach is not being applied.
We will be making further submissions to national government on how we believe the regulations could be improved during level 4.
'We bring you the latest Garden Route, Hessequa, Karoo news'