GEORGE NEWS - In a world with scammers and crooks waiting around every corner, even potential car buyers have to be extra vigilant these days. This is a warning by Thinus Nel Motors' new owner, Bles de Wet, whose dealership was, unbeknownst to him, used as part of a scam.
The scammer, who is at this stage only known as Mr Benjamin, pretends to sell vehicles on Marketplace, a Facebook application. When someone shows interest he tells them that he is the owner of Thinus Nel Motors and that the vehicle they are interested in is on the showroom floor in George.
He also tells potential buyers that he is about to put the car on auction, so they have to act quickly and pay a holding deposit of between R10 000 and R20 000 to secure the vehicle.
Mr Benjamin then supplies the potential buyer with Capitec Bank details with Nel Motors as the account holder's name.
The Thinus Nel Motors team are, from left: Pieter Nel, Bles de Wet, Christa Zaaiman, Bakkes Muller and Giepie Jordaan.
"The potential buyer then comes to us to view the vehicle, a vehicle that we know absolutely nothing about," says De Wet. "Potential car buyers have to be extremely vigilant. At least phone the relevant car dealership to make sure about the vehicle's location. It's advisable not to pay any form of deposit before you haven't viewed the vehicle," he says.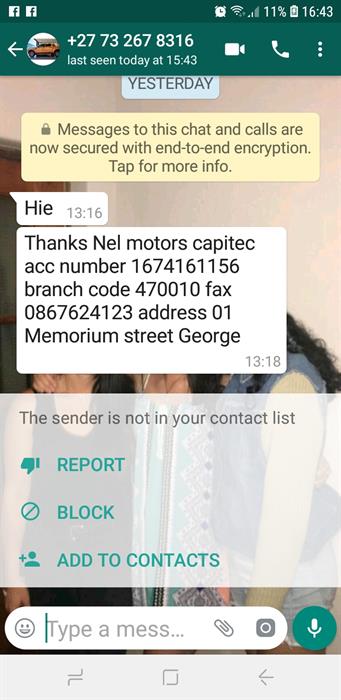 ABOVE: The banking details supplied by Mr Benja-min. LEFT: Two of the numbers that Mr Benjamin operates from. The other one is 078 410 4453.
Two of the numbers that Mr. Benjamin operates from. The other one is 078 410 4453.
According to De Wet, Mr Benjamin mostly advertises vehicles at ridiculously cheap prices and this is the first thing that should raise a red flag.
"Mr Benjamin recently advertised a 2015 Toyota Hilux bakkie for R45 000 and a VW Polo for R35 000. He also advertised a Hyundai Getz 1.6 with 39 000km for R39 000. He then asks for a deposit and disappears with the money."
Mr Benjamin is currently operating from three cellphone numbers.
Since they took over the dealership in October, De Wet says there have been three incidents that they are aware of. The latest victims were from Cape Town.
"A family from Cape Town paid their last money as a deposit and came to George on a bus to fetch the car. When they arrived at our dealership we had absolutely no idea who they were. There they were, no money and no car. It was terrible," says De Wet.
De Wet notified Capitec Bank via e-mail about the scammers account. They responded as follows:
Good day
Thank you for your e-mail. Kindly note that any criminal activity is strongly condemned and Capitec Bank works with authorities to stamp out criminal activity where it is found.
This is because we have a responsibility to investigate an account when it is suspected of fraudulent activity. Please be advised that the necessary action has been taken. I trust my above explanation has clarified any uncertainties.
'We bring you the latest George, Garden Route news'