MOTORING NEWS - Former Queenstown resident Holden Marshall - named after the Australian car brand by his car-mad mechanic father - first fell in love with the Rolls-Royce Corniche in 1972, when he was 11.
"We lived around 150m from a then Datsun Garage, where the owner often had exotic cars. One Saturday morning I saw the Corniche for the first time and told my mom I wanted one. She humoured me and told me it was way too expensive, but if I worked hard, I may be able to buy one someday."
Forty-seven years and plenty of hard work later, the now-retired Stellenbosch resident enjoys scenic drives across the country in his dream car.
The missing hub-cap
A month ago Marshall and his Rolls achieved near celebrity status - all because of a hub-cap named Kyle. On 25 June, between Eenzaamheid (2nd gate in the Camdeboo Conservancy) and Graaff-Reinet, one of the Corniche's hub-caps went missing. A Facebook page, The Search for Holden's Hub-Cap, was created to find Kyle, with Graaff-Reinet Advertiser encouraging its readers to join the search, but the whereabouts of the hub-cap remains a mystery. "I would really like to find Kyle, to maintain the originality of the Rolls-Royce," Marshall says. Anyone with a lead can contact him at holden@agmac.co.za or on 082 552 1246 - a R500 reward is up for grabs.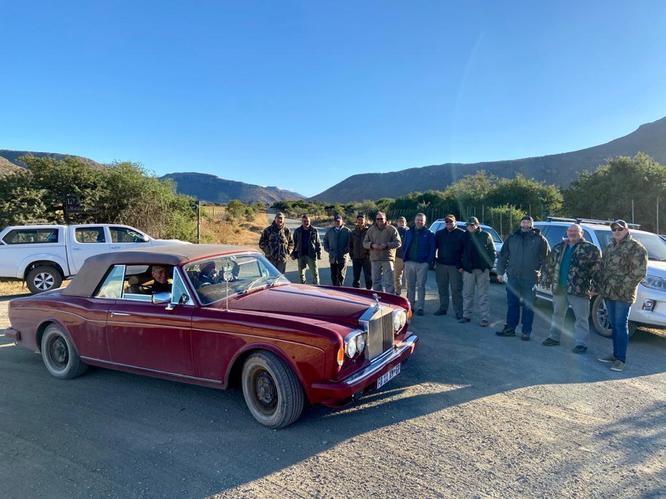 How many people do you think have arrived at a hunting weekend in a Rolls-Royce?
The road to his Rolls
Marshall's 1983 Rolls-Royce Corniche drophead is the only factory red Corniche in South Africa. The first Corniche drophead was made in 1971. It was the first Rolls-Royce intended to be owner driven, as opposed to a chauffeur behind the wheel. Marshall is the third owner of his luxury vehicle, and other than a new radio, she is 100% original. The car has 65 000km on the clock, a 6,75-litre V8 engine and runs on unleaded. Inside, a darkish tan leather and wood finish, with thick wool carpets, make for a stylish interior.
For 30 years the Corniche called Gauteng home as one of the prized belongings of a keen collector. Marshall had been searching for his dream car for a while when a British classic car enthusiast and dealer, Clinton Laurens, sourced the red Corniche for him.
"Under engine spec for both power and torque, the book says "adequate", which it certainly is," Marshall enthuses. "With its hydraulic suspension, super comfy seats and powerful motor, not a single rattle and a gentle purr from the V8, she is a pleasure to drive and comfortably cruises at 120km/h, sipping 16 litres/per 100km."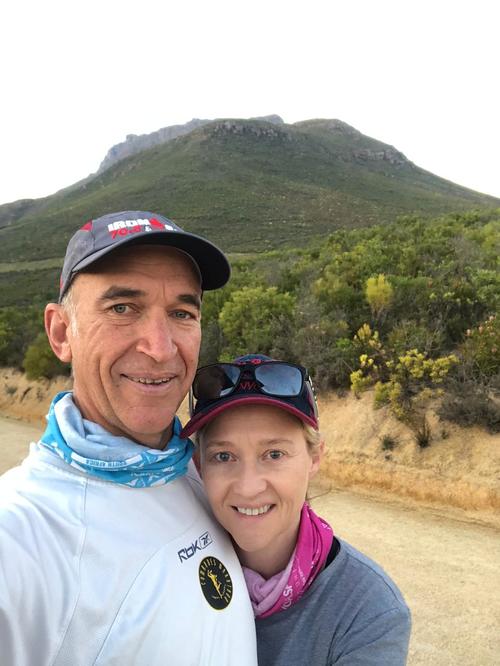 Holden Marshall and his wife, Hette-Lize.
In his garage, Marshall also has a Discovery, kitted for their annual overland trips, his wife Hette-Lize's BMW X1, and a 650 BMW scooter, which he uses to get around. On his wish list is a vintage pick-up truck for his wife, who does charity work and needs to transport loads. He would also love a Porsche 356 convertible, preferably the 1962 model (for his birth year), or a similar model Mercedes Pagoda. For now, the RR ("her nickname until she gets a true ladies' name") remains Marshall's dream car.
His fondest memories in RR include several trips around the Cape with his wife, as well as a six-hour drive around the peninsula with his daughter. "That was the most memorable trip so far."
Hunting trip
A more recent outing saw the Rolls-Royce make a special trip to Graaff-Reinet with hunting friends. "I do not think many 'hunters' (he loves biltong, but doesn't shoot) have arrived at Eenzaamheid in the Camdeboo Conservancy in a Rolls-Royce," he chuckles. According to Marshall, he was the subject of much banter.
"Travelling along the R62 was special and the RR draws many smiles and thumbs up from strangers, wherever we go. Not to mention the many snaps taken and mini bun fights between the petrol attendants who want to assist me whenever I pull in, which is quite often!" Marshall says road users tend to flash lights at the car, hoot or give him right of way. "We look forward to many more road trips, with Sutherland next, once we can travel more freely."
RR is a childhood dream come true, and Marshall has good reason to love her. Sadly, his mother passed away several years ago and never got to see her son acquire the car she told him to work hard for. "But I know she smiles every time I get behind RR's wheel."
'We bring you the latest Garden Route, Karoo, Hessequa news'