MOTORING NEWS - Vereeniging's Arnold Neveling heads for Killarney Raceway in Cape Town on 11 August looking to extend his lead in the top class of the 2018 Rotax South African National Karting Championships. This ultra-smooth driver made a concerted come-back at the beginning of this season and has been the driver to beat in the DD2 class. The two-speed gearbox class is the fastest and most competitive class in karting this season.
But the young man from the Vaal Triangle will have his work cut out to stave off a bunch of rivals looking to reduce his 19-point lead in this year's title race. "Arnold is no doubt the in-form man in South African karting this season," says Rotax importer Ed Murray. "But first he's going to have to get on top of the local DD2 protagonists in Cape Town - these days that will take some doing."
Murray points to locals such as Jonathan Thomas, Luke Herring, Jurie "Umpie" Swart and Jason Coetzee who are difficult to beat on their home circuit. And then there is the reigning South African DD2 champion Bradley Liebenberg, who has been having a torrid season so far in DD2 and finds himself down in sixth place. Also very quick in this category in 2018 is young KZN ace Benjamin Habig.
Second overall in DD2 after two rounds is Port Elizabeth's evergreen Michael Stephen. He also leads the DD2 Masters' class for drivers aged 32 and over. The category runs concurrently in the DD2 races and older drivers score points in both categories. Stephen is also a multiple South African Production Car and GTC champion and one of the most determined drivers in local racing. If he can find the right set-up in Cape Town he can challenge for the overall DD2 lead. Another driver who should never be discounted is KZN's Cristiano Morgado, a multiple World Champion Rotax driver and winner of the DD2 Masters category at the recent Africa Open meeting at Zwartkops Kart Raceway in Pretoria.
Expected to be in the mix in this super-competitive field will be Sebastian Boyd, and Dino Stermin, a talented youngster who recently returned to Rotax racing in the DD2 class and immediately showed competitive pace on his home track of Killarney.
Reese Koorzen.
In the Senior Max class, for drivers aged 14 years and over, Gauteng's Wayland Wyman leads the points table, ahead of Jonathan Pieterse from KZN and Nicholas Verheul from Edenvale. Local lad Jason Coetzee will be strong in this class too, which caters for powerful Rotax non-gearbox-engined karts. Dominic Lincoln from KZN lies fifth in the championship and will be hoping to improve, while his fellow KZN rival Shrien Naidoo has been very quick all season and did well at the recent African Open meeting.
The Junior Max class for drivers aged 12 to 15 has drawn some 25 drivers competing in the recent African Open meeting. Here, few would bet against home-town favourite Charl Visser to extend his lead in the championship after the opening rounds of 2018. Cape Town's Visser has developed excellent race craft over the past few seasons.
Visser's biggest challenge in Junior Max should come from another Cape driver Joseph Oelz, who has been showing super-quick form this season. The Gauteng contingent who is in the mix for this year's title chase will be out to spoil a Cape celebration. These drivers include Aqil Alibhai, Jarrod Waberski, Kwanda Mokoena, Leyton Fourie and Daniele Patrizi. Other Cape drivers who always shine at their home track include Simon Simpson-Heath and Tate Bishop.
The Mini Max class for drives aged 9-13 has so far seen a tussle for championship honours developing between Cape Town's Mikhail Fernandez and KZN's Liam de Beer. These two head the championship table with just a handful of points between them, followed by two more Gauteng drivers, Joshua De Paiva and Josh Le Roux. Local ace Kyle Visser should have a serious home-track advantage in Round Three on 11 August. Gauteng's Jordan Brooks should be strong, after an excellent win in the recent African Open.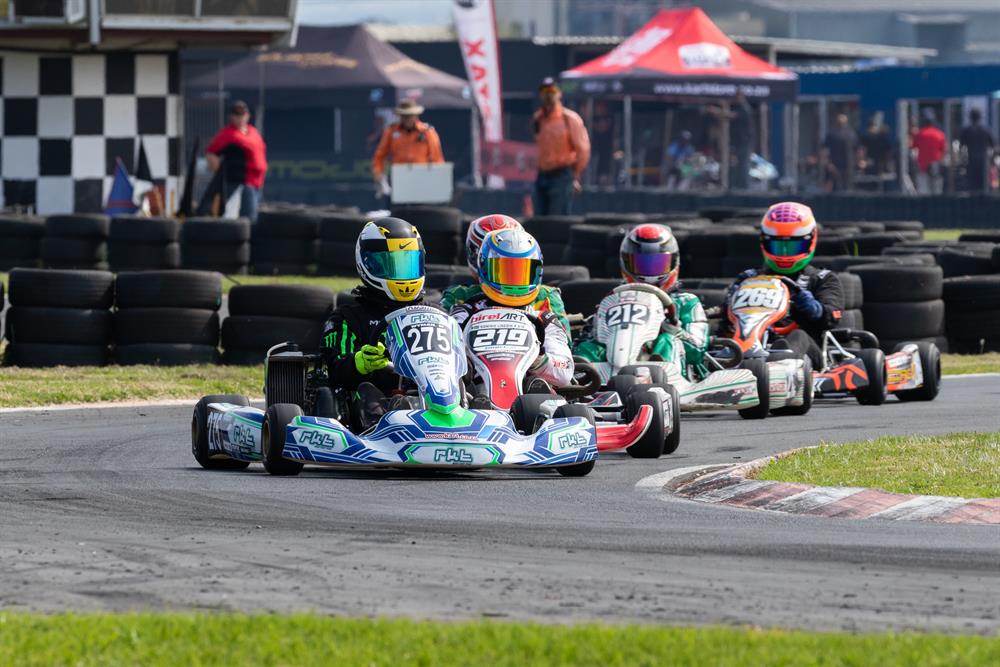 Wayland_Wyman, (no 275), is leading the Senior Max charge this season.
In the Micro Max class, for drivers aged 7 to 11, the competition will again be fierce, particularly from the local youngsters contesting this year's nationals. Here Reza Levy and Reese Koorzen must be odds-on favourites for victory, ahead of reigning Micro Max champion Muhammed Wally from Johannesburg, who won impressively at the African Open in July. Flying the KZN flag high will be the impressive Troy Snyman, who lies fifth in the championship, ahead of Gauteng's Bjorn Bertholdt.
*Round Three of the 2018 Rotax South African National Karting Championship will see three races run for each of the Rotax championship classes at Killarney. Round Four will take place at Zwartkops Kart Raceway on September 30, the final national of this year's series. The winners of the six championships will secure invitations to the 2018 Rotax Grand Finals in Brazil at the end of November, where 360 drivers from over 50 countries will compete in the World Championship.
'We bring you the latest Garden Route, Hessequa, Karoo news'