Gallery Video
MOTORING NEWS AND VIDEO - The new Hyundai Atos 1.1 Motion has arrived in George. Appearing far more streamlined than its bread-bin shaped predecessor, it boasts a more refined and classy look.
Based on the Grand i10 Platform, but with a look and feel all its own, the 2019 Hyundai Atos is an affordable entry level hatchback. The interior is finished in high quality material, with no cheap plastics in sight.
In the technology department it has a lot to offer. From the multi-functional steering wheel you can control your phone, radio and navigation using Apple CarPlay or Android Auto.
You can access your playlists from all music streaming apps via voice control and chat hands-free on WhatsApp. The 7-inch touchscreen allows you to explore your city using your favourite navigation app. The Atos 1.1 Motion also offers bluetooth and USB ports.
The sales staff at Hyundai George are from left Carol Ferreira, David Liversage and Charlotte Fourie.
The air con quickly cools down the interior without noticeably affecting the engine power. Power steering makes city driving a joy and the cherry on top are the great safety features which include two front airbags, ABS and Isofix to secure baby seats.
A great safety feature in this vehicle, especially for young mothers with children, is the ISOFIX ensuring a secure baby seat.
This vehicle is the answer to ever-rising fuel prices. It has a 1.1-litre, 4-cylinder engine that delivers 50kW of power and 99Nm of torque. Test-driving it, I found it nippy in city traffic. On the N2 it reached 120km/h quickly and with ease, and could sustain the speed on all ups and downs.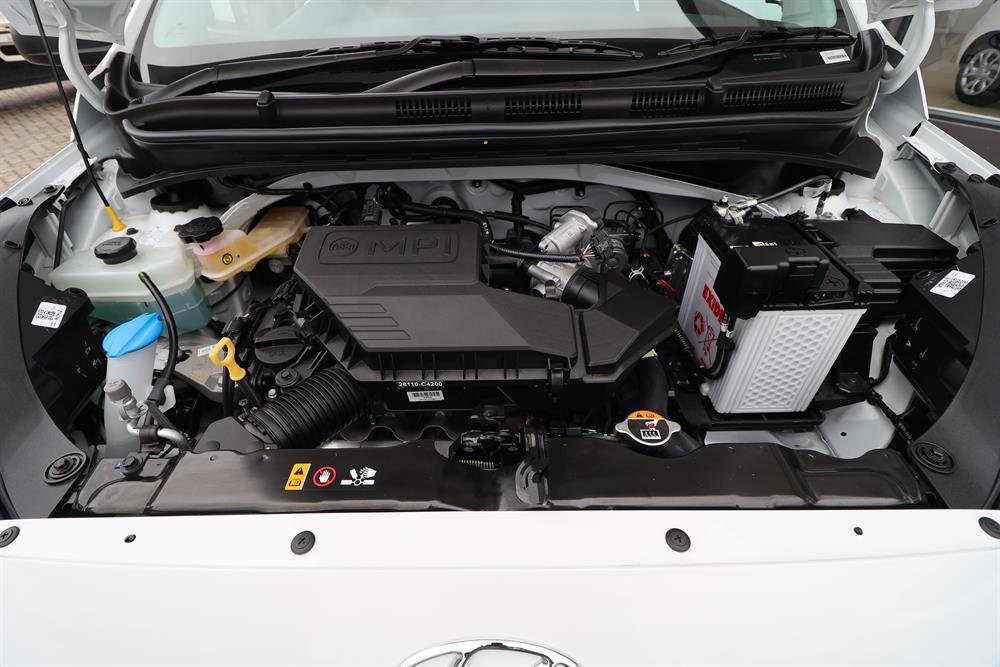 The Hyundai Atos Motion has a 1.1-litre, 50kW engine that delivers 99Nm of torque. It is extremely fuel efficient at about 5 litres per 100km.
When you step on the gas to overtake, the power is immediate. With an impressively low fuel consumption of around 5 litres per 100km this car will take you to Cape Town and back for a song.
The boot is not the smallest I've seen in this vehicle class and will accommodate the kids' school satchels as well as your shopping with ease. It can also be enlarged by putting down the seats.
Watch a video below
Perfectly priced at only R159 900 and with a 7-year or 200 000km manufacturer warranty, the Hyundai Atos Motion is perfect as a first vehicle or as a second light commuter vehicle in the city.
Hyundai George is now located on the corner of PW Botha Boulevard and York Street.
Come check out the new Atos Motion at the Hyundai dealership at its new address in George. They have moved to bigger premises at the corner of PW Botha Boulevard and York Street.
The Hyundai dealership promises to give you optimal customer service, the best deals for new vehicles and servicing of all Hyundai vehicles.
Contact Hyundai on 044 878 1800 to view or test drive the new Hyundai Atos 1.1 Motion.
'We bring you the latest George, Garden Route news'