MOTORING NEWS - It's not every day you come across a collection of model cars, each lovingly handmade from wood. Such a collection can be found at a house in George where George Palmer has spent many pleasurable hours in his workshop creating a mini old car show of all his "old" cars - every car he has ever owned.
This masterful collection is a result of Palmer's lifelong passion for carpentry and cars. Growing up in Kwazulu Natal, Palmer started out as a carpenter by trade, but has always loved speed, bikes and cars.
Between 1960 and 1982, he carved out a successful career in sidecar racing and was crowned SA National Champion in 1969 and again 12 years later in 1981.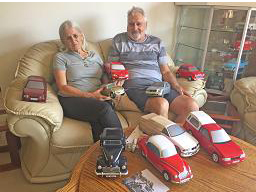 Display cabinets in Lynda and George Palmer's house in Denneoord are filled to the brim with George's model cars and motorbike trophies.
It is this unique marriage of skill sets, his attention to detail and fine eye for perfection that culminated in his extraordinary collection of model cars.
A few years ago Palmer, who moved to George in 1993, set out to find a replica of each car he's ever owned, but, unable to succeed in this goal, he decided to make them himself. The models are made to scale from super wood with meticulous attention to detail.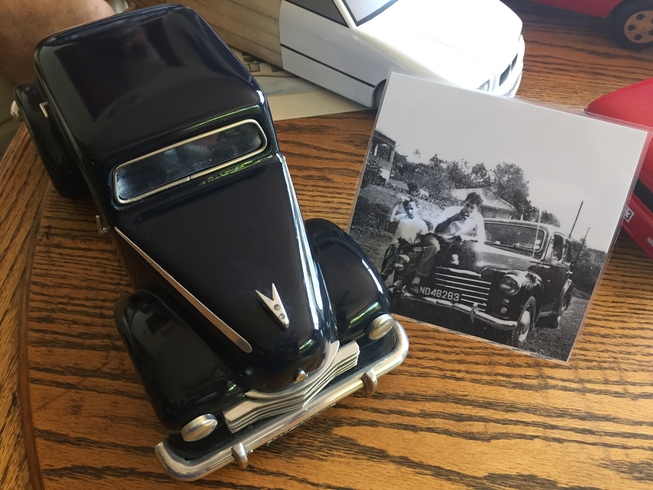 George Palmer's first car was a Vauxhall Velox. On the photo he can be seen with the actual vehicle in the early 1960s.
It takes Palmer about two weeks to complete one of these beautiful cars in his expertly kitted workshop – his pride and joy.
Some of the models in the collection are: Vauxhall Velox, Simca Aronda, Peugot 403 bakkie, DKW Auto Union 3 stroke 6, Vauxhall Cresta, VW Beatle, Datsun 120Y bakkie, 2 x Minis, 3 Bantam bakkies, BMW 316i, Mazda MX6, Hyundai Accent, VW Kombi, Jeep and his present car, a Mercedes Benz C180.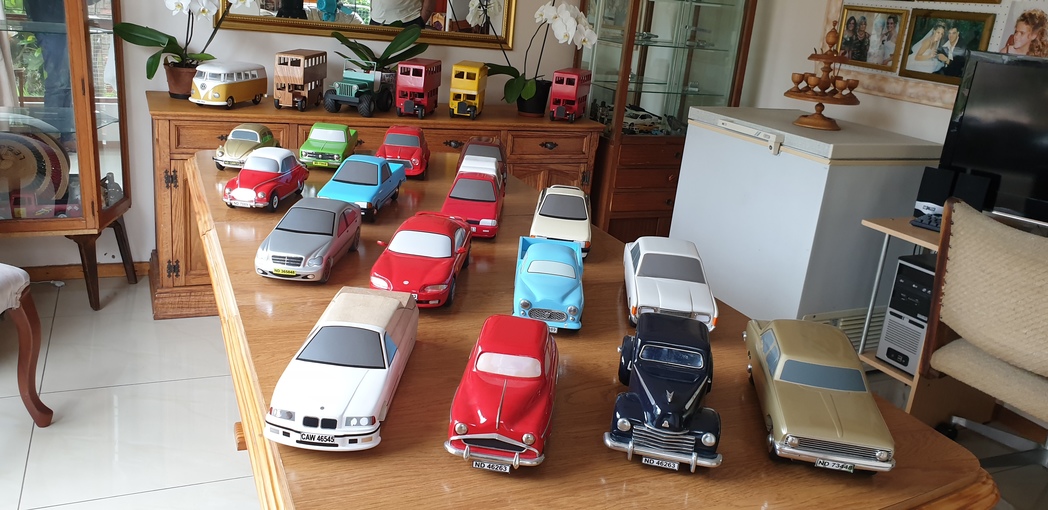 George Palmer's collection of cars.
We hope to see George's mini old car show at the George Old Car Show in February next year!
'We bring you the latest Garden Route, Karoo, Hessequa news'