MOTORING NEWS AND VIDEO - Art comes alive when an artist puts his heart and soul into it. This is the case with Kevin van Niekerk from Pacaltsdorp, who is best known for his coffee stain art creations.
Experimenting with new mediums, Kevin came to try his hand at airbrushing. He started on small items like motorbike helmets and moved on to doing a full motorbike, the side of a bus and then the hood of a car. This is making Kevin's work a hot commodity at the moment.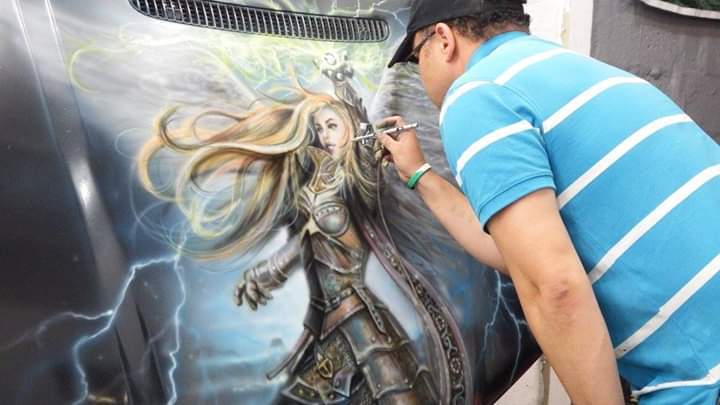 Kevin working on his first piece on the hood of a car.
He says painting these angel warrior creations on a car has opened his mind to many new ideas. He first tried airbrushing about three to four years ago and learns something new every day. He recently obtained a better compressor to allow him to do more.
Kevin loves cars, as long as they are classy and stylish, yet affordable. He is humble when he talks about his work, but his eyes come alive when he tells how airbrushing has brought new possibilities.
Experimenting with this medium has been great fun, and YouTube tutorials also helped. "The nozzle of the airbrush gun is so small you can draw a line as thin as a needle. Or you can open it up to get different shades of light and dark," he says.
Watch a video below
His angel creation for Ensliano Deyce's BMW was the second full car bonnet he was asked to do. A job like this takes him about two full days to complete - if he has all the information at his disposal. He needs a full brief from the client before he takes on a job as he does not want to promise something he cannot deliver.
He also gives the client the option of giving him credit for the work, but won't sign his name. "In most cases they themselves add a sticker with my name on it."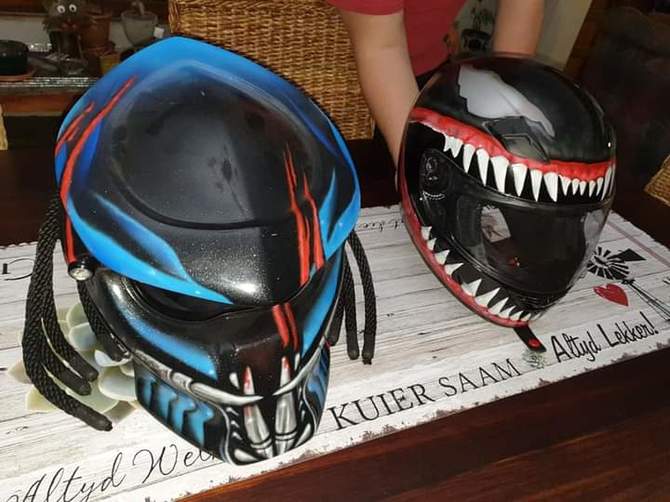 This was a project for a father and son who wanted a predator theme for their helmets.
Ensliano was thrilled with the job Kevin did. "He did exactly what I asked for and more. I gave him a photograph of what I wanted. It's amazing, because the colours are exactly the same as on the picture. He even added lightning, and it looks like it was part of the picture."
Ensliano says Kevin is brilliant at what he does and his artworks highly professional.
Kevin has worked in almost every medium available, including charcoal, pencil, pastels, acrylic, coffee and now airbrushing. His work is included in the book The Collector's Guide to Art and Artists in South Africa.
'We bring you the latest Garden Route, Karoo, Hessequa news'