GEORGE NEWS - Each year on 18 July George Herald involves the community in the Mandela Day Sandwich Jam where 10 000 sandwiches are made and then sent to charitable organisations, schools and old age homes. To expand on this effort, George Herald and its sister publication Idinga started a reading project in an effort to do more justice to Nelson Mandela's legacy.
The Ordinary Magic for Mandela campaign, a project that opens up the world of reading to children in George, was launched at the 6th annual Mandela Day Sandwich Jam in George in 2017. While the Sandwich Jam will take place every year on 18 July, Madiba's birthday, the Ordinary Magic for Mandela Reading for Pleasure project is an ongoing, every day initiative.
Reading foundation
Emergent literacy - the knowledge a child has of reading and writing before he or she can actually read and write - plays a very important role in the development of a young child. To lay this foundation is extremely important before a child enters Grade 1. If a child cannot read properly, it can only cause problems later. It not only affects language development, but also subjects such as mathematics.
Raymond Eagen (Mzoxolo Primary headmaster), Werna Pretorius (early childhood development expert), Christina Bartness (Oxford University Press) and Zolani Sinxo (Idinga editor).
A child who cannot read experiences difficulty in solving word problems. Reading storybooks and telling stories to children teach them to appreciate and respect books, develop their vocabulary and instil a love for reading. We should motivate children to read books, rather than allow them to spend hours playing games on cellphones or tablets.
Roll-out
The first reading venue for small children was launched at the Uniting Reformed Church in Thembalethu. Last year the Eden Lions kindly donated a huge variety of books and the campaign received R5 000 from André Keyser of Aurecon George as well as R2 500 from Oakhurst Insurance and Glenwood House.
The project was extended to five crèches in Pacaltsdorp and Blanco where the target groups are Pre-Grade R learners (3 to 5 years old). This year it is extended to the Lawaaikamp Crèche and the Gr R classes at Mzoxolo Primary School in Lawaaikamp.
Headmaster Raymond Eagen welcomed the project at his school. "Reading skills are of utmost importance and we welcome your contribution in creating a culture of reading among our learners." The school's library received a donation of 125 storybooks from an overseas sponsor.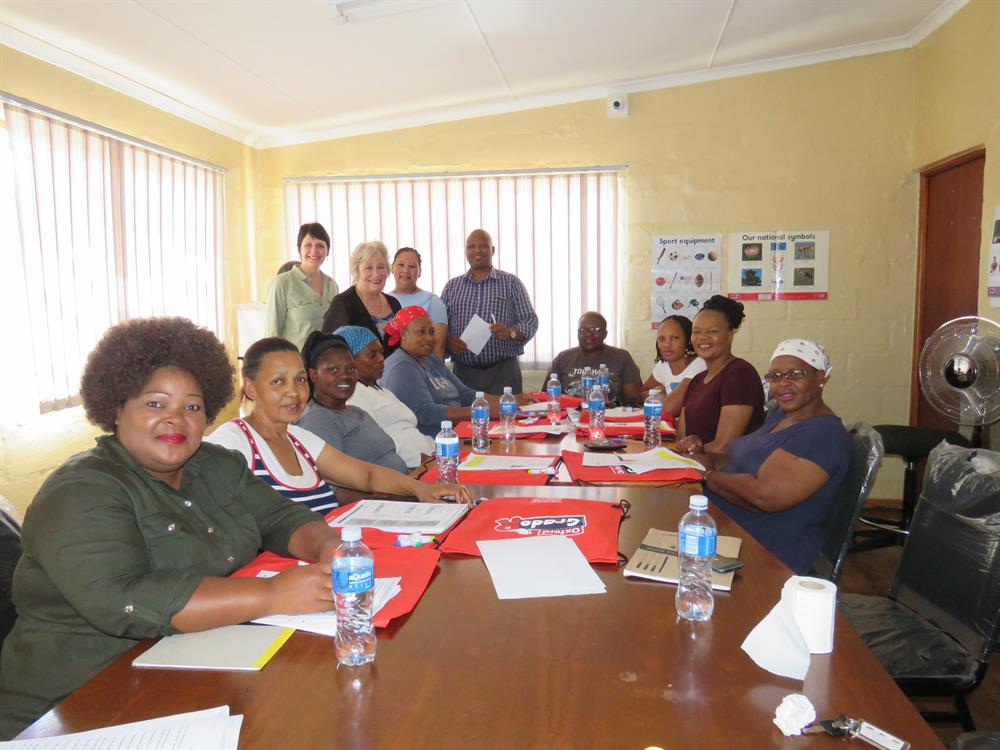 The Lawaaikamp Crèche and Mzoxolo Primary teachers who are taking part in the Ordinary Magic for Mandela initiative are, from left: Ntombozuko Snoek, Katriena James, Phelokazi Vanga, Phindiwe Tu, Noluvuyo Mpahleni, Nokuzola Masum, Fezeka Hans, Tamara Ncamazana, Nosimo Eagan. At the back are Ilse Schoonraad (managing editor at Group Editors), Werna Pretorius (early childhood development expert), Christina Bartness (Oxford University Press) and Raymond Eagen (Mzoxolo Primary headmaster).
Weekly reading column
Starting this week, a weekly column will be published in Idinga, which appears on Fridays, on how to develop a love of reading and books in young children. Early childhood development and reading expert, Werna Pretorius, who has worked in education in the rural areas in the Eastern Cape most of her life and is now a resident of George, will discuss how to treat books with respect and how to make reading fun. She will also tell us why, when and how to read books to children and how to choose the correct book to read.
So let's create lots of Ordinary Magic for Madiba and get those little ones reading! Not only at the crèche and at school, but also at home.
'We bring you the latest George, Garden Route news'