LIFESTYLE NEWS - Cats are adored all over the world and have become the number one pet viral sensations on the internet.
Living with a cat, however, can have its ups and downs.
On the upside, they are normally very independent and take good care of themselves but on the other end, if they are not trained properly, they could wreak havoc around your home.
These easy hacks should help you maintain a clean environment for you and your cats.
1. Say goodbye to pet fur
Grab a rubber glove to wipe pet hair off small areas. If you do not have a handheld vacuum, wrap duct tape around a paint roller with the sticky side on the outside. Remove pet hair by rolling it on the couch and other surfaces covered with cat fur. A rubber lint brush can also remove cat hair from your clothes. They're also small enough to keep in your handbag or backpack should you need it on the go.

2. No more clawed furniture
Cats love to claw into furniture leaving scratch marks all around. Create your own cat deterrent spray using water, vinegar, essential oils like peppermint or lavender and dish-washing liquid. Spray it around your furniture and in areas where the cat normally likes to scratch. This solution will keep the cat away from those areas as long as you keep spraying.

3. Keep cat food fresh and easy to dispense
If you do not want to use cat food bags or Ziploc bags, the best way to keep your cat's food fresh and easy to dispense is by putting it in a pitcher or jug that has a lid. The cat food will stay fresh, it will keep ants and insects at bay and it makes it very easy to serve your furry pet.

4. Clean up cat urine with bicarb
If your cat has peed in a certain area, sprinkle bicarbonate of soda over the affected area. Let it sit for ten minutes. Pour a little vinegar on the bicarb and let it fizz for a few seconds before blotting the liquid with a clean rag. Remove the bicarb and watch the odour and stain disappear.

5. Deter your cat from using your plants as litter boxes
Some cats love to urinate in house plants. To prevent this, replace the soil and spritz the pot with cat repellent. Place a few pinecones and rocks into the pot. The best solution is to train your cat to do its business in a litter box or outside.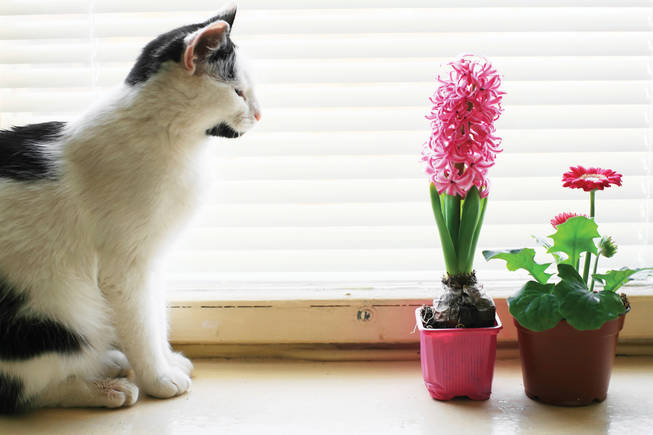 Deter your cat from using plants as litter boxes.