GEORGE NEWS - George, the sixth oldest town in South Africa, initially grew very slowly, due to a lack of viable roads for ox wagons in an area surrounded by forests, hemmed in by the Outeniqua Mountains and deep river courses west and east.
The opening of the Outeniqua Pass in 1847 led to trade with the hinterland and the town slowly started to develop.
When PW Botha took over as National Party MP for George in 1948, the pace of growth increased a notch, but from 1978 the town started to flourish, as PW was a "good constituency man" and promoted the town's development ceaselessly.
He also insured that George got an airport. As the saying goes: Even the darkest cloud...
Get into a time capsule and walk back in history by visiting the historic homes and places of interest at the top of York Street, into Caledon Street.
Just remember they are private homes, so enjoy the view from the outside please:
Bishops Lea in York Street was designed by Cape Town partnership of Kendall and Baker.
St Mark's Anglican Cathedral is built of local stone, consecrated in 1850.
The Arts Theatre was originally a public school which opened in 1905.
Searle's Shop General Mercantile Store whose motto was 'No gambling but steady progress' was at the top of York Street.
The MC Stander Building in Kerk Street served as the D.R. Mission Manse and from 1957 as a Sunday school.
Victorian House, 30 Caledon Street remained in its original form until it was enlarged in 1975.
Early 19th century residence in traditional Cape style at 11 Caledon Street, originally with thatched roof.
The house, 7 Caledon Street, was built in 1862 as a retirement gift for Rev Ballot.
Foundation stone of the Neo-Gothic Presbyterian Church in Caledon Street laid in 1933.
5 Caledon Street was built in 1903 as a family home.
Outeniqua Masonic Lodge (1923) was designed by Architects Simpson and Bridgeman. Simple Neo-Classical design with columns and pediments remain unchanged.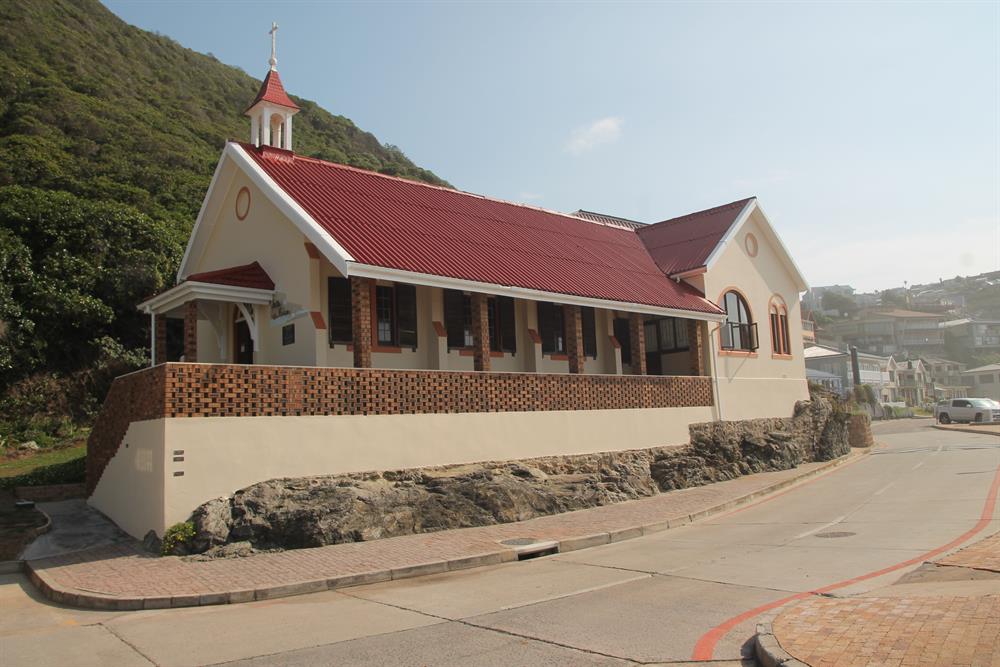 Stella Maris Catholic Chapel, Herolds Bay was founded in 1933.
Die Bult School started in an old prison building (1861) which was made available by the then city fathers to provide accommodation for orphans of the Anglo Boer War.
The old stone Toll House.
'We bring you the latest George, Garden Route news'