GEORGE NEWS & VIDEO - Rising damp on the walls, water-drenched lawns and a continuous stream of water running down the road to the stormwater drain have three households of Denneoord at their wits' end.
The properties affected are situated in Dennegeur Street (14 to 18). According to residents Marthinus Fourie and Renate Pommee, the situation has been ongoing for nearly two years. They suspect that the cause of the problem stems from the municipal waterworks and dam behind their properties.
"We have had various departments - including the fire brigade - visiting us to see if they can find out what is wrong," said Fourie.
"The last person came here two weeks ago and we haven't heard anything again. The problem has not been solved."
However Municipal Assistant Media Liaison Officer Debra Sauer replied that the situation was investigated two weeks ago and insists that the problem has been fixed. "A leak was found on a small pipe at the reservoir premises. It was fixed," she said.
Meanwhile the water continues to flow.
"Seepage water naturally moves from high lying areas to low lying areas. It is already limited as far as possible by a ditch dug at the border. It bears no relation to the reservoirs that were built on the site."
According to Sauer the municipality can't be held responsible for seepage water or damage to the houses. "Houses must be built in such a way that moisture will not damage the houses," she said.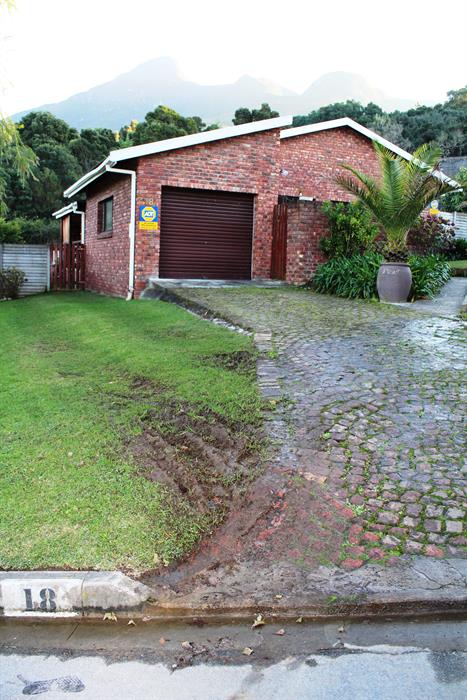 The lawn at this residence is drenched with water. Raynard Minnie, who rents the property said his bakkie became stuck in the mud once. "I can't mow the lawn properly and my dogs run the grass to pieces because of all the water."
Residents suspect that the cause of the problem stems from the municipal waterworks and dam (far back) behind their properties.
ARTICLE, PHOTOS AND VIDEO: MICHELLE PIENAAR, GEORGE HERALD JOURNALIST
'We bring you the latest George, Garden Route news'