GARDEN ROUTE DISTRICT NEWS - As of midday on Sunday 23 August, the Western Cape has 5203 active cases of COVID-19, with a total of 102 585 confirmed cases and 93 656 recoveries.
Due to the unavailability of data yesterday- the deaths being reported today are for a 48 hour period.
Over the past 48 hours, the Western Cape has recorded an additional 18 deaths, bringing the total number of COVID-19 related deaths in the province to 3 726. We send our condolences to their family and friends at this time.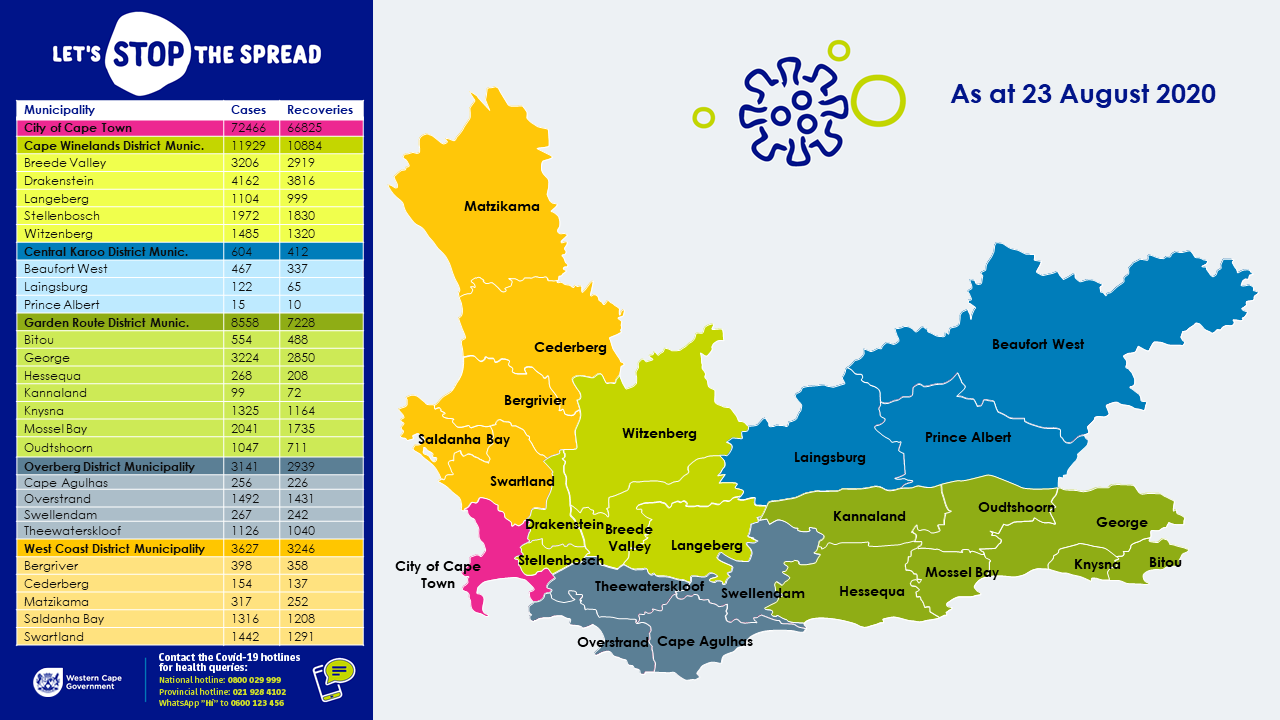 Hospitalisations and deaths continue to show a decline in the Western Cape:
I am pleased to note that hospitalisations in the province continue to show a decline. The total number hospitalised for COVID-19 is now below the 1100 mark, while our ICU admissions are very close to the 200 mark.
Another positive sign is that the number of deaths recorded in the province continues to track downwards- with just 18 deaths recorded over a two day period. While every death we record is still one too many, it is heartening to see the numbers showing a steady decline.
The Western Cape Department of Health has been working hard to ensure that the data we present to the public is as accurate as possible. As part of this process, we have been working closely with the NHLS, and from time to time, we will adjust data as new information comes to light.
Today, we have removed some duplicated cases which were incorrectly added into the system last week, resulting in the number of new cases recorded since Friday appearing lower than usual.
Despite this adjustment, all of our reliable indicators, such as our hospital and death data, continue to indicate that we are continuing to make progress in slowing the spread of COVID-19 in the province.
For this, I would like to thank every single resident who has played their part in helping to slow the spread. Each time you leave home with your mask on, keep your distance from others and wash or sanitize your hands, you are helping to reduce the number of new infections and save lives.
This weekend was the first weekend under the new alert level 2 restrictions and as more of our businesses start to open up, as people start to move around more, see their families and interact with others more, it remains important that we all continue to take precautions to protect ourselves, our loved ones and those who are most vulnerable to becoming seriously ill with COVID-19.
If we all continue to act responsibly, we can ensure that businesses can continue trading safely, and that we are able to save important jobs. Many people have been severely impacted by the hard lockdown and our focus must now be on addressing unemployment, hunger and poverty while reducing the numbers of new COVID-19 infections in our province.
'We bring you the latest Garden Route, Hessequa, Karoo news'