WESTERN CAPE NEWS - As of 13:00 on Tuesday 1 December, the Western Cape has 9683 active Covid-19 infections.

Total confirmed COVID-19 cases - 131 269
Total recoveries - 116 915
Total deaths - 4671
Total active cases (currently infected patients) - 9683
Tests conducted - 788 776
Hospitalisations - Data delayed
See the breakdown by municipal district below.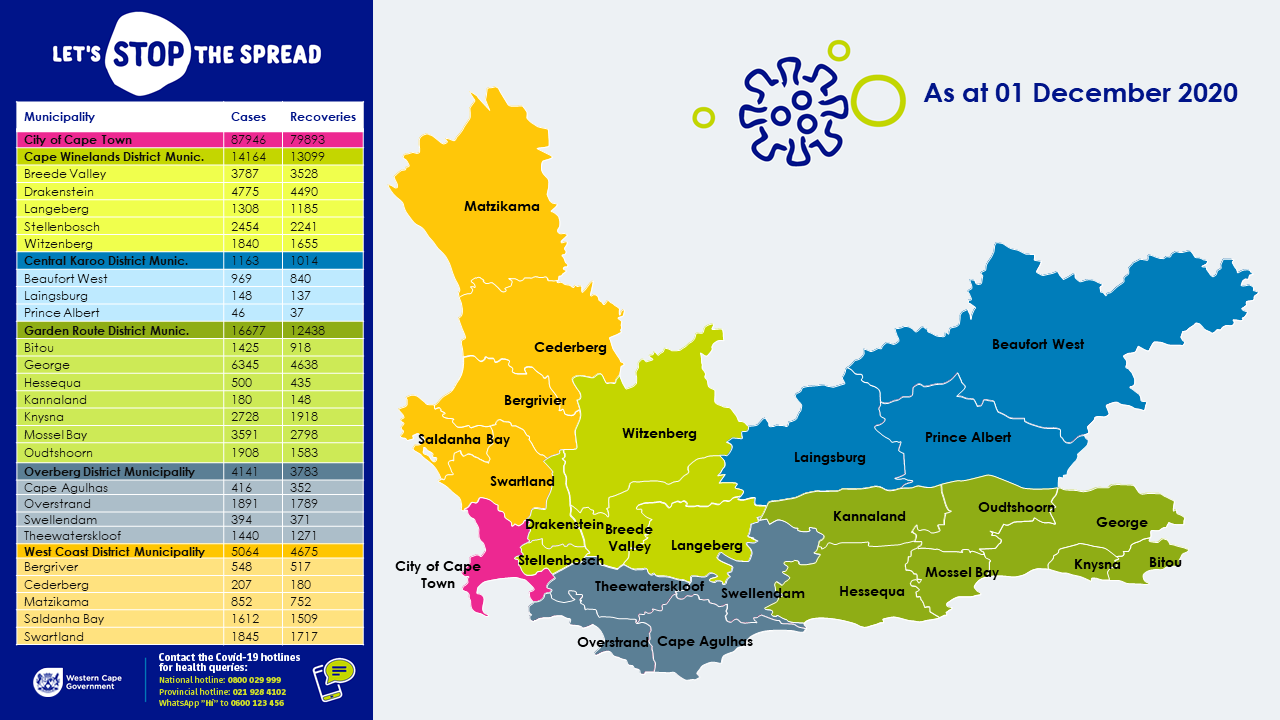 Premier Alan Winde's latest statement:
"Earlier today, Minister of Finance and Economic Opportunities, David Maynier released the fifth Covid-19 procurement report. This report, released monthly, details the province's PPE and Covid-19 related expenditure.
"I am pleased that the province continues to exceed the national guidelines for expenditure that went to SMMES. In October, more than half (57%) of Western Cape Government departments' Covid-19 expenditure was with SMMES, while 42% of our total Covid-19 expenditure since 1 April has been with Small Medium and Micro Enterprises.
"In total, the Western Cape Government has spent over R730 million on Covid-19 procurement since April- helping to support job creation and entrepreneurship in small businesses at a time when many businesses have been hard hit.
"More information, and the procurement disclosure report are available here.
"The Western Cape Government was also the first province to release a detailed breakdown of its PPE expenditure in order to ensure open and transparent procurement.
"During his MTBPS speech last week, Minister Maynier also committed to expanding the level of transparency in our procurement by progressively making public detailed information on a quarterly basis on all procurement via a quarterly Procurement Disclosure Report.
"He also committed to using government expenditure to further support small businesses by allocating an additional R155.9 million to basic maintenance and repair of infrastructure at schools in the Western Cape.
"Small businesses are key contributors to job creation in the Western Cape, and supporting them now will help them to save jobs.
"I reiterate my call for residents who can, to support small and local businesses which will save jobs and help to grow our economy again.
"We must however always do this with safety in mind to ensure that we are able to flatten the curve of infections, and manage the resurgence of Covid-19 cases were are currently experiencing in the province. Businesses should have safety protocols in place to ensure that they do not becomes sites of spread, while customers visiting any business or establishment should always wear a mask, practice social distancing and hand hygiene. We should also avoid the 3Cs: crowded places, confined spaces and close contact."
'We bring you the latest Garden Route, Karoo, Hessequa news'