WESTERN CAPE NEWS - As of 13:00 on Tuesday 20 April, the Western Cape has 2 244 active Covid-19 infections with a total of 285 528 confirmed Covid-19 cases and 271 735 recoveries.
A total of 53 507 out of the 53 820 vaccines received to date as part of the Sisonke trial, had been administered by 17:00 on 19 April.
The Western Cape has recorded 19 additional deaths since Monday 19 April, bringing the total number of Covid-19 related deaths in the province to 11 549. We send our condolences to their loved ones at this time.

Additional data is available on the Western Cape Covid-19 data dashboard which also features active cases per sub-district, active cases per 100 000 and 7-day moving averages.
Access the data dashboard here.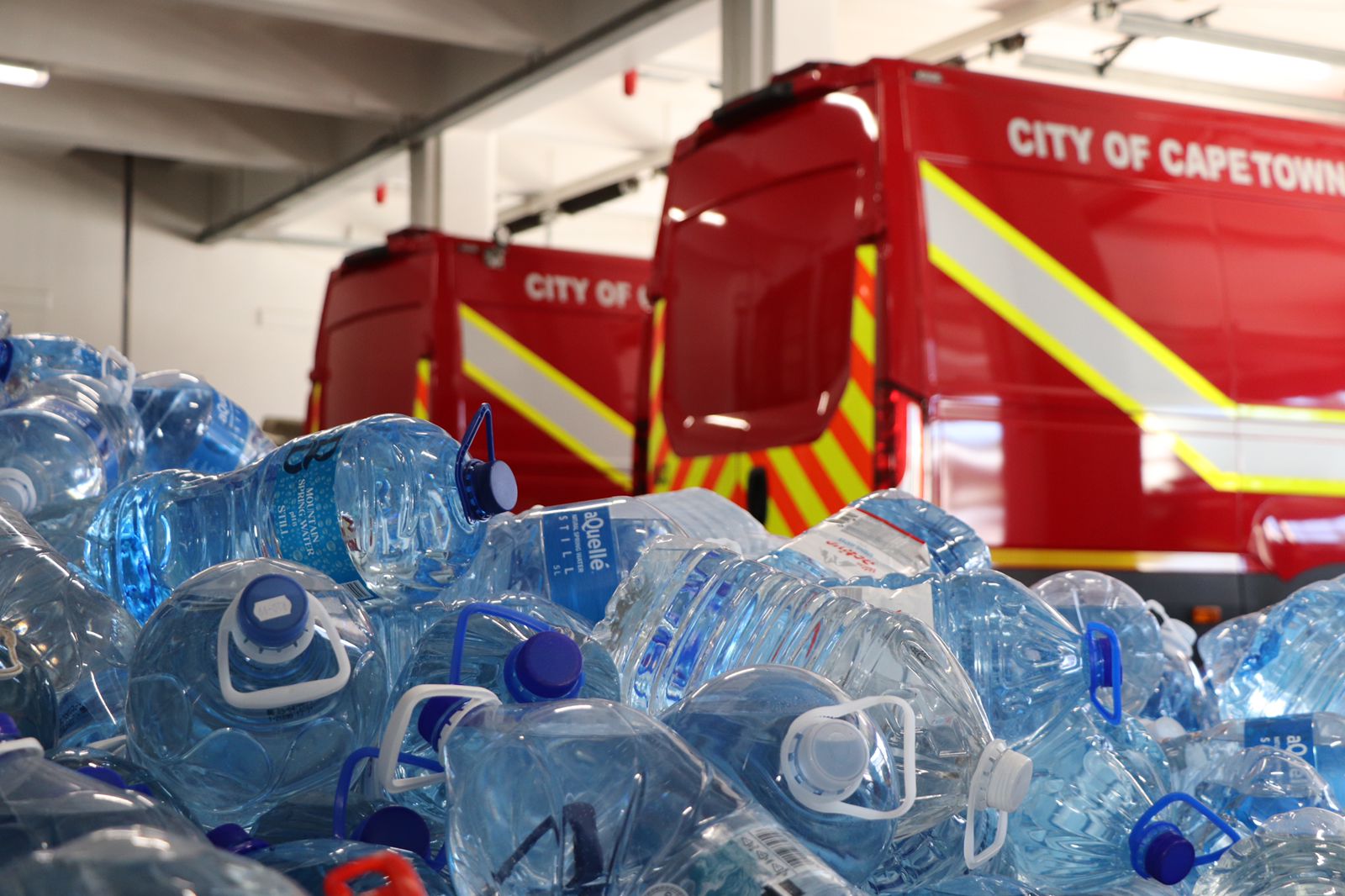 Water donations to fire fighters.
Premier Winde visits Central Fire Station to recognise firefighters
Today, I visited the Central Fire Station on Roeland Street where I was joined by Alderman JP Smith and a Head of Operations at the station, Mrs Arlene Wehr. I was pleased to provide an update on the response to the Table Mountain fires, which are largely contained, and thanked the many firefighters and volunteers who've worked so hard these past three days.
Mrs Wehr is one of the four incident commanders who coordinated the Table Mountain fire response. Yesterday, during one of the toughest days of the fire, she led the command. My huge gratitude goes out to Mrs Wehr for a job so excellently done. She is one of many true heroes in our fire-fighting effort.
I am pleased to announce that large parts of the fire have been contained. This is thanks to the tireless efforts of the City of Cape Town under the leadership of Mayor Dan Plato, the Table Mountain National Park, Working on Fire and Volunteer Wildfire Services, as well as the SANDF who were all supported by the Western Cape Government disaster management team.
I especially want to thank the hard-working men and women who are serving on the frontline, risking their lives to put a stop to the fires. Their efforts have been nothing short of heroic. I also want to thank the many NGOS, private businesses and residents in the province who have generously made donations to support our firefighters' efforts.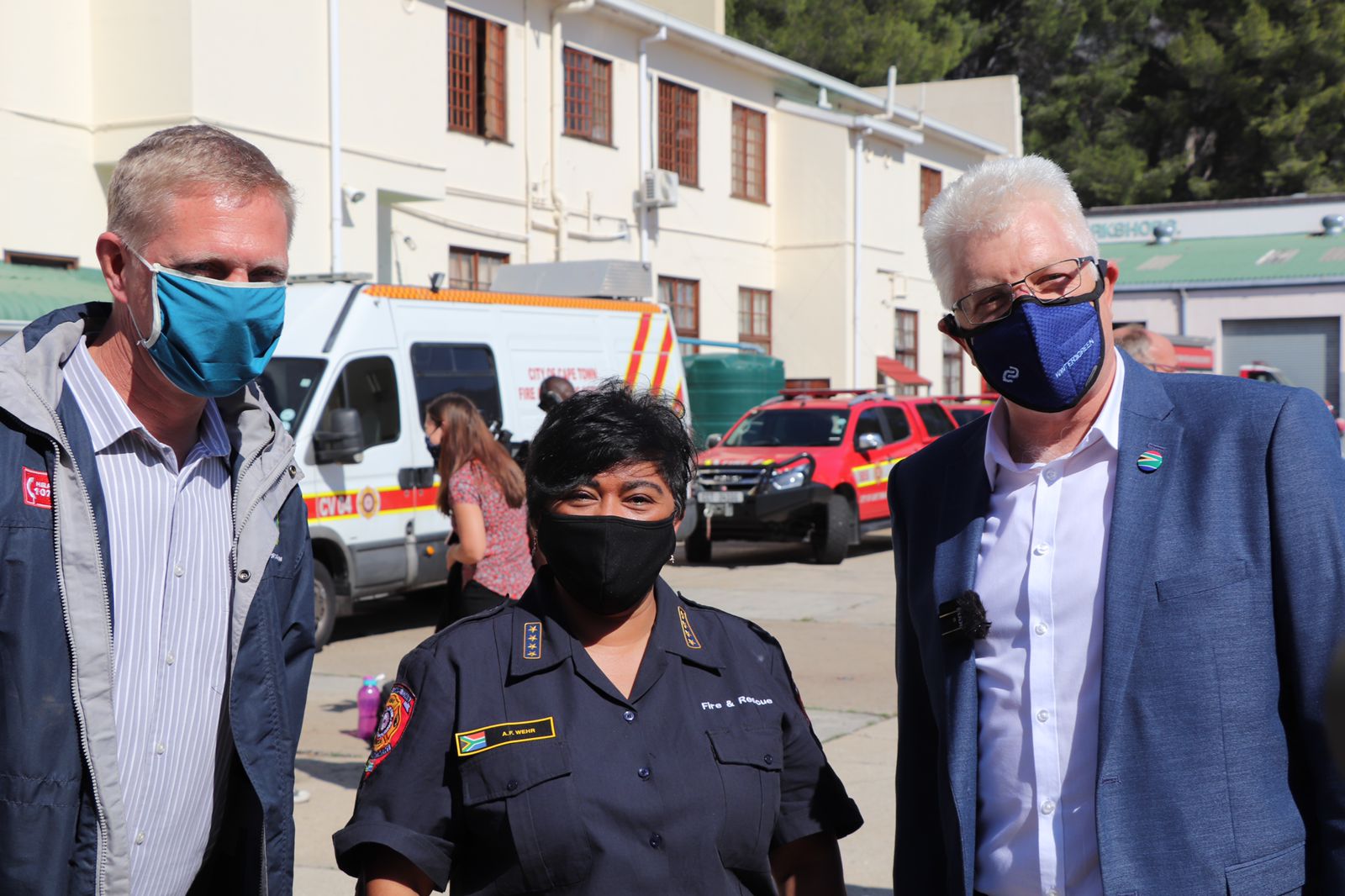 From left Alderman Smith, Mrs Wehr and Premier Winde.
It is incredibly heart-warming to see how we have come together as a province and as a City in this time of crisis to save our mountain and heritage sites.
There have been no fatalities as a result of this fire. Having said that, I have been informed that a total of six firefighters were injured in the line of duty and that a further nine civilians were taken to hospital due to smoke inhalation. I wish all firefighters and civilians a speedy recovery.
The latest damage reports show that a total of eleven structures were damaged or destroyed over the past three days. These include residential houses, six University of Cape Town (UCT) campus buildings, two heritage buildings, including the Mostert's Mill and UCT Jagger library and the restaurant at Rhodes Memorial.
The damage of these historic sites is a great loss. But through the efforts of the City of Cape Town, supported by the Western Cape Government, we have been able to save countless more historical sites and tracts of land on the mountain.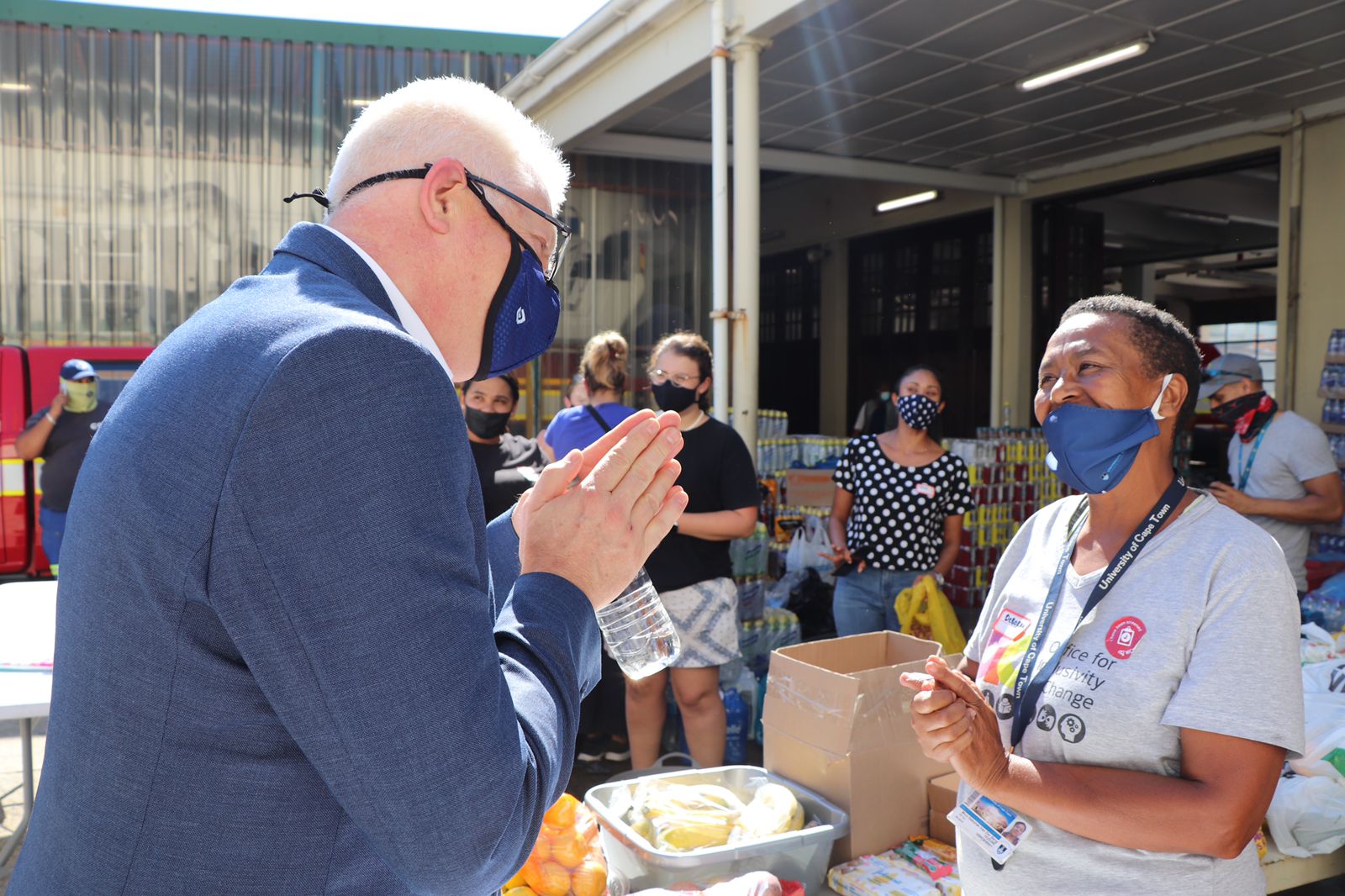 Premier Winde thanking volunteer.
Going forward, our priority is to fully extinguish all the fire lines. Firefighters will then continue to dampen the affected areas and monitor for flare-ups. Damage assessments will be done once the fire has been put out.
Residents are advised to make use of the following contact numbers in case of an emergency:
City of Cape Town Emergency Services Landline: 021 480 7700 or 107 (for cellphones)
Provincial Emergency Number: 112
Table Mountain National Park: 021 957 4700
To watch the press briefing, please visit here.
'We bring you the latest Garden Route, Hessequa, Karoo news'