Warning: Graphic content
GEORGE NUUS - Twee vrylopende perde, waarvan een na bewering dragtig was, is die week in die Pacaltsdorp-omgewing in twee afsonderlike voorvalle doodgery. Op Dinsdagaand, 25 Augustus omstreeks 21:30, is 'n perd deur 'n Toyota-bakkie op die N2 naby die Pacaltsdorp-brug getref.
Die perd is op die toneel deur DBV-inspekteur, Andrea Auerbach, dood verklaar.
Volgens inligting het drie perde op die middelman van die snelweg gewei toe een van die perde op 'n manier in die pad beland en deur die bakkie, wat uit die rigting van Mosselbaai gery het, doodgery is. Die ander twee perde het weggehardloop.
Niemand is in die voorval beseer nie. Suid-Kaapse polisiewoordvoerder, sers. Chris Spies, sê 'n ongeluksverslag is saamgestel en die skade aan die Toyota Hilux-bakkie aangemeld. Niemand is formeel aangekla nie.
Tuinroete DBV-veldinspekteur, Vanessa Lucas, vertel dat sy verlede Donderdag, 20 Augustus, na 'n toneel in Rosestraat, Pacaltsdorp, uitgeroep is. "Iemand het 'n dragtige merrie omgery. Beide sy en die vul was reeds dood toe ons op die toneel aangekom het," vertel sy.
Die Toyota-bakkie is deur die impak vermorsel.
Volgens 'n bron na aan George Herald was die bestuurder wat in die ongeluk in Rosestraat betrokke was, 'n minderjarige wat na bewering onder die invloed van alkohol was. Die ongeluk het ook na 22:00 plaasgevind.
Die seun is glo deur lede van Pacaltsdorp-polisie in hegtenis geneem. Teen druktyd was daar geen verdere inligting rondom die voorval beskikbaar nie.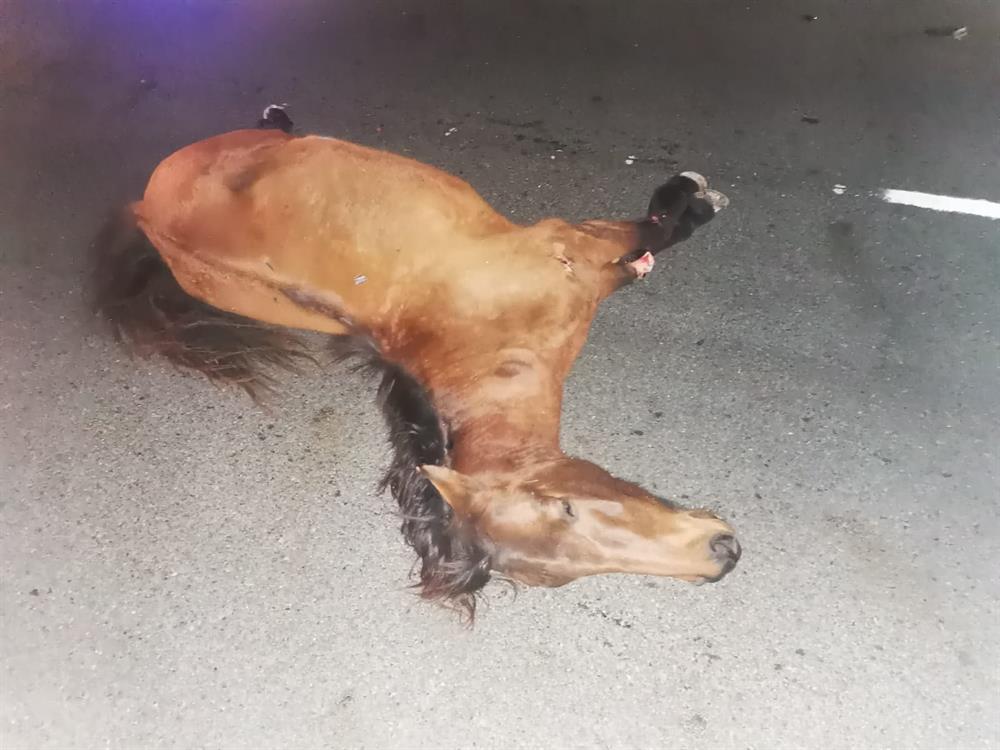 Die perd is Dinsdagaand op die toneel dood verklaar.
Two horses, of which one was in foal, were run over and killed by vehicles in the Pacaltsdorp area during the last week. In the latest incident which occurred on Tuesday evening, a horse was hit and killed on the N2 by a Toyota bakkie. Last Thursday, SPCA field inspector Vanessa Lucas was called out to a scene were a pregnant mare had been hit by a car in Rose Street. Both the mare and the unborn foal were declared dead on the scene.
'Ons bring jou die nuutste George, Tuinroete nuus'