Update
GEORGE NEWS - Thembalethu police in George have opened an attempted murder docket following a shooting in Zusakhe Street, Zone 6, Thembalethu in the early hours of Sunday 6 December.
During the shooting, which is believed to be taxi-related, the driver of a white Volkswagen Jetta and his passenger were injured, while a third passenger escaped unharmed.
According to Southern Cape police spokesperson Capt Malcolm Pojie, a male suspect allegedly ambushed the vehicle on the corner of the street and opened fire. Both the driver and his front passenger were shot in the stomach. The suspect fled the scene.
"The driver sped away and drove to the local hospital. He was admitted while the passenger was discharged. The suspect is still at large."
Pojie confirmed that investigators are exploring the possibility that the shooting could be taxi-related.
On Monday 7 December members of the Disadvantage [sic] Taxi Association (DTA), an affiliate of the Congress of Democratic Taxi Associations (Codeta), gathered at the George taxi rank in the CBD. Members of Codeta George then removed their stickers from taxis not affiliated with them.
These taxis were also asked to leave the rank.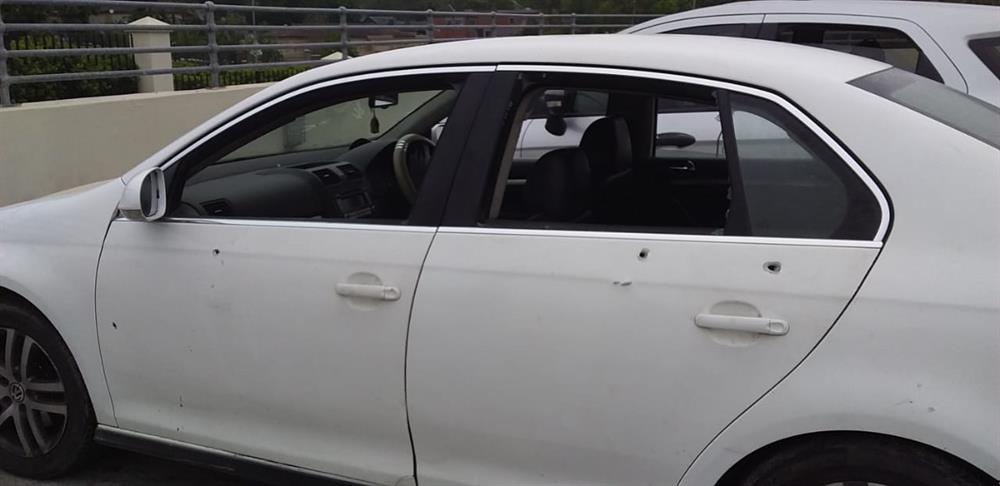 The Volkswagen Jetta that was shot at.
According to a DTA spokesperson, who asked to remain unnamed, they are trying to resolve internal issues peacefully. He confirmed that one of their members was shot in Thembalethu and is recovering in hospital.
He told George Herald that although they don't have much information or knowledge about the shooting, they see it in a very serious light and a statement will be released later.
Anyone with information is requested to contact the investigation officer, Warrant Officer Jackson, on 044 802 8951, 079 894 1576 or Crime Stop on 08600 10111.
All information will be dealt with confidentially.
A Codeta sticker that was removed.
Previous article: Taxi organisations seek peaceful solution for differences
'We bring you the latest George, Garden Route news'