GEORGE NEWS - Heather Stead, previous chairperson of the George Society of Arts, interviewed Carina Beukes, the driving force behind Variéte! Variéte! The Greatest Variety Show on Earth! which will be staged at the George Arts Theatre from 10 to 13 October.
"Sitting with Carina Beukes in the beautiful Backstage Lounge, we are reminiscing about past shows and on the 74-year history of shows on the walls of the George Arts Theatre. These walls give a unique look at part of George's history. Back then there was no TV or Google or streaming episodes for immediate gratification. Theatre was the centre of all entertainment.
Carina Beukes is not well known to the general public, but her very successful shows are etched in the minds of hundreds of theatregoers. Kids were spellbound by shows she wrote, such as Disney Tribute: Wishing Upon a Star and the follow-up Still Wishing Upon a Star. She also produced the stunning debut theatrical production of Khumba in 2017. Her early works with Pat Savage include Roald Dahl's The Witches.
"I am excited and looking forward to more interviews with some other members of this cast. People like local actor Schalk Visage, who was so much a part of every show for many years, and who has joined Varieté Varieté cast, but now accompanied by his eight-year old daughter. What a wonderful heritage we have that we can pass on at the George Society of Arts."
HS: I am looking for an inside view of how you began as a director and how you start the process of producing a new show.
Carina: When you are a director and you have an idea that you feel excited about, ask yourself is it's viable and practical. Think about the stage, will it fit on the stage, think of the logistics like what you need. Know why are you doing it. Do you want to make money or is it something inside that you want to get out there?
Usually, for me I run with the idea. I run it past a few people, see their reactions, then start it. It may be a well-known script or something I need to write a script for. I love producing, coming up with all the ideas and translating them into a show. First though, I find a director who can help me direct the actors. Then I check when the theatre is available and then jump in feet first!"
On stage in Varieté Varieté. Photos: Carina Beukes
HS: You've become known for your very elaborate sets, lighting, music and costumes. These theatrical tools are almost becoming other characters in your show. Where do you get all these ideas?
Carina: I've got a lot of ideas, but my biggest motivation is for the audience to see the theatre in a different light (pun intended). I like thinking about what we can do with the space we've got in a different way. Two levels of stage is different so for Varieté Varieté we are using right up to the ceiling as a stage. I like the audience believing anything is possible.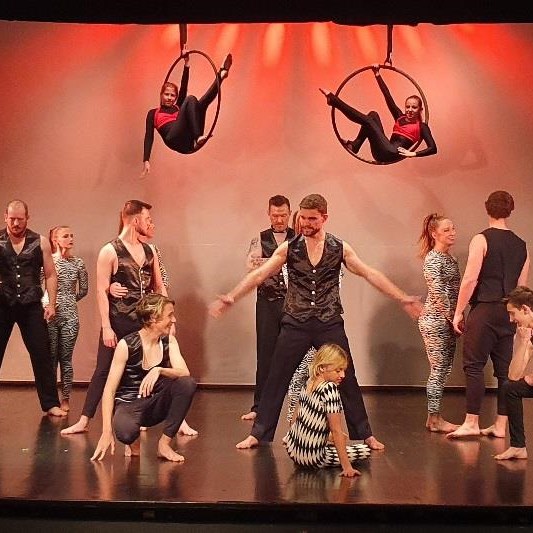 On stage in Varieté Varieté.
HS: In Varieté Varieté you have a huge cast of 55, which is also unusual. How is it going?
Carina: For the theatre's 50-year anniversary I wanted to get people of George back on stage and into the theatre. A big cast brings its own challenges but we want to showcase the talent in George. I am blown away by the talent of this cast. It has also had challenges. Many of the cast do not know the older Broadway songs and don't even like them! The other half, like me, love them!
HS: I loved your incredible costume plots for each character. As a director myself, I was in awe. I need lessons from you!
Carina: They are not mine at all, mine are very scruffy! We have an incredible youngster, Elize Bernado, who is heading into costume and clothing design. She volunteered and gained huge experience helping us with the costume design. This is what a community theatre is all about.
HS: I can't wait to see it!
Carina: I can't wait to see it either! With Varieté Varieté the idea was to showcase the talent in George. The cast members have sacrificed a lot of time to put on this show.
Inspiration for the design of the costumes.
HS: We at the George Society of Arts are unbelievably thankful to directors who keep the theatre alive and fresh. What can you suggest for us in sourcing new directors?
Carina: I think it's a desperate need. This is how the theatre has survived for the last 50 years. Young directors are mentored and then take the brave step to put on a show. If this is you, talk to our team of experienced directors at the theatre and get that support behind you. This is a community theatre and the support is there.
If you don't grow new directors or make people think that it's possible to be a director, the theatre is put at risk. This is how I got involved in the theatre. I auditioned for a role for Pat Savage. I fell in love with the theatre and people like Pat and Denise Swanepoel, who has passed on now, supported me.
They have passed the baton of their knowledge and skills over to me. Edwina Rapley, too, was a mentor for future directors, Bronwyn and Heather. Now we need to hand that baton over to someone else. We all learn from each other. I still refer to Pat and ask her questions to this day. It is important for all directors to have a team to bounce ideas off each other.
'We bring you the latest George, Garden Route news'