Update
GEORGE NEWS - "There are no books to consult in the situation that I walked into," says Riaan van Rooyen, the man sent by Pepkor to pick up the pieces at the Tekkie Town head office in Meul Street after the mass walkout of almost the complete former management team. They were followed by 111 employees.
Van Rooyen spoke to the George Herald last week about progress made in normalising operations since that turbulent day.
"It was very tough in the beginning. Since so many critical positions were left vacant we had to get a specialised team from Pepkor to assist us in rebuilding systems and processes. It was a scramble, but within a week we managed to get our distribution and planning systems up and running and were able to distribute stock to all 381 stores with no trade disruption. With the support of Pepkor Installations the teams managed to open five new stores by the end of September. Fortunately we have a legal team at Pepkor who can assist with all the legal matters, which has allowed us to focus on the business. I am extremely proud of what the team accomplished in such a short time."
The human resources team filled 70 vacant positions in the past three months, promoted 20 existing Tekkie Town employees and filled up the executive and senior management teams. About 80% of all new appointments are from George and surrounding areas.
More appointments are to follow. "By bolstering our team with these appointments, we are ready to focus on the future. Over the next few months, our aim is to ensure business continuity and to further enhance business systems and processes," says Van Rooyen.
"The past three months were full of uncertainty. We have had to build trust and give employees the assurance that we are here to stay. The atmosphere has changed, people smile and look relaxed. We aim to open a further 16 new stores by December and another 30 to 40 next year.
The launching of Mr Tekkie by former Tekkie Town owner Braam van Huyssteen and CEO Bernard Mostert will not cause him to lose focus. "Our job is to continue to grow Tekkie Town in its current format and other new opportunities that we are already looking into. Capital has been made available for next year's growth plans, and our plans for the next three years have been approved."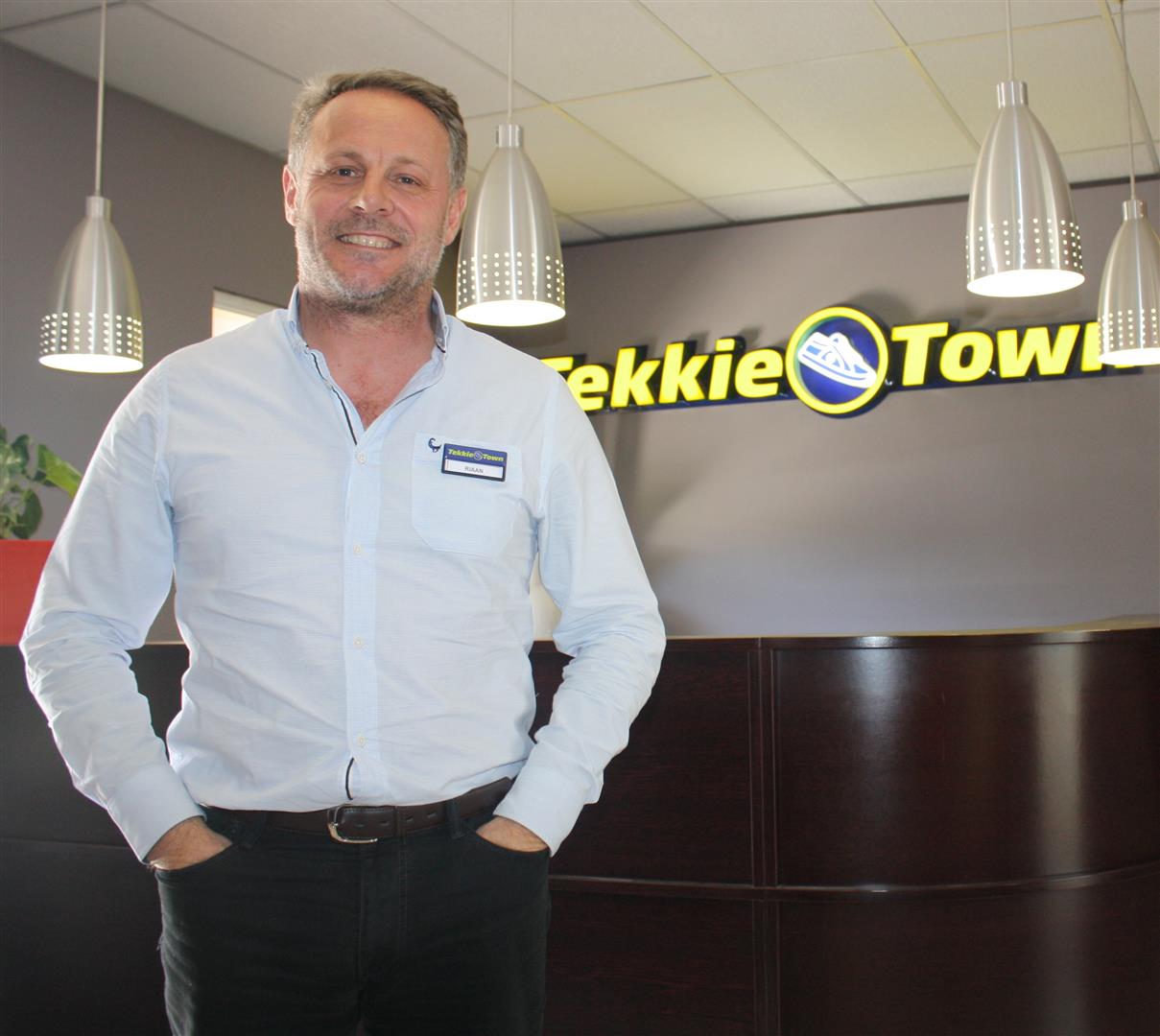 Riaan van Rooyen, Tekkie Town CEO. Photo: Alida de Beer
Lawsuits
Van Rooyen does not want to comment on the various lawsuits between Pepkor and Van Huyssteen and his management team. One of the cases pending against Pepkor is an eviction notice applied for by Van Huyssteen, who owns the property where Tekkie Town's head office is located. The lease contract lapses in 2025. Space occupied by the gym and coffee shop on the premises are being sublet by Tekkie Town.
Van Huyssteen and Mostert are also trying to get Tekkie Town back, and in another lawsuit, Pepkor is trying to prevent the opening of Mr Tekkie, Van Huyssteen's new clothing and shoe retail chain. Mostert said this week that they plan to have three stores opened by the end of this month and 12 by the end of November. Two stores will open in George.
n Van Rooyen is from Cape Town and will be commuting while his wife and two sons will remain based in Cape Town for the interim. The youngest son is in Grade 12 and cannot be moved to another school at this stage. The elder is a student at Stellenbosch University.
Also read the Moneyweb article by Adriaan Kruger.
Read previous articles:
'We bring you the latest George, Garden Route news'