OUDTSHOORN NUUS - Die hofverrigtinge in die rondgaande hooggeregshof op Oudtshoorn het Vrydag met 'n staande applous geëindig na Magdaleen Titus en Justice Mooi beide aan die moord op Preston Titus sowel as regsverydeling skuldig bevind is.
Emosies was gelaai toe regter Nolwasi Boqwana verlede Donderdag met haar uitspraak teen die vier beskuldigdes begin het.
Natasha Stuurman, Masithembe January, Mooi en Titus het tereggestaan op aanklag van moord en regsverydeling.
Die staat het beweer dat Titus die meesterbrein agter die huurmoord op haar man was. Hulle was 19 jaar getroud en het twee dogters. Mooi was, volgens die staat, die beweerde huurmoordenaar, MJ het glo Titus aan Mooi as die huurmoordenaar voorgestel en Stuurman het Mooi en MJ gehuisves in die tyd wat die moord gepleeg is.
Uitspraak
Boqwana het met 'n uitgebreide opsomming van die 22 staatsgetuies begin en het ook weer klem gelê op die grusame wyse waarop Preston vermoor is. Sy kakebeen gebreek nadat hy vermoedelik met 'n hamer geslaan is. Hy het verskeie sny- en steekwonde aan sy lyf gehad wat met 'n mes toegedien is en is ook verskeie kere met die hamer geslaan. Hy is uiteindelik aan bloedverlies dood.
Sy het ook tydens haar uitspraak haar redes gegee oor waarom sy Mooi se verklaring na die verhoor-binne-verhoor aanvaar het. Mooi se regsverteenwoordiger het beswaar aangeteken oor die gebruik van die verklaring in die hof as 'n bewysstuk omdat Mooi gesê het hy het die verklaring onder dwang afgelê en omdat hy gebombardeer is met Sixabiso Klip se verklaring.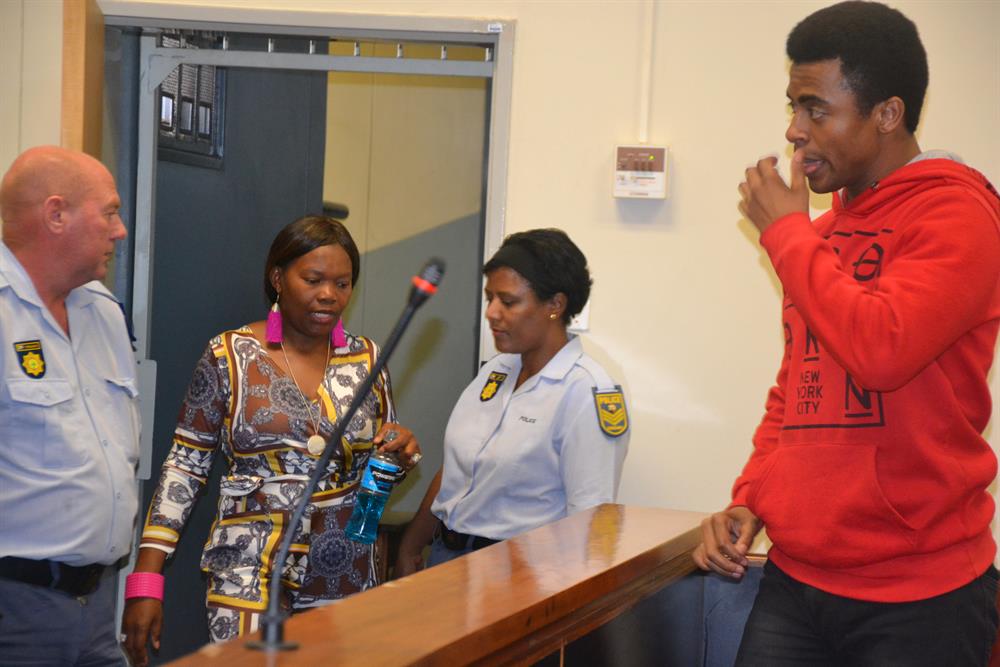 Magdaleen Stuurman stap uit die selle na haar skuldigbevinding.
Volgens Boqwana het sy die verklaring aanvaar omdat daar geen bewys was dat Mooi deur Sixabiso Klip, die verdagte wat reeds gevonnis is, se verklaring gebombardeer is nie. Sy konstitusionele regte is ook nie benadeel nie. Sy het hom ook as 'n swak getuie beskryf en sy voel dat hy homself weerspreek het.
"Sy weergawe oor wat gebeur het kan ook nie redelik moontlik wees nie," het sy gesê.
Boqwana het verder in haar uitspraak gesê dat Titus 'n swak getuie was en dat sy haar weergawe oor moord aangepas het soos die staat vrae aan haar gevra het. Volgens die regte was Titus die meesterbrein agter die moord op haar man en sy het die feit dat Titus vir Klip as meesterbrein probeer uitmaak het, verwerp.
Die regter het Stuurman en MJ op beide aanklagte teen hulle onskuldig bevind. Volgens haar kon die staat nie bo redelike twyfel bewys dat hulle by die beplanning van die moord betrokke was nie.
"Beide het erken dat hulle geweet het van die moord, maar hulle was bang om iets daaroor vir iemand te sê. Om te weet van 'n moord maak jou egter nie aan 'n misdryf skuldig nie," het sy gesê.
Masithembe January was in trane na hy onskuldig bevind is.
Borgtogaansoek
Na die uitspraak gelewer is het Titus se regsverteenwoordiger, Henk Carstens, vir verlengde borgtog aansoek gedoen en het Titus self getuig oor waarom haar borgtog verleng moet word.
Volgens haar is daar buitengewone omstandighede vir borgtog wat weer aan haar toegestaan kan word. Sy het aangevoer dat sy die R30 000 wat sy aanvanklik betaal het vir borgtog nodig het vir haar kinders, dat sy nie 'n vlugrisiko is nie en dat sy graag haar twee dogters op die vonnisoplegging wil voorberei.
Sy het ook gesê dat haar ma ernstig siek is en dat haar eie gesondheid ook nie goed is nie.
Adv. Christènis van der Vijver het egter gesê dat sy (Titus) nie haar kinders se belange as buitengewone omstandighede kan gebruik nie omdat sy nie hulle belange in ag geneem het toe sy hul pa laat vermoor het nie.
Volgens Van der Vijver, is Titus wel 'n vlugrisiko omdat sy 'n baie lang vonnis in die gesig staar.
Hy het dit ook aan haar gestel dat korrektiewe dienste se mediese behandeling goed is en dat hulle in die tronk ook aan haar mediese behoeftes kan voorsien.
Regter Boqwana het nie die borgtogaansoek toegestaan nie. Die saak is vir vonnisoplegging na 3 Februarie uitgestel.
Van links is Justice Mooi, Magdaleen Titus, Natasha Stuurman en Masithembe January.
IN SHORT: The case against the four accused in the Preston Titus murder case in the Circuit HIgh Court in Oudtshoorn ended with a standing ovation after Magdaleen Titus and Justice Mooi were found guilty of the murder of Preston Titus as well as obstruction of justice. Judge Nolwasi Boqwana started her verdict against the four accused, Natasha Stuurman, Masithembe January, Mooi and Titus, on Thursday 28 November. She made special mention of the brutal way in which the victim was assaulted. She said Mooi was a weak witness who contradicted himself and whose version of the events was not reasonably possible. Boqwana said Titus' testimony was also weak and that she adjusted her version of the murder according to the prosecution's questions. She found that Titus was the mastermind behind the murder. She found Stuurman and January not guilty on both charges. Boqwana refused extended bail for Titus. The case was postponed to 3 February for sentencing.
Lede van die gemeenskap juig na Magdaleen Titus en Justice Mooi skuldig bevind is.
Lees verwante artikels:
'Ons bring jou die nuutste Tuinroete, Hessequa, Karoo nuus'