GEORGE NEWS - Nicholas Coertze, an honours student, together with his supervisor Dr Alanna Rebelo, both of the Conservation Ecology and Entomology Department at Stellenbosch University, plan to use fusion of optical (Sentinel-2a) and radar (Sentinal-1) satellite imagery, as well as drone footage to map invasive alien trees in the mountains around George.
The area of interest is the water catchment supplying the Garden Route Dam.
"I have chosen to focus on this catchment for my research project because I am concerned about the impact of invasive alien trees on biodiversity and water security, in a region experiencing increasing demand for water", says Nicholas, a local of George. Nicholas says that the area is very important to him and that he was first inspired to preserve the native vegetation after a visit to the Garden Route Botanical Gardens sparked his interest and passion.
Besides the major fire risk posed by invasive alien trees, as experienced by George residents in 2018, what other impacts do they have? Invasive alien trees have been described as 'fire lighters', 'enemies of biodiversity' and 'water guzzlers'.
Fires are normal in Fynbos, returning on average between every 8-12 years. "It is alarming to see reports in the news after every fire in Fynbos that 'thousands of hectares of vegetation was destroyed'", says Dr Alanna Rebelo. "Fynbos is not destroyed by fire, on the contrary, it needs fire for life to continue. Many species of plants can only have their seeds germinate after fire".
However alien invasive trees increase the fuel load of the fynbos, and can result in far more dangerous wildfires. Especially big trees such as pines and Australian gums and acacias, provide the perfect fuel for a bonfire. They can increase fuel loads in fynbos by up to 60%, resulting in higher intensity fires.
Alien trees are no friends of biodiversity. Many studies have found that plantations or alien tree infestations negatively affect small mammals, invertebrates, and plant species. This is particularly alarming in the Cape Floristic Region, where we are fortunate to have one of the highest concentrations of plant species per unit area in the world. Even more importantly, 2/3 of all the plant species only occur in this region, nowhere else, with over 2000 species being threatened by extinction due to invasives.
Lastly, invasive alien trees guzzle water. According to one study, invasive alien trees reduce our mean annual runoff nationally by 1.4 billion m3 (3%). To make this easy to picture, this has been described as the equivalent of 577 600 Olympic sized swimming pools.
The most serious way invasive alien trees impact our water supply is by consuming water especially in the dry season, reducing baseflow, which is the trickle of water that the mountains and aquifers slowly release after a shower or in the dry season. The dry season and drought years is when we really rely on baseflow for water security.
With water supply in much of South Africa reaching crisis status, it is critical that invasive alien trees are controlled. Recent research shows that this cannot be done in a haphazard way, and that alien clearing should be done strategically, and holistically.
It is also important to consider the impacts of different types of clearing methods. Mechanical clearing (e.g. using machinery) is very high impact, causing damage to any recovering fynbos. Likewise herbicide is no silver bullet for alien clearing. Herbicides are dangerous poisons that should only be used as a last resort, and where applicable (i.e. stump treatment and not spray, and only on species that coppice). Herbicides cause all sorts of side effects to nature and people, and little is known about how long they persist in nature.
One of the major issues in invasive alien tree management in South Africa, is adequate, up-to-date maps of invasive alien trees for prioritization and costing to support clearing efforts. This is no different for the George region, and this is what Nicholas and Dr Rebelo hope to address.
"The aim of this research is to produce an up-to-date alien tree map using a process which is repeatable, and which will be made freely available to stakeholders". Nicholas hopes that this will be useful to all stakeholders in the catchment for the planning and prioritization of invasive alien clearing.
What makes this study interesting is that it aims to be transdisciplinary (i.e. solving a specific problem and providing useful outputs). To do this, it is very important to involve key stakeholders, or people who are knowledgeable about alien trees in the catchment, from the start of the project, through to the end. Though covid19 has brought some delays to the study, the first round of surveys will begin this August, with the second round to follow in September 2020. These key people will help us with data to build the map, and also to check the final map result.
You may ask, what can be done once we have a good map of alien trees in the catchment? The public has a very important role to play, as watchdogs reporting alien tree invasions, but also actively in assisting with alien tree removal, to help prevent another mega-fire disaster in 8-12 years' time, when the next fire is due.
There is an opportunity to form a voluntary WESSA Friends group (e.g. like the Friends of Tokai Park) to start tackling alien tree seedlings, and later adults, in this catchment. This will need to be guided by experts with a strategic plan in mind, and who have the relevant permits.
If you would like to participate in this research, or would like to know more, please contact Nicholas Coertze: 20149921@sun.ac.za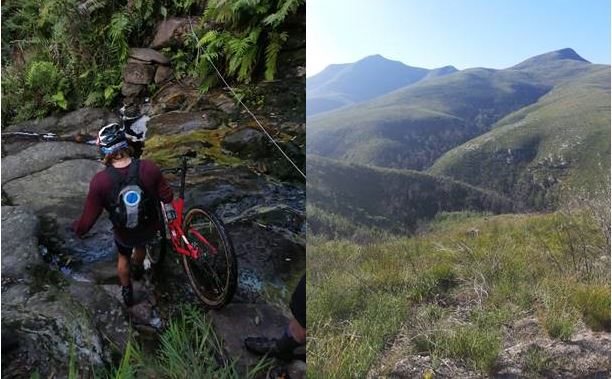 'We bring you the latest George, Garden Route news'