GEORGE NEWS - The first new dustbin that is part of a project addressing the litter challenges in the central business district, was put in place in York Street near the Arts Theatre on Tuesday morning. It is an initiative of the organisation We are George.
The target is to put 50 of these dustbins in the area this year.
Mikaila Hendrikz of We Are George said they are on a drive this year to encourage businesses, schools and even residential properties in the CBD to take ownership of the trash.
Hence their slogan, Its not my trash, but it's my George.
"We've been working closely with the municipality on the problem we face of there not being enough dustbins, or the current dustbins that are broken or just too small. In 2018 we piloted a solid concrete dustbin project in Unity Park, which has proven to withstand all the elements and has truly helped keep Unity Park Clean."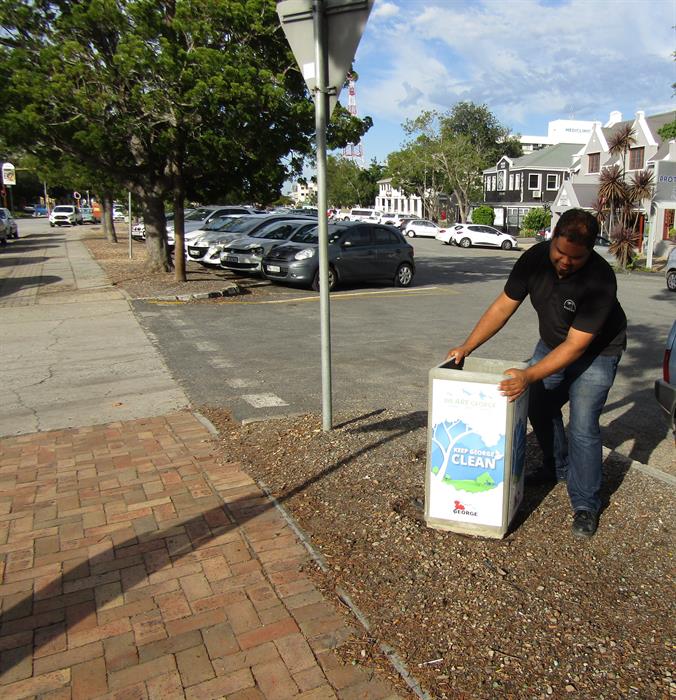 The first new dustbin in York Street was put in place on Tuesday morning by Chadley Sasman of We are George. Photo: Eugene Gunning
According to Hendrikz additional dustbins will also be installed at the top of York Street as a way of trying to keep the CBD clean. "We want to encourage businesses and schools to do the same," she said.
"Buy a dustbin from We Are George, which we will have manufactured, branded and installed - all at cost. The dustbins will be placed in front of the business or school and will be maintained and cleaned by the municipality. Two sides of the dustbin can also be branded in the companies' branding for additional advertising."
The price per dustbin is just over R2 000. It is made of solid concrete and can't be vandalised or destroyed by the weather. She thanked the municipality for its help and being on board with the project.
For more information, send and e-mail to Hendrikz at mikaila@badgerins.co.za.
The first new dustbin in York Street was put in place on Tuesday by the organisation We are George. Chadley Sasman and Mikaila Hendrikz of We are George were the first to throw litter in the new bin. Photo: Eugene Gunning
'We bring you the latest George, Garden Route news'