GARDEN ROUTE DISTRICT NEWS AND VIDEO - This coming Thursday, 9 April, the Garden Route District media house, Group Editors, will for the first time ever, publish a newspaper for the entire region.
Group Editors, the publisher of George Herald, Mossel Bay Advertiser, South Cape Forum, Knysna-Plett Herald, Oudtshoorn Courant, Graaff-Reinet Advertiser and their related websites and online platforms, will be printing the first edition of our new regional newspaper, 'Lockdown Special Edition'.
'Lockdown Special Edition' will be published every Thursday for the duration of the lockdown and will be available in the Garden Route, Klein-Karoo and Hessequa regions - an absolute must-read!
The new regional newspaper will include the top stories from the entire district, including, but not exclusively, coronavirus related reports, community news, property news and even an entertainment section to keep your family busy during these strange times. It will also keep you up to date with what our local sport heroes are doing to stay fit and about life in the time of Covid-19 in general.
Our editorial teams and marketers are going all out to make the 'Lockdown Special Edition' newspapers memorable publications: papers all of us will value as keepsakes and one day share with our children and grandchildren.
Online papers
And of course, the individual town papers will still be available for you to enjoy: these papers will be published online every Thursday morning during lockdown.
During this time, Group Editors is working with Magzter, an online platform that gives us the ability to sell our newspapers in PDF format online so you can continue with your social distancing, while reading your local newspaper in the comfort of your own home. You can buy each of your weekly newspapers here.
So, be sure to get your usual weekly fix of local news by paging through your favourite read online.
We bring you the facts
If you are still reading, chances are that you care as much about your local paper as we do. The newspaper industry has been facing tough times for many years and the Covid-19 onslaught has had a severe impact on advertising - the fuel that keeps the news industry going. Reputable conveyers of news - our lifeline to the truth - are more important than ever in this era of fake news mushrooming on social media. During times like these, the importance of trustworthy news sources cannot be stressed enough. By reading our community papers online and following the updates on our websites and Facebook pages, readers get verified information they can trust. All the websites are updated as the real news come in. Chances are, if it's not on one of our sites, it's not true and did not happen.
Contact us
If you have a story that needs to be told, please contact a journalist in your area. We are available seven days a week and our contact details are on each individual publication's Facebook page.
The lockdown editions and our online papers and websites offer the ideal platforms where you can share your own special message with the residents of the region.
If you don't have a marketer's contact details, feel free to contact Julinda Aucamp at 082 394 9469, who will put you in touch with the right person.
Read your local newspaper online every Thursday and be sure to get the printed Lockdown Special Edition newspapers. These will, for the next few weeks, hit the shelves at essential goods suppliers every Thursday and be available as long as stocks last.
Don't miss out - you will cherish your lockdown editions for many years to come.
Watch a video below.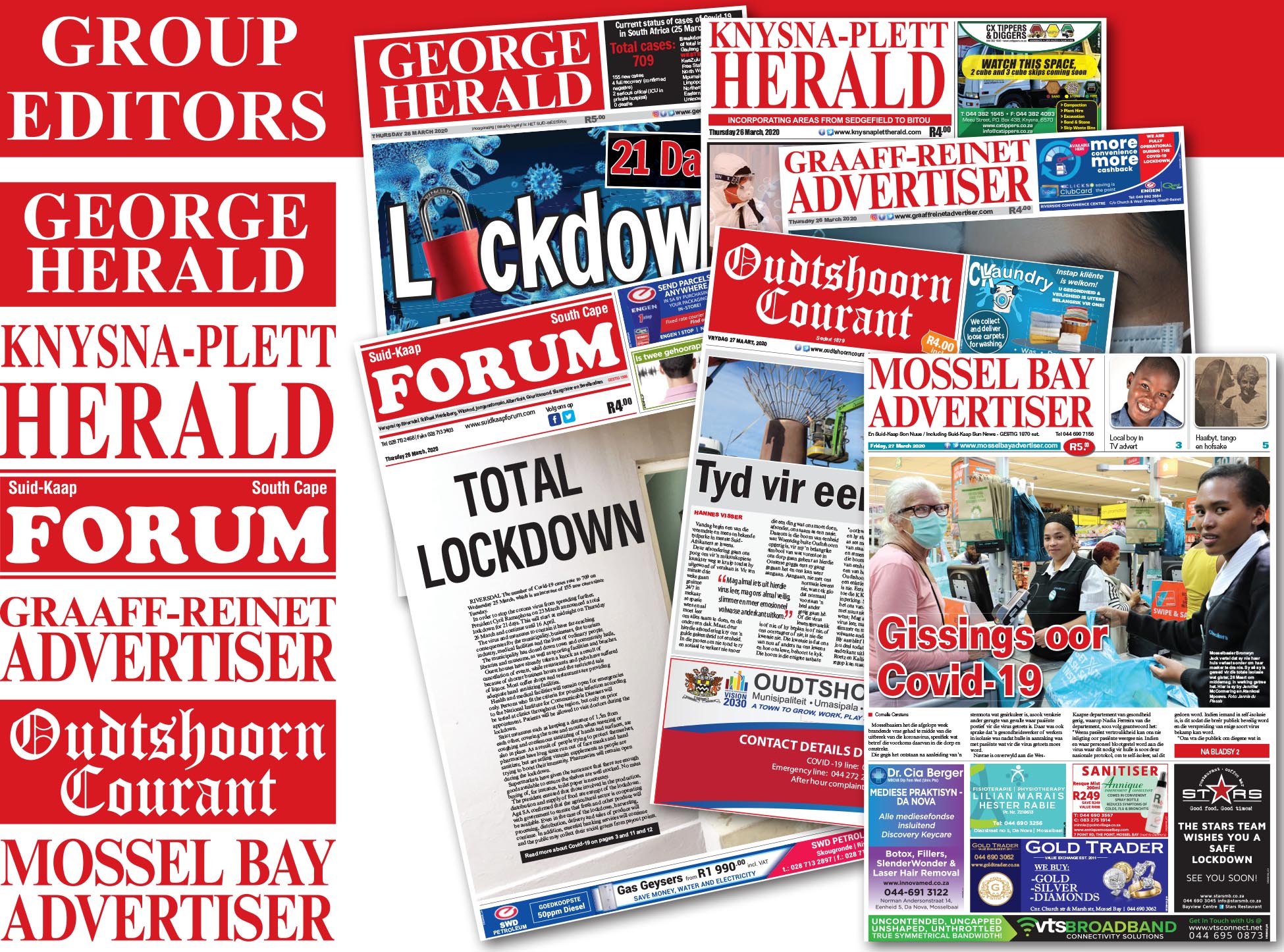 'We bring you the latest Garden Route, Karoo, Hessequa news'