GEORGE NUUS - Elise Nel se storie oor hoe sy haar man Willie, 'n Alzheimerlyer, op haar eentjie tot sy dood versorg het, gryp 'n mens aan die hart.
Sy deel haar ondervinding in haar boek, Ons raaiselpad met Alzheimer Siekte, wat sy deels geskryf het om haar kennis en ondervinding met naasbestaandes van Alzheimerlyers te deel, maar ook "om in die bresse te tree" vir die Alzheimerlyer self, het sy vir die George Herald vertel.
Sy keer die algemene opvatting op sy kop dat 'n Alzheimerlyer nie registreer wat om hom aangaan of glad nie mense herken of kan kommunikeer nie.
"Met behulp van 'n dagboek kon ek datums gebruik om hierdie mites te laat struikel voor die waarheid van my waarnemings," sê sy.
Sy en Willie, haar jeugliefde wat saam gestudeer het, was 49 jaar getroud. Hulle het vir jare saam op 'n Karooplaas geboer, droogtes getrotseer en kinders grootgemaak. Hulle het 'n besonderse band gehad. Sy diagnose in 2010 en dood in 2015 was uiters traumaties. "Omdat ek niks van hierdie siekte geweet het nie, was dit eerstens 'n groot skok om die simptome te beleef en tweedens baie moeilik om te weet hoe om dit te hanteer."
Haar geliefde Willie se liggaam het verval en hy het die gebruik van al sy spiere, ook in sy gesig, verloor.
Met sy dood het hy 'n skrale 40 kg geweeg. Die verlamming het veroorsaak dat hy geen emosie kon toon nie, maar dit het egter nie gekeer dat hulle steeds kon kommunikeer nie.
"Ek kon in sy oë sien dat hy my steeds herken, net soos Jannie du Toit se liedjie, Die eggo van jou oë, beskryf.
Tot 36 uur voor sy dood was daar steeds kontak tussen ons."
Toe hul dogter van Australië kom kuier, kon Willie nie meer praat nie, maar toe sy oor hom buk, was daar trane in sy oë.
"Dit was beslis teenstrydig met die opvatting dat Alzheimer-pasiënte niemand meer herken nie.
"Hulle onthou dalk nie meer name nie, hulle kan nie meer 'n label aan iemand koppel nie, maar hulle weet hierdie gesig is iemand na aan my."
Elise beskryf Alzheimers as 'n tronk waarin 'n persoon beland weens vermiste skakels in die brein. Vergeet is net een simptoom van die siekte. Ander is aggressie, weerstand, rusteloosheid en onhandigheid.
"In die aktiewe fase is 'n mens die hele tyd besig om iemand op te pas wat wil weghardloop, maar nie weet waarheen nie en wat goed wil doen, maar nie weet wat nie."
In die laaste stadium word die liggaam afgetakel tot die pasiënt uiteindelik versaking van die noodsaaklike organe ontwikkel.
Tuisversorging
Elise, 'n opgeleide verpleegkundige, beveel aan om genoeg hulp te kry met tuisver-sorging om totale uitputting van die versorger te voorkom.
"Daar kom tye wanneer dit voel mens kan nie meer nie, maar dan is dit nodig om hulp in te roep om die tuisversorger af te los. My buurvrou het elke keer as ek uitputtingsimptome ervaar, net oorgeneem vir 'n ruk totdat ek weer herstel het."
Sy sê daar moes baie planne gemaak word om bedsere te voorkom.
"Ek het gebruik gemaak van nege kussings en 12 klein sponsies om met die nodige verpakking sy vel gesond te hou."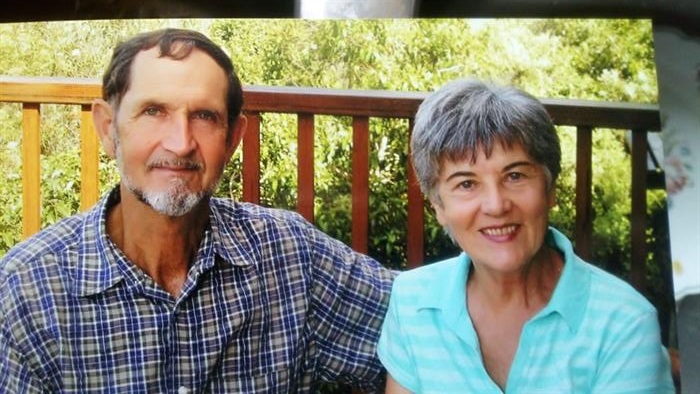 Elise Nel en haar wyle man Willie, toe hy nog blakend gesond was.
Na Willie se dood het Elise deur 'n tydperk van rou gegaan. "Ek het ontdek dat ek eers oor my Alzheimerliefde gerou het voordat ek besef het daar is ook 'n tweede rou. Die wat agterbly besef eers later dat hulle hul geliefde, soos wat hy was toe hy nog gesond was, op die pad verloor het."
Die skryf van die boek was vir haar ook terapie om afsluiting te kry. Nou kan sy ander help om die pad te stap, sê sy.
Die laaste paar hoofstukke handel oor wenke en inligting om as handleiding te dien in die hantering van die pasiënt.
Daar is ook 'n lys met al die moontlike simptome.
Elise maak deesdae tyd vir vriende, pilates, dansklasse en haar nuwe webjoernaal wat 'n verlengstuk van haar boek is. Besoek dit by www.alzheimersiekte.co.za.
'Ons bring jou die nuutste George, Tuinroete nuus'