GEORGE NEWS - The newly established Garden Route Environmental Education Centre recently hosted the National Science Week 2019. It provided a perfect venue for hands-on learning to almost 1 300 students, teachers and members of the public.
House learners and staff assisted in the running operations and facilitated in some of the activities. According to the organisers it was truly heart-warming to see peer learning and the community come together to create awareness of this year's theme 'Climate Change'.
Some of the stations were hands-on activities such as the Wessa Eden's Alien Hunt walk. This activity was presented by learners of Study House who took school groups to scout for invasive alien plants, identify them and then pull them out.
The Landmark Foundation presented an ECO-Logical walk in the forest during which they sensitised learners to the natural world. Landmark and Study House learners also hosted the ECO-Brick station where schools were exposed to the explosion of plastic and the effect on climate change.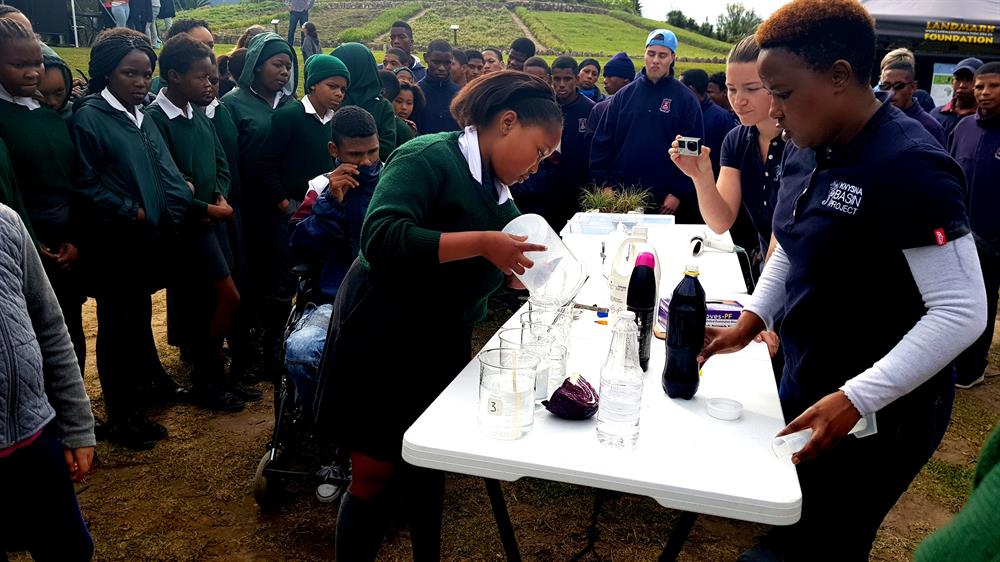 Interesting experiments were part of the offering at Science Week.
Space exploration
Dr Gert Hoogeboord offered a captivating lecture in space exploration and medical advancement that elicited very interesting questions from the young ones.
Louw Classen and her team of researchers from the Knysna Basin Project fascinated their audience with participatory experiments focusing on the chemistry of climate change. Classen also presented interactive lectures on waste and its effect on climate change.
Nick Kolberg was a big attraction for his magnificent show of reptiles as the learners recognised the importance of their existence.
A demonstration of Alaskan food production hosted by Study House showed sustainable farming techniques together with the Garden Route Botanical Garden staff that built a permaculture food gardens with schools. Learners were keen to get their hands dirty. Wings of Nature taught them that 'lepidoptery' is the study of butterflies and bugs. Ms S Neethling's who is pioneering a butterfly breeding facility at the George Museum presented a display that awed learners and parents.
National Science Week hosted at the Garden Route Environmental Education Centre had a great deal of inspiring activities and exhibits for learners.
Peter ginn gave an enjoyable presentation on the awareness of birds of the Garden Route and their adaptability to climate change.
Study House together with Nathan van der Berg and Finn Rautenbach from the Botanical Garden initiated an alien clearing project ending in the construction of survival shelters.
The Snack Shack, a Study House run ECO-tuckshop, provided refreshments. Fruit was the flavour of the day as delicious donations of passion fruit, gooseberries, guavas and other locally produced products were offered to the visitors.
"On behalf of Saasta* we were able to reach another 3 000 plus by showing Our Planet series to various schools and institutions. Saasta representatives visited and witnessed the successes of our event and have shown interest in continuing to support the Environmental Education Centre for future collaborations," said Monica Vaccaro of the Landmark Foundation.
Among the schools that attended were Carpe Diem, Little Glens Pre-primary, Eden Montessori, Zetti Jonker Centre in Mossel Bay, Grace Hill College, Thembalitsha Primary (Knysna), House Outenikwa, Diepkloof Primary, Mzoxolo Primary, St Paul's Primary, Delville Park Primary, De Villiers Primary, Oudtshoorn Primary, Nidis Learning Centre, as well as a host of home schooled pupils. Holy Cross Primary made a generous donation of R500 to the garden.
Wessa held an alient hunt to teach pupils how to identify alien plants.
Lauren Elsom of the Garden Route Botanical Trust said it was an awesome and inspirational venture. "Thank you to all involved for participating and bringing so much enthusiasm and inspiring young minds to think about the future of our planet."
* The event was run in partnership with the Garden Route Botanical Garden Trust and South African Agency for Science and Thechnology Advancement (Saasta). Saasta is a unit of the National Research Foundation (NRF).
'We bring you the latest George, Garden Route news'