Video
GEORGE NEWS AND VIDEO'S - The worldwide Covid-19 pandemic and ensuing lockdown in South Africa have led to the silencing of the South Cape Children's Choir, for the first time since its inception in 1997. So says choir director Jan-Erik Swart.
He says while the South African choral community reels with the news of other amateur regional choirs, such as the Bloemfontein Children's Choir, who permanently disbanded, funding to keep the South Cape Children's Choir going has all but dried up. "The choir's annual programme of concerts and competitions has been cancelled, while members' parents' livelihoods have been severely disadvantaged. Many members remain isolated in their homes as far afield as Knysna, Mossel Bay, George and Ladismith, while job losses have caused some parents to suddenly relocate to Gauteng, in order to survive."
Having received the news that the South Cape Children's Choir has climbed the world rankings to 214th position in the top 500 choirs in the world, the choir has qualified to participate in the champion category of the 11th World Choir Games, to be held in Flanders, Belgium, next year, but the future of the organisation and its members hang in the balance.
So, faced with the challenge of keeping its choristers motivated, Swart has undertaken several 'online' projects to keep the choir practising, communicating and dreaming about singing together again. "I refuse to allow the SCCC's unique choral sound to die, and will fight to keep its reputation, heritage, ethos and educational value alive for future generations of choristers," he states.
The choir launched a crowdfunding project to buy data for members to video themselves singing a song for a "virtual choir" recording to be released on YouTube. It also reached out to another struggling choir in Belgium, the Kiliana Children's Choir, from Pelt, to record a joint song called "We are One", while videos and recordings of the choir were featured in virtual lounge concerts, choral celebration concerts on YouTube and impromptu ZOOM messages of congratulations to overseas choirs celebrating their birthdays. Meanwhile, choristers have been downloading videos of their 2020 repertoire voice parts to practise on their own, while voice groups participate in ZOOM and Facebook rehearsals to keep in touch.
Twins Ashlea and Jade Smales, senior members of the SCCC, say they love the choir. Ashlea says it's been six fun years with the choir. "To know that we aren't allowed to sing together as a family is really sad. This choir has taught me so many things and taken me to far-away places that I never would have dreamed of going!" Her sister Jade says the choir means more to her than just singing. "It's my second family, where we experience different languages, different genres of music and different cultures. Music is a part of everything we do, and choir helps me put it into every aspect of my life. I miss every member, every staff member and most of all, the vibrant music we make together. "
Watch 2 supplied video's below:
For the first time in its history, the SCCC will audition new members by receiving cellphone video recordings of applicants singing any unaccompanied song of their choice. Singers between the ages of 9 and 15 are invited to submit their audition recordings to southcapemusic@gmail.com.
Members of the public who would like to support the SCCC financially are invited to SMS "donation" to 084 645 9320 to receive the choir's bank details, or to contact Jan-Erik Swart at the same number.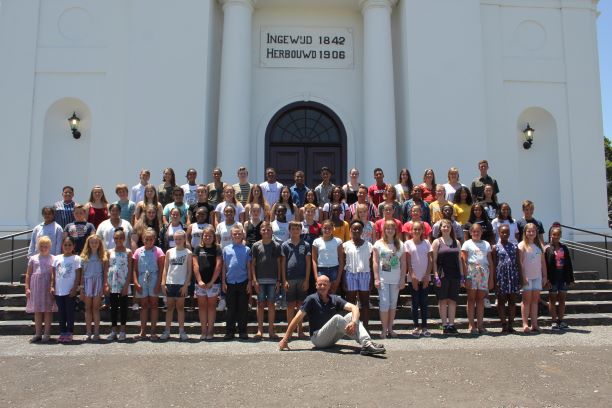 SCCC 2020. Photo: Supplied
'We bring you the latest George, Garden Route news'