Gallery
GEORGE NEWS - The South African National Biodiversity Institute (Sanbi) initiated control of the Kanuka (Kunzea ericoides) species in George during March along the Camphersdrift River.
A clearing team of 20 people was contracted by Sanbi's Directoriate on Biodiversity Evidence (DBE) to remove all plants from the site.
According to Nolwethu Tshali of the DBE, the plants were all uprooted by hand.
"Where they found plants, contractors marked the position of each plant using a hand-held GPS, measured its height, canopy width, stem base diameter, whether the plants were flowering at the time of data collection, and the treatment that was used to control the plants. The data collected from the site will be used to write a scientific paper on the status of this species in South Africa. We plan to do follow-ups annually during spring," said Tshali.
Tshali said the Kanuka is presumed to have been intentionally introduced in South Africa mainly through the ornamental or agriculture sectors and these two industries might have been responsible for the spread of the known naturalised population in George.
"This species is currently restricted to one naturalising population in George along the Camphersdrift River. Once the Kanuka is established, it produces a vast amount of small seeds that can be blown by wind for longer distances and can be carried to new regions by rivers."
Invasive alien species (IAS) can cause significant negative environmental and socioeconomic impacts on biodiversity, the economy and human health. "Efforts to control IAS cost the country approximately R2-billion each year," said Tshali.
The Kanuka is native to New Zealand and Australia and is a fast-growing shrub or small tree that grows up to 6m tall. "It is often multi-stemmed from the base, and the stem is slender and erect. Its leaves are alternate, bright green and linear.
"Leaves are glabrous when young and have conspicuous oil glands. Kunzea ericoides can be distinguished from similar looking species such as Leptospermum scoparium (tea tree) by its clusters of white flowers that are crowded on leafy side branches. Fruits are borne on long stalks and stamens which are much longer than the petals.
"The seeds are irregularly obovate, light to dark brown, and 1-1,5mm wide. The plant flowers from November to January in its native range."

Mandatory interventions
Kunzea ericoides is currently listed as category 1a according to the National Environmental Management: Biodiversity Act 10 of 2004 (Nemba) and it must be eradicated where possible.
"Its listing as a category 1a invasive species also means that it may not be sold, imported into South Africa or grown in new areas. Kanuka form dense impenetrable stands that can limit the regeneration of native young trees and shrubs and shade out ground-layer plants. It can invade under-managed grasslands, thereby reducing forage production, and eventually resulting in restriction of movement of grazing animals."
She said the plant might compete with other flowering native species, as its flowers in its native range attract a wide range of pollinators (bees, moths, flies, beetles and geckos). The species is known to be allelopathic (producing one or more biochemicals that influence the germination, growth, survival, and reproduction of other organisms) in Hawaii, although this has not been recorded in South Africa.

What can you do to help?
Be on the lookout for the plant and report sightings to Sanbi. Do not remove any parts of the plant if you find it, as it might promote further spread. Instead, provide Sanbi with photographs, description of the locality, and an estimate of the surface area of invasion and estimated number of plants found. Also contact Sanbi if you would like to support the control initiative of the Kanuka in George.
Contact Nolwethu Tshali on 021 799 8762 or N.Jubasetshali@sanbi.org.za.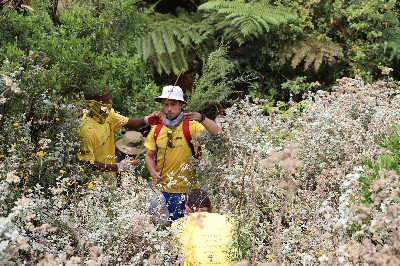 Each Kanuka plant was measured. The data collected from the site where the plants were found will be used to write a scientific paper on the status of this species in South Africa.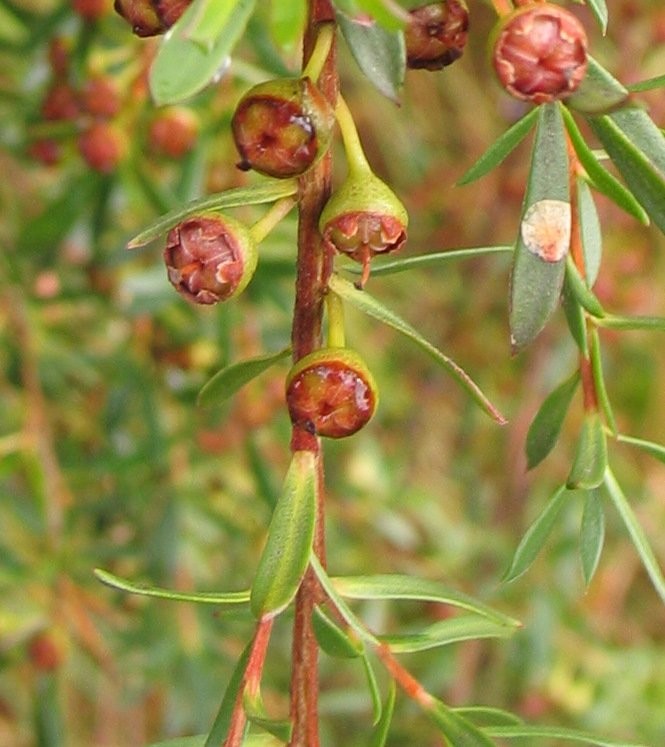 Fruits of the Kanuka are borne on long stalks.
'We bring you the latest George, Garden Route news'